click to enlarge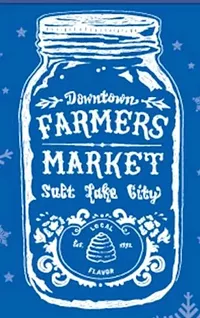 Winter Market @ Rio Grande
The Saturday Winter Market has returned to the Rio Grande Depot (300 S. Rio Grande St., Salt Lake City, SLCFarmersMarket.org) with more than 60 local vendors, including four bakeries, four cheese companies and four natural meat producers. This winter, an art & craft element will also be added to the Winter Market experience during December. The next Winter Market is Nov. 22 from 10 a.m. to 2 p.m., and will be held every other Saturday through April.
Hearth for the Holidays
Would you like to enjoy Thanksgiving dinner at home, but without the headache of cooking it? Ogden's Hearth on 25th (195 25th St., Hearth25.com) has you covered. Its Thanksgiving feast includes herb-butter roasted turkey, whipped Yukon Gold potatoes, maple-roasted sweet potatoes, dried fruit & sage bread stuffing, giblet pan gravy, wood oven-roasted Brussels sprouts, orange-ginger cranberry sauce, Hearth-made sourdough bread and choice of dessert for $102, which serves six people. To place an order, call 801-399-0088.
click to enlarge
Franchises Fighting Hunger
Local and national Mimi's Cafe locations (MimisCafe.com) are offering customers turkey feasts to go this Thanksgiving, as well as dine-in options ($16.99 for adults, $8.99 for kids). For every Family Feast ($89.99, serves six to eight) purchased, Mimi's Cafe will send four meals to children in need through its partnership with the Children's Hunger Fund, a nonprofit that has distributed more than $1 billion worth of food and other aid to needy and hungry children. The Family Feast includes herb-butter-basted turkey with gravy, mashed potatoes, candied pecan sweet potatoes, cornbread stuffing, green bean casserole, cranberry relish, brown-sugar-topped pumpkin muffins and pumpkin pie.
Meanwhile, through the end of November, Salt Lake City Krispy Kreme (KrispyKreme.com) locations will hold a canned food drive to benefit the Utah Food Bank. Krispy Kreme stores will serve as collection points for canned food and other non-perishable items. For each food item donated, guests will receive one free original glazed doughnut.
Quote of the week: An optimist is a person who starts a new diet on Thanksgiving Day.—Irv Kupcinet