At a May 10 rally in Centennial Park in the Southern Utah town of Blanding, Steve Curry—a Vietnam veteran from Montrose, Colo.—took to the podium on behalf of the Citizens Action Network.
"We took Nevada back, and now we are here to take back Utah," he said. "We need to make this an offensive goal. And if the BLM draws guns on you, you draw guns on them."
What had started as a local protest in a small town had quickly grown, attracting a number of outside supporters and conservative militant groups, some of them fresh from Bunkerville, Nev., where they had just engaged in an armed standoff with the Bureau of Land Management in defense of Cliven Bundy, the now-famous rancher who, for the past 20 years, has refused to pay fees for grazing on public lands.
Among the 300 or so people assembled in Centennial Park was Cliven Bundy's son Ryan, who addressed the crowd while waving a pocket Constitution, which, he said, guarantees states' rights over the federal government's. He later passed out autographed copies.
Others in attendance included armed members of the Montana Militia, the Citizens Action Network (CAN) and the Save America Foundation (SAF). The SAF had posted an "urgent call to all patriots" on its website, with a message from Cliven Bundy's wife, Carol: "Please make the trip to Blanding. We need to keep sending the message loud and clear wherever the BLM is illegally asserting its power."
The flag-waving, fiercely patriotic members of SAF and CAN claim the U.S. Constitution as their sole guiding force. In spite of their patriotism, they have a strong distrust of the federal government, which, they say, does not follow the Constitution. For them, San Juan County is another front in the larger war against the federal government, and they were at the rally that day to lend their strength.
click to enlarge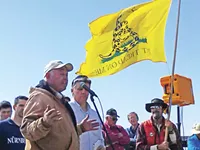 But it wasn't really their fight. The issues in Southern Utah stretch further and run deeper than being simply the latest headline-grabbing example of anti-federal feelings in the West. San Juan County commissioner Phil Lyman had organized the rally as a lead-up to an illegal ATV ride into a closed section of the archaeologically rich Recapture Canyon. Lyman says the event was a protest against an "overreaching federal government," but it was also just the latest skirmish in a long, bitter battle over Utah's land.
Phil Lyman and many other San Juan County residents are descendants of the Hole in the Rock pioneers, who in 1879 staged an impossible journey through the rugged heart of Southern Utah to settle the town of Bluff along the banks of the San Juan River. Fiercely independent and loyal to none but the leadership of the LDS Church, they laid claim to this remote chunk of land, and they and their descendants have resisted outside influence, particularly from the federal government, ever since.
The majority of land in Utah falls under the public domain. Nearly 70 percent—more than 35 million acres—is federally managed, and most of this falls under the jurisdiction of the BLM. Other federally managed lands include national forests, parks and monuments. In San Juan County, the ratio of federally managed lands, including Recapture Canyon, approaches 90 percent.
Surrounded by hundreds of square miles of federally managed public land, many rural residents have been frustrated for generations by what they believe is excessive—even unconstitutional—federal control over public land, and are bent on wresting control from the feds and putting it into the hands of state and local governments.
And the battle looks to only be increasing in intensity, as a recent oil boom in Southern Utah near Moab has some fearing for the unique red-rock landscape and others saying "drill, drill, drill."
LOUD VOICES
Though many people first heard of Recapture Canyon in the context of the ATV ride, it has figured into the lives of area residents for about 2,000 years.
A tributary of the San Juan River, the canyon runs north to south and roughly parallels U.S. Highway 191. It's mostly invisible beneath the flat expanse of land that stretches eastward to the San Juan Mountains of Colorado and south into the towers and mesas of the Navajo Nation and the Four Corners region. Relatively shallow by canyon-country standards, the bottom is well-watered and heavily vegetated. Sandstone cliffs house numerous dwellings, remnants of ancient Puebloan culture.
The canyon has served as a natural thoroughfare for Native Americans, early white settlers, sheepherders, cattleman, prospectors and outlaws. Phil Lyman's grandfather, Walter Lyman, discovered the town site for Blanding by riding up through Recapture Canyon from Bluff.
click to enlarge
Whether Recapture Canyon was ever actually officially open to motor vehicles remains unclear. San Juan County's Geographic Information Systems (GIS) maps, which document every road, two track and trail in the county, don't show a motorized route through Recapture Canyon. A service road for a pipeline from the Recapture Dam project goes down into the canyon approximately two miles. After that, it turns into a vague trail that has been in use since ancient times. Shortly after the road becomes a trail, cliff dwellings and other archaeological sites are abundant.
The BLM closed the canyon seven years ago after members of the environmental group Great Old Broads for Wilderness alerted the federal agency to destruction in the canyon.
Members of the group—which was started in 1989 by older "lady hikers who wanted to refute Utah Sen. Orrin Hatch's notion that wilderness is inaccessible to elders," according to its website, and has now expanded to a national group made up of women and men—documented damage, including excavation done with picks and shovels, and took it to the BLM in 2006.
The BLM determined that the canyon's archaeological resources, including ancient burial grounds and the Puebloan ruins, were being damaged by off-road vehicle use and the construction of an illegal trail, an act for which two men pleaded guilty in court. A BLM damage assessment said the constructed route crossed through numerous cultural sites and also noted evidence of recent "pot-hunting"—excavations made for the purpose of looting ancient artifacts—at the Recapture Great House site. Cost for restoration was estimated to be $300,000.
In 2007, the BLM initiated an emergency closure of the canyon, which was not to be lifted until damage was repaired or mitigated. Though the closure had the support of then-county commissioner Lynn Stevens, Lyman says the BLM illegally closed an existing route in violation of the Federal Land Policy & Management Act.
The BLM used the Code of Federal Regulations to perform a temporary closure under the premise that new trail construction was damaging archeology. The code states that "A closure or restriction order should be considered only after other management strategies and alternatives have been explored including cooperative efforts with local governments and organizations," and that "temporary closures or restrictions must be 24 months or less in duration."
That's the part that really irks Lyman. He says the county has been working with the BLM for years to designate a suitable route through Recapture Canyon. Talks with the BLM started in 2005, he says, and in 2006, the county filed an application for a Title V Right of Way (ROW).
"Not to gain access," he says. "We already had it. But to secure it for the community who had determined to start promoting the trail."
Lyman says that the BLM condoned trail maintenance on the project, and it was the ROW process that prompted them to start taking input from outside sources.
"The BLM had every opportunity to remedy their concerns with reroutes or signage, yet they ignored the local interests in favor of loud voices from external environmental groups, like the Great Old Broads for Wilderness," he says.
Lyman is by no means the only person who's not a fan of the Great Old Broads.
In 2010, signs surfaced in and around the canyon that said, "Wanted, Dead or Alive, Great Old Broads for Wilderness," with an image of a skull and crossbones. And members of the group say that in 2012, at one of their biannual campouts held on private land owned by the nature conservancy, they awoke to find themselves padlocked in the compound. A hag mask, drenched in fake blood, was hanging on the fence, with an attached note that read, "Stay out of San Juan County. No last chance."
Rose Chilcoat, associate director of Great Old Broads, says they and other environmental-activist groups had planned on attending the protest ride at Recapture Canyon—some as observers, and some as counter-protestors. But when word got out that armed militia were going to be present, they called it off.
"In my mind, threatening law enforcement officers isn't civil disobedience, it's anarchy, and these guys are domestic terrorists," Chilcoat says.
Lyman doesn't see it that way. He's proud of the tradition San Juan County commissioners have established in standing up against the BLM, most notably commissioner Calvin Black, who was immortalized as the fictional character Bishop Love in Edward Abbey's seminal novel The Monkey Wrench Gang, published in 1975.
In Abbey's book, a band of nature-loving misfits decide to fight back against the destruction of wilderness by engaging in various forms of eco-sabotage. The story takes place almost entirely in San Juan County, and Bishop Love, a developer who pushes industrialization, mining, and building roads, is the monkey-wrenchers' arch nemesis.
The real-life Black also embodied those principles, and he took an aggressive stance against anyone, in particular the BLM, who advocated for wilderness, road closures, or any sort of protective designation of the public lands within San Juan County. Minutes from a 1979 open house hosted by the BLM on the topic of wilderness designation show an openly hostile Black.
"We've had enough of you guys telling us what to do," Black is quoted as saying. "I'm not a violent man, but I'm getting to the point where I'll blow up bridges, ruins, and vehicles. We're going to start a revolution. We're going to get back our lands. You better watch your vehicles. You had better start going out in twos and threes, because we're going to take care of you BLMers."
When the BLM employee giving the presentation asked if Black was threatening him, Black responded, "I'm not threatening you, I'm promising you."