click to enlarge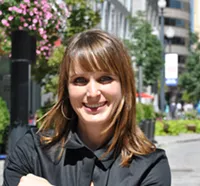 I must confess: I haven't always cared about food—where it came from, who grew it or how they made it. While I'm proud to come from a family of great cooks (including a genuine Italian grandmother), I once boasted that I earned my lowest grade in home economics. My mother can verify that I was unsure of how to make pudding. From a box.
But like the rest of the country, Utah included, I recently woke up to the idea that eating food grown in your backyard, or from a farmer's plot in the neighboring county, tastes better and is better for the environment. I realized that creating a vibrant community requires engaging directly with the food that sustains us all. It means knowing a thing or two about what is on the plate you serve to friends and family, and meeting the people behind the local products we love—from jams and bread and hummus and cheese to whiskey and beer and pickles and chocolate and ... you get the picture. Fortunately, Utah is abundant with amazing entrepreneurs, found in restaurant kitchens, farmers markets and grocery stores.
If you like to make a meal out of such goodies, find yourself spending Saturdays or Sundays or Tuesdays or Fridays at a farmers market (there are now more than 40 in Utah), or make a habit of dining out at the state's many great restaurants (Utah is ranked eighth in the nation for restaurant growth, in terms of sales), then Devour Utah is for you.
click to enlarge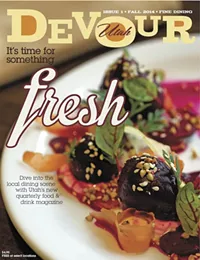 Produced by Copperfield Publishing, we are a new quarterly food magazine devoted to covering Utah's food and drink scene. And whether you're a newcomer or a longtime gourmand, this magazine will keep you connected with the producers, purveyors and restaurateurs who are elevating Utah's eating scene with their tantalizing creations.
Our first edition is devoted to fine dining—perfect for fall, when backyard barbecues give way to a hunger for richer, heartier food found on restaurant menus. Find out why national food-magazine editors keep turning to Utah pioneers like Forage, The Copper Onion and Pago as worthy gastro destinations, and see how local chefs are bringing a world of small-plate offerings to the table.
Every issue of Devour will include photo-rich features we call The Spread, which spotlights a restaurant's best meal, and The Deconstruct, which breaks down the ingredients of a restaurant's singular dish.
We'd love your feedback: What tastemaker deserves to be covered? What food trends are you noticing? What farmers and food artisans do you seek out and why? Whose recipe are you hungry for? Let us know at tips@devourutah.com, and check the website for news and features.
Today, even I feel competent to make Julie Wilson's chimichurri sauce—another recurring Devour feature focuses on a local chef and one of their favorite recipes. I'm proud to say I've evolved, much like Utah's food scene. To be sure, this journalist is no chef. But I write this with plum stains on my hands, gotten from gladly making spiced jam with fruit picked in my own backyard.