click to enlarge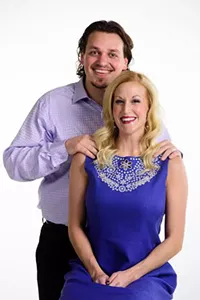 Utah Repertory Theatre Co.'s latest production brings local audiences a fabulous text: Jason Robert Brown's ingenious romantic musical dramedy The Last Five Years. And the production itself is quite a fine one, featuring live musical accompaniment for two magnificent performances. Like the text, the production gets right to the heart of things, featuring spare sets—virtually nothing more than the performers and their stories.
Even if The Last Five Years was nothing more than its structural conceit, it'd still be worth checking out: It details five years (per the title) in the lives of struggling actress Cathy and upwardly mobile writer Jamie, only with Cathy starting at the end of their failed marriage and working backward to the beginning, and Jamie starting at the beginning and working forward to the end. And the entire production is sung.
The songs are great. Rather than attempting to cover every second of the relationship, the songs provide snapshots of the characters at various key moments, with colors and textures filled in by the music. Erin Royall Carlson and Rhett Richins are both very emotive singers and fine actors, and the production's focus on the emotional whole, rather than microscopic attention to every last dramatic beat, serves the performances well. They're marvelous to watch, and the show—even if it may play slightly better to those already familiar with the finer points of the source material—is a must for Utah musical theater lovers of all expertise levels.
click to enlarge
Taking a different approach altogether is Pygmalion Productions' newest, Hellman v. McCarthy. Based on a real-life court case in which Lillian Hellman sued writer/critic Mary McCarthy for what she perceived to be a slanderous remark on a 1979 episode of The Dick Cavett Show, Brian Richard Mori's script is a linear affair with everything aboveboard, including expository soliloquies to the audience.
Were it not for those, it could almost be a screenplay, something director Lane Richins' staging works to make a virtue, with lighting and scenic transitions functioning almost as edits and camera focus shifts. While nothing that will break any new artistic ground as stagecraft, the effect is an exceedingly well-paced and smooth piece that allows time to fully examine the story being told, and to interrogate a number of its more fascinating nuances. For one, it's rare enough that one sees narratives not only featuring, but being driven by, women—but even more rare that those narratives feature such rich, bitter and deep feuds between women that have nothing to do with retrograde gender roles.
The great mutual dislike between Hellman and McCarthy—also the basis for Nora Ephron's play Imaginary Friends and William Wright's The Julia Wars—began in the 1940s with a disagreement over Joseph Stalin's policies (Hellman was a fan, McCarthy decidedly not), and touches on Hellman's dealings with an entirely different McCarthy (Sen. Joe) during her brush with the House Un-American Activities Committee, before settling into decades of seething antagonism that come to a head during the lawsuit. What clinches this story is that neither Hellman nor McCarthy are a particularly nice people, and yet both are terrifically compelling characters.
Reb Fleming's scathingly funny Hellman and Barbara Gandy's prim, passive-aggressive McCarthy are natural antagonists, although in the scene where—mild spoiler—the two meet, it's clear there's sufficient common ground between of them as to render their inexorable mutual hatred tragic. With just a little less stubbornness on either side, the women could easily have been good (if inevitably combative) friends.
A lot of the show's wistfulness comes from the Cavett character. Allen Smith faces the impossible task of playing one of 20th-century popular culture's sui generis cultural figures, yet chooses the wisest way possible: by not trying to "do" Cavett at all, instead playing the comedian as something of an innocent bystander. At the same time, he plays "a" Cavett who, while not "the" Cavett, does exactly what's needed for this particular text.
This duality, ultimately, is what makes Hellman v. McCarthy work as theater: It lays out its wares and allows the audience to examine them as closely as they like. It works just as well as a light comedy where Hellman gets off mean zingers at everyone else's expense as it does a unique look at women of a colorful epoch.