click to enlarge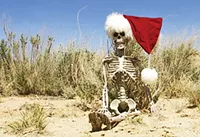 8. "Moist Ahoy!"
7. "Blight Christmas"
6. "More Barren Than Our Weekend Anchor"
5. "The Gray Agenda"
4. "Mediocre Soaker Below the Oquirrhs"
3. "The Arid Hellscape of Impending Doom" (with mascot Zany the Zombie)
2. "Conditions That Suck Worse Than a Holiday-Week Ocho"
1. "The Dry Hump"