click to enlarge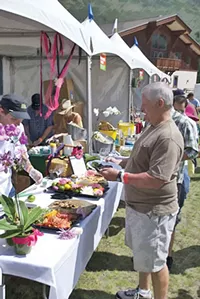 TOW to Fight Hunger
Be sure to mark your calendars for Sunday, Aug. 3, when Solitude Mountain Resort (12000 Big Cottonwood Canyon Road, Solitude, 801-534-1400, SkiSolitude.com) will again host the annual Taste of the Wasatch, Utah's premier culinary event where 100 percent of the proceeds go to fight hunger in Utah. More than 50 restaurants will be participating, along with a number of local breweries and wine distributors. Beneficiaries include Utahns Against Hunger, the Utah Food Bank and the Ogden-Weber Community Action Partnership. For tickets, go to TasteOfTheWasatch.org.
Hop to It
Tuesday evenings through Aug. 19, Deer Valley's Stein Eriksen Lodge (7700 Stein Way, Park City, 435-649-3700, SteinLodge.com) is hosting Hops on the Hill. A portion of the proceeds benefit the Youth Sports Alliance, an organization "dedicated to providing support to enable youth to participate, learn, compete and excel in sports." Hops on the Hill combines craft-beer tastings with food pairings from Stein Eriksen Lodge chef Zane Holmquist and his crew and is followed by a live concert. The cost per person for pre-show beer and food tastings is $35 in advance and $40 at the door. The concerts are free, and attendees can purchase beer, wine, liquor and food during the shows, which will feature the Red Desert Ramblers, Mister Sister, Fastback and others.
Portable Poutine
After living in Canada's great northeast for a number of years, I have a warm spot in my heart and a craving in my belly for poutine. If you've never had it, poutine is a dish that originated in Canada featuring french fries smothered in thick, rich brown gravy and topped with fresh cheese curds. It also sometimes incorporates meats and other accoutrements like grilled mushrooms and onions. Well, I recently found myself cruising down the interstate behind the Gravy Train Poutinerie—a local food truck devoted to all things poutine. I urge you to try the Philly, which combines two of the planet's best foods: poutine and the Philly cheeseteak. To find where the poutine is parked, visit GravyTrainPoutinerie.com.
Quote of the week: If we can conquer space, we can conquer childhood hunger. —Buzz Aldrin