My grandparents owned an Italian restaurant in Murray through the 50's and 60's. Rafael's Italian Restaurant specialized in classic homemade Italian food and big-hearted hospitality. Popular menu items included linguine drenched in rich, garlicky clam sauce and tender gnocchi with Bolognese. "His gnocchi was to die for. It melted in your mouth. I have never tasted any that compared." says Christine West Day, a former waitress at the restaurant. "Checkered tablecloths were on each table with a Chianti bottle with a candle in it. The wax dripped down the sides." My grandma would prep throughout the day, chopping veggies and making pasta and ravioli while my grandpa concentrated on making sauces and hobnobbing with guests. "Everything was made from scratch." says Frances Young, my mom and waitress at the restaurant. "They always made their own bread and ravioli." she said.
My grandparents restaurant closed in the 70's before I was born. Siragusa's Taste of Italy is how I imagine my grandparent's restaurant - comfortable, casual and friendly. The first location on 4115 South Redwood Road opened in 2011 and quickly became popular because of the good, home-cooked food.
Hailing from Chicago, Illinois, Chef Ross Siragusa learned the ways of Italian cooking from his family. His grandparents arrived in Chicago from Ellis Island in the early 1900's. After working in other people's restaurants for 30+ years, he decided to open his own. His wife April was put in charge of the decor and music, creating a classic Italian restaurant worthy of Lady and the Tramp sharing a plate of spaghetti.
A recent visit to the new Cottonwood location (2477 East Fort Union Boulevard) with my mom and husband stirred up a conversation about my grandparent's restaurant. Over the Appetizer Sampler, an ample combination of mozzarella sticks, fried zucchini (my mom's favorite) and delicately fried calamari served with marinara and a refreshing cucumber dill dip, she shared stories of Raphael's as Italian classic tunes played in the background. While we made our way through the appetizers, double-dipping like only family can do, she gossiped about old customers and co-workers and divulged a secret or two. (Those dishwashers were real scoundrels!)
click to enlarge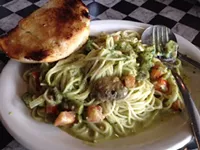 We took a few minutes to order off the menu. My indecision led to the Combination Plate ($12.95). I chose the Sweet Potato Gnocchi, tender potato dumplings doused in creamy Alfredo sauce and the Capellini with Pesto. I especially enjoyed the latter, fresh asparagus, mushrooms and tomatoes in a light creamy pesto sauce with super thin pasta - utterly delectable. My mom knew exactly what she wanted, another order of the Capellini with Pesto ($10.95). It's really that good. My husband opted for Penne Rustica ($10.95) with spicy Italian sausage and penne pasta topped with homemade marinara, finished with melted mozzarella. The food disappeared off his plate quickly, it must have been tasty.
Siragusa's offers traditional dishes, but they have a knack for coming up with interesting new ideas. A customer named Bernie couldn't decide between Alfredo and another dish and the term "Bernie Style" was born. Instead of plain old noodles, your entree will be served over a bed of pasta mixed with cheesy Alfredo sauce. Tasty and ingenious!
click to enlarge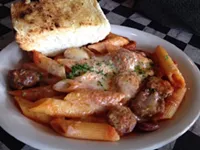 Visit Siragusa's Taste of Italy the next time you're in the mood for comforting Italian food and hearty portions that are light on the wallet. The huge accordion on the wall was a donation from my mom. The accordion was a mainstay in Raphael's. Take a moment and pay your respects and know that Stella and Ralph Perrella are smiling down on you, and insisting that you clean your plate.
There's Italian food and regular food. Growing up in an Italian family, I quickly learned the difference. Homemade bread is the perfect accompaniment to decadent pasta, and for dessert? Something equally filling. There was always lots of food, and a lot of encouragement to eat more.