Page 11 of 23
DAYS OF YORE
Take the backroads to see glimpses of Utah's railroad glory days
by Eric S. Peterson
epeterson@cityweekly.net
On May 10, 1869, a golden spike nailed together two lines of the Transcontinental Railroad that bound the nation together at Promontory Point in northern Utah. Thousands of miles of iron rails snaked through flat sea-like prairies to the east. To the west, rail lines found a foothold in the rocky Sierra Nevada mountains after thousands of Chinese immigrants dynamited a precipitous path through sheer cliff faces and dizzying ravines.
Any Beehive State history buff making a sojourn north ought to visit the Golden Spike National Historic Site in Box Elder County. No trip through Utah's railroad past is complete without venturing a little farther off the beaten path to visit the remnants of towns that blossomed in the late 1800s only to disappear a century later.
click to enlarge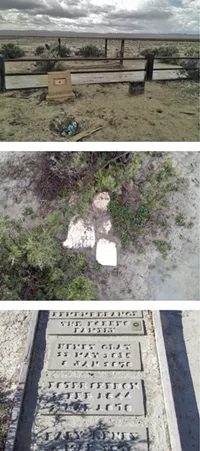 The Park Valley area of northern Box Elder County is home to what remains of railroad settlements that once hosted residences, hotels, saloons and some of the most vital segments of the Transcontinental Railroad. Prior to the rise of the railroad, the United States were united only by a loose patchwork of stagecoach trails and disjointed riverways.
A disclaimer: Don't expect to see a vacant town when visiting ghost towns. You're not likely to wander into some decrepit saloon and find the skeleton of a bartender clutching a dusty bottle of hooch in his bony hand. It's more about finding the slightest remains of civilization, and appreciating how things have disappeared after a way of life has been blown away by the indifferent winds of history.
For those heading into Park Valley, there are several interesting destinations not too far from Promontory Point. Lucin was an important water stop for the train's steam engines. Nowadays, it is said that a grain cellar remains, as does a small reservoir.
The town of Terrace, on the east side of the valley, still has remnants of a roundhouse and a switchyard, while Kelton was once a crucial Transcontinental Railroad stop. Founded in April 1869, just a month before the golden spike ceremony, Kelton thrived thanks to the railroad, and was a spot where fine hotels, saloons and gambling halls sprang up. The town even boasted a post office and a telephone exchange.
click to enlarge
The town lived and died by the rails and survived only as long as locomotives rolled past. It even survived, in 1934, a 6.6 magnitude earthquake, considered the strongest to ever hit Utah. While shaking homes, splitting fissures and creating chasms through the ground, the quake also took two lives. The town's death knell came in the '40s, when the Southern Pacific Railroad dismantled the line and handed the hardware over to aid the war effort. Today, few traces of the town remain, other than its cemetery (pictured above, left and right).
The trip to Kelton from Salt Lake City is also mostly on decent paved roads—except for the final 10 miles or so, which is a fair but bumpy dirt and gravel road in good weather. It's a beautiful drive, but damned desolate. The roads have all the delightful hallmarks one could hope for in a good country drive: lush rolling farmlands, crows perched on cattle gate posts, road signs chewed up by buckshot and surly-looking kids on 10 speeds waiting impatiently for you to pass so they can cross the road.
Little remains of the town but a stone square of foundation and a pioneer cemetery, fenced off and holding up a handful of wilted posts and cracked headstones.
If the wind is low, you might just get to enjoy that wonderful yet terrifying feeling bubbling through your blood that you're just a flea in a great sandbox, standing over the final resting spot of your flea forebearers. Now a century later, those who have gone before are just sand and grit beneath your feet.
Directions from Salt Lake City to Kelton: Travel north on Interstate 15 and keep left to Interstate 84 toward Boise, take Exit Utah-30 for Park Valley/Elko and head left toward Park Valley for roughly 25 miles before taking a left at the sign for Kelton, follow this dirt road for seven miles to the old Kelton cemetery.