click to enlarge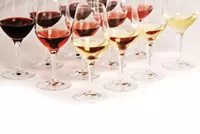 If you dine in the world's most expensive restaurants, you'll probably come across a sommelier (aka "somm"). The stereotypic image of a sommelier is that of a somber, sober, middle-age-or-older gentleman in a crisp tux with a shallow silver bowl called a tastevin hanging from a chain around his neck. The sommelier patrols his elegant restaurant with the intention of assisting customers in the selection of mind-blowing rare and expensive wines to drink with their dinners. He's also presumed to be a judgmental and intimidating snob.
Then again, you may encounter someone called a "sommelier" in even the most mundane of restaurants. He or she might be wearing Armani, but may just as likely be clothed in blue jeans or khakis, and might have either an encyclopedic knowledge of wine or merely a rudimentary one. That's because there is a sommelier secret that few restaurateurs would want you to know: Anyone can bestow the title of "sommelier" on himself or herself. Just as anyone working behind a stove can be called a chef, there are no mandatory courses of training or certification to distinguish a so-called sommelier from any other citizen with an interest in wine.
Here's what a true sommelier's job description typically entails: A sommelier is involved in the creation, pricing, upkeep and inventory monitoring of a restaurant's wine list. Through ongoing in-house training, the sommelier also educates a restaurant's service staff about wine, wine & food pairings and wine service. The sommelier usually works in tandem with the chef to devise menus and dishes that complement the restaurant's wine selection. And, of course, the sommelier is available to assist customers in making decisions about which wine(s) to drink with dinner.
As I said, any restaurant that wants to call its wine specialist a sommelier can do so. However, there are a mere smattering of sommeliers in the country who have earned the title of master sommelier from the Court of Master Sommeliers. These are the most respected sommeliers working in America, and—in the view of many wine experts—the only "true" sommeliers. There are a couple other organizations that teach sommelier courses and do certifications in the United States, but they don't have the prestige or respect among wine enthusiasts and restaurateurs that the Court of Master Sommeliers does.
Becoming a master sommelier at the Court of Master Sommeliers is a four-step process. First, there's a two-day introductory class that almost anyone with a rudimentary knowledge of wine could pass. Indeed, 95 percent of all applicants do pass it. Unfortunately, some unscrupulous people in the restaurant industry take this simple test, pass it and proclaim themselves sommeliers.
Well, not so fast. The second tier at the Court of Master Sommeliers is the Certified Sommelier Exam, which involves a blind tasting of two wines along with wine theory and service exams. That tier is followed by the advanced course and exam. You need score only 60 percent to pass this level, but it involves a blind tasting test of six wines in which the student must identify the wine varietal, country, region, appellation and vintage.
How many make it through the fourth level and earn the right to call themselves master sommeliers? Well, as of today, only 219 people worldwide have done that; 140 work in North America. Of those, only a fraction work as sommeliers in restaurants. The rest are consultants for wineries, hotels, wine distributors and so on. And none of those 140, that I know of, is working in Utah.
So, the chances of encountering a honest-to-goodness master sommelier at your local restaurant is rare indeed. Don't be fooled by imposters!