click to enlarge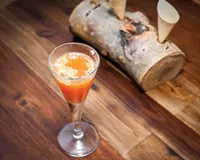 POP Top
SLC POP—the pop-up restaurant experience created by chef Katie Weinner—is back with a couple of pop-up events in June. She'll be popping up at Red Moose Coffee in Sugar House (1693 S. 900 East, RedMooseRoasting.com) for dinners on June 6 and June 20 (the latter just in time for Father's Day). Weinner was featured as a competitor for eight weeks on Season 12 of Top Chef, and is creator and owner of SLC POP. According to Weinner, her spring menus will feature fresh chickpeas, rhubarb, roses and lamb. She says she's been "perfecting her curries" during the recent weather, too. SLC POP also offers private catered dinners. For tickets and more information, visit SLCPOP.com.
Harmons Gets Crafty
Craft Lake City has announced that Harmons Neighborhood Grocer will return this year as presenting sponsors for the seventh annual Craft Lake City Do-It-Yourself Festival, held on August 7-8, 2015. In a statement announcing the continuing partnership, Craft Lake City executive director Angela H. Brown said, "As a longtime customer of Harmons myself, I value their contributions to Utah's craft-food creators and our shared goal of elevating creative culture in our community."
Restaurant Honors
At the Utah Restaurant Association (URA) Industry Awards Banquet held in May at the U of U Ballroom, a number of local restaurants, restaurateurs, chefs and others were recognized for their contributions to our culinary culture. Among the recipients of the highest honors were Mark Robbins of Ruth's Chris, who was awarded the prestigious "Golden Spoon" award, and Ruth's Diner, which was given a "Lifetime Achievement" award. For a complete list of recipients and further information about URA visit UtahDineOut.com.
Quote of the week: The sky is the daily bread of the eyes. —Ralph Waldo Emerson