click to enlarge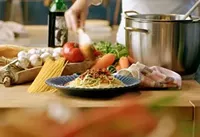 Send Mom to Culinary School
If you're hard-pressed to think of something unique and special to show Mom how much you care on Mother's Day, here's a suggestion. If your mom really enjoys cooking, how about treating her to a cooking class at Salt Lake Culinary Center (2233 S. 300 East, 801-464-0113)? On the other hand, if Mom loathes the kitchen, perhaps you could enroll, learn to do some cooking, and give your mother some much-deserved kitchen relief. Upcoming Salt Lake Culinary Center classes include Food Truck Cuisine: Asian on May 7, Macaroons and Whoopie Pies on May 8, Basic Knife Skills and The ABC's of Cake, both on May 9, plus many more, upcoming. For the full course schedule and pricing, visit SaltLakeCulinaryCenter.com
Restaurants R.I.P.
I never like to hear that a restaurant has permanently closed, because it often means that someone's professional dream may have died with it. So I'm sad to report the closing of two award-winning restaurants that I very much enjoyed in the past: Wild Grape New West Bistro in Salt Lake City and Park City's Talisker on Main.
Mom's Day Brunch With Kimi
One of the more posh dining destinations for brunch this Mother's Day is Kimi's Chop & Oyster House (2155 S. Highland Drive, 801-946-2079, KimisHouse.com) where Kimi Eklund and her crew will be rolling out the red carpet for moms with a Mother's Day brunch 11 a.m.-2 p.m. The extensive brunch options are way to lengthy to entirely cover here, but some highlights include Swedish eggs filled with smoked caviar aioli; Crimini mushroom & cherry-stuffed pork loin; beef tender shoulder with peppercorn demi-glace, poached salmon with herb creme, peel-and-eat shrimp with avocado chili relish; assorted desserts; breakfast items such as traditional and crab-meat eggs Benedict, homemade sausage, croissant French toast with lingonberry preserves, and much more. The cost is $45 for adults; $20/children ages 6-11; $13/children ages 3-5; free for kids under 3.
Quote of the week: There has always been a food processor in the kitchen. But once upon a time she was usually called the missus, or Mom. —Sue Berkman