What a long, strange trip it's been for Sen. Mark Madsen, R-Saratoga Springs. In February, the conservative Mormon lawmaker and grandson to the late LDS Church President Ezra Taft Benson trekked across the state line to a Denver hotel room to ingest a cannabis gummy and inhale a dose of marijuana through a vape pen. But make no mistake: The libertarian-leaning senator wasn't there to party. He was doing his own personal research to determine if Utah should continue its ban on medical marijuana.
After seven hours behind the wheel, this long, strange trip had indeed left Madsen's back aching. For years, Madsen has suffered from chronic back pain that has required multiple surgeries paired with opioid prescriptions to manage the pain. By the time he rolled into the Mile High City, he was ready to test an alternative to pain meds and see first-hand if there could be benefits from legislation that would allow for growing, dispensing and using medical marijuana in Utah.
With his wife watching him, Madsen vaped the magic dragon and, then, he was ... well ... disappointed.
"Frankly, I was kind of let down for all the hype. I remembered back to my first DARE class in sixth grade, and I was thinking, "When is this huge mental contortion going to overcome me?' " Madsen says. He recalls the subtle sensation that things were now more vivid, that the music he liked before he really liked now and that, all of a sudden, room service sounded pretty appetizing. He also realized that his back felt much better and, for all the hype, the gateway drug hadn't changed him much.
It was then that the lawmaker had perhaps his first grass-powered epiphany: "My heavens! Reefer madness is just propaganda," Madsen recalls thinking.
You Have Your Own Choices
Of course, Madsen wasn't there seeking relief just for himself. He had long been considering whether Utah should be the next state among 23 others (24 if you include the District of Columbia) to offer medicinal marijuana as an alternative treatment option for patients stricken by pain and desperate for options. If it passed, Madsen's proposed bill (not yet numbered at press time) would be a historic first for Utah, assuming Madsen can get his colleagues to support it and Gov. Gary Herbert (who has already said he does not support medical marijuana) to sign off on it.
The bill's passage is a big if, especially given the Swiss-watch efficiency needed to get intricate wheels of state agencies to interlock and create an entirely new industry of stand-alone medical-marijuana dispensaries. For Madsen, who is retiring from the Legislature and won't run for re-election in 2016, it's a fight worth going out on. Madsen knows how divisive marijuana can be among his fellow LDS lawmakers and constituents—he himself discussed his decision to use marijuana with his LDS bishop before embarking on his research trip. But he also knows that if his colleagues can focus on marijuana as medicine, they will appreciate that the government has no place in doctor/patient decisions.
"I didn't run for office because I think I know how to run people's lives better than Democrats," Madsen says. "I ran for office because I want people to live their own lives, to own it. You have your own choices, and you have the consequences of your own choices."
Politics are always personal, and while individual liberty is key for Madsen, the issue runs deeper for his family since his wife's mother passed away in October 2014 after a tough bout with breast cancer.
Madsen's wife, Erin, says that in her mother's waning days, her pain-management options were limited. Even opioid prescriptions such as fentanyl patches presented a problem for her mother, since the patches require a certain amount of body fat on a person in order for them to absorb the drug safely. "She was only 80 pounds," Erin says. "She didn't have any fat left on her."
According to Erin, the bill is intended for law-abiding people. "People that aren't law-abiding are already doing whatever they want. This is for people stuck between a rock and a hard place."
The challenge Erin sees is getting people not to immediately associate marijuana with the image of a couple of slackers smoking weed in a basement. "But how do you get from there to seeing my retired schoolteacher mom who was just metastasized down to the bones?" Erin asks.
Pot Patriot
Madsen's Senate office is a veritable shrine to individual liberty. His bookcase is filled with tomes written by the likes of Ayn Rand and Thomas Friedman. A TV constantly streams Fox News in the corner, while above it a sign bearing the image of an armed figure reads: "An armed man is a citizen, an unarmed man is a subject." But don't expect to see any marijuana-leaf miniature flags festooning Madsen's desk, and there never will be, even if the issue of medical marijuana should come to define his legislative legacy.
Madsen stresses that the conceptual framework of the bill he shared with City Weekly will likely be tweaked during the legislative process.
For his bill to stand a chance of passing into law, Madsen knows that people need to think about marijuana differently. To that end, Madsen's bill will not legalize the smoking of medicinal marijuana. Not only does he think that smoking is an ineffective delivery mechanism, but he says smoking simply should not be encouraged. He wasn't even particularly fond of the vape pen he inhaled in Denver, since using it made him feel like Franklin D. Roosevelt, a president famous for his long cigarette holders.
Madsen's bill seeks to allow other treatment delivery methods such as edibles, tinctures, drinks, vape pens (preferably with an inhaler-type design) and vaporizers. The bill is also ambitious in that it seeks to establish Utah's own medical-marijuana industry. It would not allow for products to be sold in existing pharmacies but would instead rely on the creation of new dispensaries. Dispensary employees would have to be licensed under the Division of Occupational & Professional Licensing, and would be ineligible for employment if they had felony-level drug trafficking or distribution charges on their records. The process for obtaining medical marijuana would require the development of more bureaucracy than Madsen is normally comfortable with.
First, Madsen stresses that no doctor would be required to prescribe something he or she isn't comfortable with. In fact, Madsen's bill requires a strong degree of doctor/patient cooperation and trust. "The criticism is you go in for a hangnail, right, and the doctor is like, 'Oh sure, here you go,' and he just sets himself up to write prescriptions for pot," Madsen says.
But under his bill, only certain specialists would be able to offer the treatment; for example, cancer patients would need a prescription from their oncologist. No family doctor or general practitioner would be allowed to write cannabis scripts.
The patient and the specialist would fill out a joint application that would then be taken to the Utah Department of Health. As long as both the patient and the doctor agree and the appropriate boxes are checked, Madsen says the health department would have "zero discretion" to turn down an application.
The Utah Department of Financial Institutions would then create a kind of ID/payment card. Patients would use it as their ID at dispensaries and also load money onto the card. To avoid violating federal money-laundering laws, the card would not deliver payment to the dispensary but would instead direct payment to the state tax commission, which would collect a fee to administer the program and then send the payment to the dispensary.
The "how" of medical marijuana in Utah may remain moot, however, if Madsen can't sell his colleagues on the "why" of it, and the biggest challenge to overcome is the lack of medical-marijuana research. Madsen calls out the federal government for fumbling marijuana research, because in 1970, the feds decided marijuana had no medical benefit and lumped it as a Schedule 1 controlled substance, in the same category as heroin.
"Why damage the people in their interests and restrict their freedom because government has had a policy in place that didn't provide the answers we otherwise would have?" Madsen asks.
click to enlarge
A Scheduling Conflict
Pat Bird doesn't mind that the feds have maintained their stance on marijuana. Bird works for the Utah County Department of Health's Drug & Alcohol Prevention & Treatment team, and in 2014, he helped contribute to a document originally dubbed the Utah Marijuana Compact, which seeks to keep policy leaders from legalizing marijuana in the Beehive State. The compact urges elected officials to proceed cautiously with medical marijuana, basing decisions on rigorous studies and to prohibit smoking medicinal marijuana or using the whole plant.
"We don't smoke opium to get its medical benefits. The tree bark that aspirin is from—we don't smoke [it] to get the medical benefit," Bird says. "We pull those things out, control them and have a standard dose so we know what we're dealing with."
Madsen's bill, however, would allow for whole-plant consumption of marijuana: the vaporizing of marijuana buds and the juicing of marijuana leaves. Otherwise, he says, medical-marijuana treatments would be too costly for patients.
Bird acknowledges that classification of marijuana as a Schedule 1 drug has held back research into the whole plant but points out that there have been hundreds of recent clinical trials looking into into marijuana's different components. Bird has been in the prevention game for a long time and can appreciate the shortcomings of the War on Drugs, especially in treatment support for addicts. Even still, he doesn't see the need to rush to implement a medical-marijuana system in Utah without the research to support it.
Jason Plume, a visiting professor at Augustana College in Rock Island, Ill., studies the politics behind federal and state marijuana laws. He agrees that medicinal marijuana is gaining traction in certain clinical trials, but also points out that the U.S. Food & Drug Administration and the Drug Enforcement Administration have resisted re-scheduling the drug into a class that would allow for more federal research dollars. "They hold the key to research in America for the most part," Plume says.
In 1972, Plume notes, two years after marijuana was lumped as Schedule 1 with drugs like heroin, the National Organization for the Reform of Marijuana Laws (NORML) petitioned the federal government to reconsider its decision. The FDA and the DEA, in turn, stalled the petition process for 24 years, before denying the petition in 1996. At the federal level, marijuana is still considered to have no medicinal value.
It's a position that the Utah Medical Association, the lobby group for the state's doctors, stands by in concert with the American Medical Association, which also refuses to recognize marijuana's medicinal benefits.
Dr. Seth Ammerman, a California-based author of the American Academy of Pediatrics' Jan. 26, 2015, statement against medical marijuana, says that while evidence has shown medical marijuana's beneficial outcomes for adult patients with neuropathic pain, HIV/AIDS, post-chemo nausea and spasticity in multiple sclerosis, there still is little known about the use of the whole cannabis plant.
"Medical marijuana is really a misnomer because what we're really talking about is not marijuana per se, but the active ingredient in the cannabis plant called cannabinoids," Ammerman says. "There will be at least 200 different cannabinoids in any given plant, and we know very little about most of the cannabinoids." The AAP did, however, call on marijuana to be placed on a less restrictive federal schedule to allow for more research.
If people are frustrated by the FDA approval process, Bird says, then that should be the focus of the debate. He disputes the idea that public health is something that should be determined by a popular vote—especially with lawmakers not having all the facts. For example, Madsen says his bill would allow medical marijuana to be prescribed to patients suffering from post-traumatic stress disorder, but Bird referenced a recent study of 2,000 Veterans Administration patients being treated for PTSD that found medical marijuana worsened their symptoms and even increased violence among some patients.
"This isn't about prohibition," Bird says. "It's about protection." Bird simply wants the state to proceed cautiously and at its own pace.
Plume sees how legislative health initiatives can be problematic, but that doesn't mean they don't eventually become law, if federal and state tobacco laws that regulate where people may smoke are any example. "For a legislator, that's their job, with all kinds of laws," he says.
Overdose Options
Madsen isn't an advocate for marijuana replacing existing pain medications, but rather complementing them. At one point, he says, his back pain was so severe, it caused him to have a sedentary life, but once he started taking pain meds, he was able to shed 80 pounds and could be active once again.
Madsen brushes off the severity of his pain, especially when compared to the suffering of his mother-in-law or constituents who have talked to him about their trials. Even still, he readily admits there were times during the 2010 legislative session when a pinched nerve caused severe pain and nearly 80 percent of his right arm and shoulder to be paralyzed.
One summer, after his surgeries and subsequently prescriptions for pain medicine, Madsen was working in his yard unaware that a fentanyl patch on his shoulder—meant to slowly release opioid pain relief—had ruptured. He suddenly felt incredibly tired and told his kids he was just going to lie down for a nap and to wake him up later.
Madsen lay down and soon stopped breathing. Luckily, his family was right there and his panicked wife yanked him from the couch to resuscitate him. Ultimately, an ambulance had to be called. Since then, Madsen has learned the difference between too much opiate and too much marijuana, and the difference can be deadly.
If you take too much marijuana, there's likely to be adverse effects, Madsen says, "But you know what? It's not going to stop your breathing. It's not going to stop your heart."
It's a point bolstered by an August 2014 study by the Perelman School of Medicine at the University of Pennsylvania that examined the rate of opioid-overdose deaths between 1999 and 2010 and found that, on average, the 13 states legalizing medical marijuana had a 24.8 percent lower annual opioid-overdose mortality rate.
According to Anna Fondario of the Utah Department of Health, in 2013, Utah ranked seventh nationwide for unintentional and undetermined drug poisoning deaths. That year—the most recent for which data is available—saw 353 Utahns lose their lives related to prescription-drug overdoses, with 270 of those deaths related to opioid prescriptions.
A Utah Blend
Compared to the rest of the nation, Utah is a latecomer when it comes to trailblazing medical-marijuana legislation. That means Utah can take advantage of the experiences of other states. Political-science professor Plume says that most states watched how California implemented its vague medical-pot regulation in 1996 and corrected theirs accordingly. Arizona passed a bill that same year and quickly repealed it to enhance regulations and oversight. In 2012, Plume says Montana repealed its existing medical-marijuana program by a single vote in the state assembly and replaced it with a more detailed program with limited conditions for which medical marijuana could be prescribed.
"They're closing the gap between the vague, Wild West of California's medical-marijuana laws and becoming more honed and fact-based," Plume says.
As for the slippery-slope argument that says legalizing medical marijuana will lead to full legalization of marijuana, Plume points out that advocacy organizations are in distinct camps when it comes to medical marijuana versus recreational use of marijuana. While the groups may be supportive, their advocacy work doesn't overlap. Medical-marijuana advocates take great pains to distance themselves from the work of the recreational-use crowd. Utah can also benefit from other studies Plume points out that have shown that crime has not increased with legalized medical marijuana.
While Madsen says his bill borrows much of the language from Nevada and other nearby states, it is a Utah solution, with unique components. Madsen wants to encourage a business in Utah, similar to dispensaries he visited in Colorado, where "you step in, and it's not like Purple Haze—it's just a pharmacy."
Creating a custom Utah model will require more bureaucracy, which only adds to the myriad challenges the idea faces on Capitol Hill. It's all par for the course for a bill with the objective, according to Madsen, to introduce "a small degree of highly regulated freedom." The custom approach would put a Utah spin on the process, especially when it comes to branding. Hopefully that would mean that a new generation of local weed entrepreneurs would be able to give their products Utah-friendly names instead of peddling out-of-state brands like "Charlotte's Web" or "Hells Angels OG."
Maybe something like "Highly Regulated Freedom" perhaps?—since Life Elevated is already taken.
By Colby Frazier
A mother of five boys, a Brigham Young University alumna, a returned missionary for The Church of Jesus Christ of Latter-day Saints with a temple-sealed marriage and a home in the heart of Utah County: not the typical résumé for a medical-marijuana advocate.
click to enlarge
But Tenille Farr is all of these things. She also has Stage II lymphoma in her chest and neck—a diagnosis she received in autumn 2014 when she was 18 weeks pregnant with her fifth son.
Faced with commencing chemotherapy, a treatment that she felt put her unborn child at risk, Farr and her husband settled on a treatment that is illegal in Utah and one certainly frowned upon by many members of the LDS Church.
Farr, who spent months living in Colorado and California using cannabis oils ingested by placing drops beneath her tongue, now finds herself an unlikely spokesperson for a pioneering bill pushed by Sen. Mark Madsen, R-Saratoga Springs, to legalize medical marijuana in the state.
Farr says she hopes her story can help Utahns and lawmakers cast aside their doubts about the drug and truly examine its medicinal uses that have long been praised and accepted in other states.
click to enlarge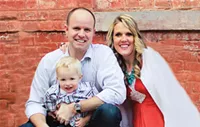 "I honestly believe the people in Utah are good people and that they want to help people," Farr, 38, says. "For me, right now, I have lots of hope that this bill will pass. I think once people see, then their fear can leave a little bit, and they can begin to see what [cannabis] has to offer."
In 2014, lawmakers approved a bill by Rep. Gage Froerer, R-Huntsville, that made it legal to obtain cannabis extracts that provide treatment for a small spectrum of conditions, including seizures caused by epilepsy. The extracts covered under Froerer's bill do not contain any THC, the compound in marijuana that contains psychotropic qualities.
Madsen's bill would take legalizing medical marijuana a few steps further, allowing dispensaries to sell lozenges and other digestible marijuana products.
Connor Boyack, president of the Libertas Institute of Utah, called Froerer's 2014 bill "monumental." And he says the natural next step is to help a much wider swath of Utah's population that is also in need of cannabis products.
"We've had a year for these lawmakers to become comfortable with the issue," Boyack says. "We've seen that the apocalypse has not arrived with Utah legalizing some form of cannabis. Therefore, this year, it is entirely reasonable in Utah to broaden that conversation and provide this option to many other needy Utahns."
After deciding to forgo chemotherapy treatments, Farr says she connected with members of the LDS Church in Las Vegas who had also chosen marijuana as a treatment for their illnesses. A short time later, Farr found herself in an apartment building in Colorado, grinding up leaves from marijuana plants that she says lack significant psychotropic effects.
Farr says she took this approach because she was still shaking off the stigma she had for marijuana.
"I won't lie, it was really difficult for me at the beginning to say, 'Oh, my gosh, I could be using cannabis or marijuana or whatever in any form,'" she says. "I was still working through my cannabis fears."
The leaves, Farr says, did the trick. In a couple of weeks, she says her cough, caused by a growth in her lungs, was gone.
At this point, Farr went to California where she began ingesting cannabis oils, which she deposited beneath her tongue.
Before taking this leap toward becoming a bona-fide cannabis user, Farr says she, her husband and family members prayed and fasted. Fearful that she could lose her temple recommend that allowed her to attend LDS ceremonies, Farr consulted her bishop.
"He basically just told me that if I wasn't breaking the law, that this was a decision between me, my husband and the Lord," she says.
After more than a month in California, Farr says she returned to Utah, where doctors tol her the cancer had ceased growing. Then, on Jan. 4, she gave birth to her son.
Since then, Farr says she's remained in Utah. A lump in her neck, she says, seems to be growing. Farr doesn't want to do chemotherapy, and she says that cannabis is the treatment that best suits her.
"I need to get back on the oil," Farr says. "I would love to be able to stay home and be a mom to my kids and take care of my cancer at the same time the way that I choose to take care of my cancer."
The past few months has provided Farr with an education on marijuana that she didn't know was coming.
One truth she has learned is especially poignant: Lots of legal drugs are dangerous, and good and bad can come of any of them, including marijuana. This is what she tells her young children about her decision to use marijuana.
"This is a plant, an herb that God has given us," she says. "Just like anything, we teach our kids to find the good in it and stay away from the bad."