click to enlarge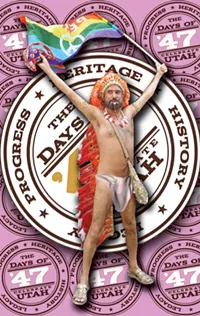 Eight other 2014 Days of '47 slogans considered before settling on "Pioneers—Pushing Toward Our Future":
8. "Pioneers—Selectively Celebrating Our Past"
7. "For the Last Time: PBR Means Professional Bull Riding, Not Free Beer"
6. "Utah: Now With More Banjo & Jug Bands Than in 1847"
5. "We Cleared Out the Bums So You Can Sleep on the Street"
4. "Hope You Didn't Forget to Hit the Liquor Store"
3. "Sweaty Clowns & Overheated Horses: Smell the Magic"
2. "Pioneer Pride ... But Not That Kind of Pride, OK?"
1. "You're Welcome for the Day Off Work to Further Bash Mormons"