As you make up your holiday shopping list, don't forget the travelers in your life. To put it another way, pretty much everybody on your list travels, so it's an area you should look into. Regardless of your budget, you can find a great gift that is beyond the traditional tie, scented candle or, God forbid, fruitcake. Get your friends and loved ones something that will leave them thinking fondly of you when they go on their next trip. Here are a few of our favorites.
click to enlarge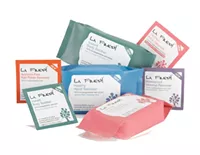 La Fresh Travel Wipes
Whether it's makeup remover, insect repellent, sunscreen, lens cleaner, antiperspirant, hygenic, antibacterial or facial cleanser, La Fresh has put it in a wipe that comes in a spill-proof, airport-security-compliant packet that's light and convenient. Groups of packets start at $19.99 and can be found at LaFreshGroup.com
GoToob
Getting your shampoos, gels and liquids into travel-size tubes isn't nearly as hard as getting them out if those containers are hard plastic that leaves your fingers beaten and the goo still mostly in the tube. GoToob is a "civilized" tube made of soft silicone. Your fingers and your hair product will thank you. ($6.99-$25.99, HumanGear.com)
click to enlarge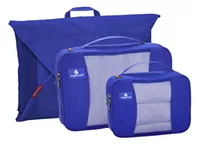 Eagle Creek Pack-It Folders
For many people, packing means rolling everything up, stuffing it in a suitcase, then sitting on it so they can get their luggage zipped up. Then when they need to find a shirt, they dump everything out and grab one of the wrinkled ones. But once you go "Pack-It," you'll never go back. Just follow the directions and use these folders that let you neatly fold everything and contain it in a small packet that fits within your suitcase. You'll be able to zip up your suitcase without sitting on it and know exactly where to find that unwrinkled shirt. ($24-$56, EagleCreek.com)
Cabeau Evolution Pillow
Whether you're a Darwinist or a creationist, you'll have to agree that this lightweight travel pillow represents an evolution in comfort. The memory-foam pillow is big and sturdy enough to give you full neck support while on a plane ride, but folds into a carrying bag that's just one-quarter of its full size. ($34.99, Cabeau.com)
Samsonite LIFT2
We don't know how they did it. All we know is that technology has advanced to the point where the LIFT2 (Lightweight Innovations For Travel) is a carry-on that weighs just 7 pounds. Even better, some LIFT2 bags have multi-directional spinners so you can wheel them around with minimal effort. Never arrive sweaty for your flight again! ($129-$239, Samsonite.com)
click to enlarge
Eagle Creek Tarmac AWD22
What's nice about this 22-inch carry-on (with spinner wheels that allow for 360-degree mobility) isn't so much what you can stick into it—which is a lot, given the padded exterior pockets for iPads and laptops—but what you can attach to the outside. The "coat keeper" is an inside attachment that allows you to easily attach a coat, extra bags or anything else to the telescoping handles. There's also a detachable cargo net that can keep things separated on the inside, or be moved to the outside to hold extra gear. ($330, EagleCreek.com)
Frietag Bags
This company's wide array of book, tote and messenger bags are made out of what used to be delivery-truck covers, until some people in Zurich, Switzerland, got the bright idea to take them off the trucks, cut them up and sew them together into bags that are both hip and indestructible. They even went and grabbed the seat belts out of the trucks for the shoulder straps. (Freitag.ch)
Canada Goose Coats and Jackets
Blame Canada ... for not telling us Americans about some of the coolest gear around. Canada Goose has everything to stay stylish while staying warm. You can try options like the Hybridge Lite Jacket, a packable down coat or a coyote fur-trimmed parka. The website even has a Thermal Experience Index (TEI) so you can match up your expected weather with your purchase needs. Who knows more about staying warm than Canadians? (Canada-Goose.com)
The tie will go out of style, the scented candle will burn out and the fruitcake will rot, but the gift of great travel gear will let the recipient know you honor their thirst for adventure.
Kathleen Curry and Geoff Griffin trek around the globe near and far and host the Travel Brigade Radio Show and podcast. You can find them at TravelBrigade.com