click to enlarge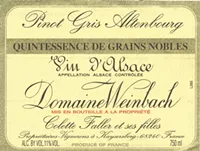 With the warm temperatures and sunny days we've been enjoying lately, my thoughts and taste buds are turning earlier than normal to spring and summer picnic wines. And in a pinch, one of my favorites is a most reliable and very versatile wine: Pinot Gris—a white wine tinged with shades of gray (although not 50 of them).
Pinot Gris (aka Pinot Grigio in Italy) is named for the bluish-gray hue ("gris")of the Pinot Gris grape, which is a white variant-clone of Pinot Noir. It's also called Grauburgunder in Germany, and Ruländer when the wine is made in a rich, full-bodied, fragrant style. Just to confuse things a bit more, in Alsace where appreciation of Pinot Gris reaches cult status, it's called Tokay d'Alsace, and has no relation whatsoever to Hungarian Tokay.
Although there is some brilliant Pinot Grigio coming out of Italy's Friuli region—especially Livio Felluga's intense DOC Colli Orientali del Friuli—a lot of Italian Pinot Grigio is innocuous, insipid and undistinguished. Most of the really good stuff comes from Alsace and, increasingly, Oregon. Like its big, more popular brother, Riesling, Pinot Gris is a versatile and usually inexpensive wine that pairs very well with a wide range of foods. The best American Pinot Gris will cost about one-third the price of decent Chardonnay or Pinot Noir, and plays especially well with grilled salmon.
Typically, Pinot Gris has a slightly smoky characteristic, and tastes like ripe pears with some light lemon-citrus flavors. It's dry enough to pair nicely with shellfish—oysters, crab, shrimp and such—but also works really well with Asian-fusion dishes and items from the sushi bar. And, when American producers go easy on the oak, Pinot Gris from Oregon and Washington tends to be much more food-friendly than most New World Chardonnay.
Keep in mind, though, that as with most grape varietals, Pinot Gris and Pinot Grigio come in a variety of styles, ranging from bone-dry and crisp to slightly sweet, and from being lighter than air in body to full and rich enough to eat with meat. Indeed, Pinot Gris is the classic wine pairing for choucroute in Alsace, which is where I first fell in love with Pinot Gris, in Strasbourg.
Winemakers in Oregon's Willamette Valley, in particular, are producing exceptional Pinot Gris. And, while they're not all from Willamette—or Oregon, for that matter—some of your best Pinot Gris bets from Utah wine stores include producers like Eyrie, Adelsheim, A to Z, Ponzi, King Estate, Elk Cove, Etude and Seghesio. Pinot is pretty easy on the budget, too. Wines from the aforementioned makers range from about $16 to $25. I was recently bowled over by a Cline Cellars Pinot Gris, priced at a mere $10.95. It's unoaked, bright and crisp with tangerine notes, and it paired beautifully with a butter-lettuce salad with grilled shrimp, crab, avocado and beurre blanc.
With Alsatian Pinot Gris—where the terroir consists largely of limestone and volcanic soils—you can taste the minerality in the glass. And, while a 375 ml split of Domaine Weinbach Altenbourg Pinot Gris Quintessence de Grains Nobles dessert nectar will run you around $260, you can find quite affordable Alsatian Pinot Gris for $15 to $30 from reliable producers such as Schlumberger, Weinbach, Zind-Humbrecht, Hugel, Trimbach and Helfrich. Willm Pinot Gris Reserve ($15.99) is a good introduction to the gray grape. Peach, pear and apricot aromas tease the senses, while modestly sweet honey flavors on the palate are balanced by good acidity.