We can finally say it—and mean it. When it comes to exceptional venues for live music and swanky joints for booty-shaking, Salt Lake City's got game. Whether you lean toward rowdy sports bars, after-work martini haunts or low-key dives, this town's got you covered.
Even though we live in the shadow of the LDS Temple, ordering a drink at a bar is as easy as pie. Whatever you fancy—a classic cocktail, a craft-brewed beer, a glass of fine wine or, hey, even a Jell-O shot—all you need to do is walk into a bar and order it (but do bring valid ID to prove you're at least 21!).
At restaurants, we still have a few kinks to work out. For example, before you order a drink, you must tell your food server you're planning to eat. Restaurants aren't allowed to prepare drinks in view of patrons, so as to not to displease alcohol abstainers or arouse the interest of children who may be present.
Liquor stores in Utah are state-owned. As such, most liquor stores close by 10 p.m. (some earlier), and all are closed on Sundays and holidays. But fear not, you can still buy 3.2 beer in convenience stores when liquor stores are shuttered.
To help in your quest to find intelligent nightlife, we've prepared a guide to 60 or so venerable establishments located in the heart of downtown, just outside of downtown, in the suburbs and out of town. In a city that truly does love its pubs and clubs, there sadly isn't space to include them all, so if we missed your favorite haunt, let us know so we can consider listing it next year.
HEART of DOWNTOWN
Bar-X
The well-lit liquor showcase is the first thing that will catch your attention at one of Salt Lake City's oldest bars. Bar-X has an old-fashioned speakeasy feel to its atmosphere, but with a few modern twists. Bar-X has a reputation for making some of the best cocktails in the city, and it's always packed with people craving a professionally made drink. 155 E. 200 South, Salt Lake City, 801-355-2287, BarXSaltLake.com
Beer Bar
A hip, young hangout, Beer Bar is a relative newcomer on the downtown scene, but it has already become a Salt Lake City favorite (everyone loves the baby of the family). There are lots of places to sit, and lots of young people to meet and mingle with. Beer Bar takes great pride in the way the beer is served—in the appropriate glass, and at the appropriate temperature. And that secret door to the west? Heads right into Bar-X. 161 E. 200 South, Salt Lake City, 801-355-3618, BeerBarSLC.com
Beerhive Pub
There are a few bars around town that are known for their incredible beer selections; Beerhive Pub is the one the others try to keep up with. Not only does it have 24 taps, but the list of bottled beers is impeccable, and the reason transplants flock to the place to get a nostalgic taste of brews they left behind. The fact that there is a chilly ice bar on hand is a small but beautiful bonus. 128 S. Main, Salt Lake City, 801-364-4268
Bodega
Bodega is a tight fit that makes the most of its limited space with a small bar, tables for various board games and a few pinball machines tucked away in the back. Bodega's real gem, though, is the speakeasy-style restaurant, The Rest, that's located in the basement. It's reservation-only, so make sure you plan ahead. 331 S. Main, Salt Lake City, 801-532-4042, Bodega331.com
click to enlarge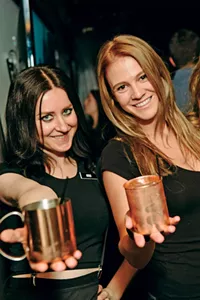 Bourbon House
Bourbon House is underground, dark and as classy as a leather lounge. The music choice is spot-on for the crowd of young professionals. Yes, sports are on the TVs, but Bourbon House doesn't feel like a sports bar; it feels smooth and sophisticated, like the whiskey used in the Old Fashioneds. It has recently been remodeled, and still has that new-car smell. The whiskey display, a tribute to the alcohol of choice here, survived the remodel. 19 E. 200 South, Salt Lake City, 801-746-1005, BourbonHouseSLC.com
BTG Wine Bar
Offering over 75 wines by 2-ounce taste, by the glass or by the bottle. Also available are cocktails, beers, small bites and the full menu from adjacent Caffe Molise. Here you'll find an upscale ambience where you can people-watch or simply belly up to the bar. It's also the perfect place to host a party or a special event. 63 W. 100 South, 801-359-2814, BTGWineBar.com
Cheers to You-Downtown
Located right in the middle of Salt Lake City's downtown action, Cheers to You is one of the chillest bars in the area. The round red booths give you a sense of privacy while still allowing you to enjoy the full bar experience. Karaoke Friday nights might be the busiest, but with a back room full of pool tables and events going on every night, this neighborhood dive bar is a Salt Lake City favorite. 315 S. Main, Salt Lake City, 801-575-6400, CheersToYouSLC.com
Circle Lounge
Dress up in your shiniest shoes and get ready to take some shots and move your hips at Circle Lounge; the music is fresh, chic and mixed by talented local DJs. The good-size patio is a breezy, romantic break from the dance floor, with hookah booths under the strings of lights. Besides, where else can you find a club scene with electronic dance music and hip-hop, and a full sushi bar, all rolled into one hot little spot? 328 S. State, Salt Lake City, 801-531-5400, Facebook.com/CircleLoungeSLC
click to enlarge
Gracie's
This two-level sweetheart of a gastropub is a sophisticated but comfortable place to grab a beer and watch the game, appreciate a local band over a cocktail, or take in the spectacular view of downtown from the rooftop deck with a glass of wine. The food is top-notch, and the place stays busy. There is almost-nightly entertainment, which ranges from classy jazz music to trivia, and the Sunday brunch makes locals regulars. 326 S. West Temple, Salt Lake City, 801-819-7565, GraciesSLC.com
The Green Pig Pub
With live music, trivia nights and amazing breakfast buffets, not to mention the stellar atmosphere and killer menu, The Green Pig Pub has everything you could want from a bar. Since its opening in 2006, The Green Pig Pub has been one of the most popular—and often busiest—bars in Salt Lake City. 31 E. 400 South, Salt Lake City, 801-532-7441, TheGreenPigPub.com
Jackalope Lounge
Probably the most hipster bar in Salt Lake City, the Jackalope Lounge has more to offer than just a unique atmosphere. Cheap drinks and friendly staff are what keep the Jackalope Lounge's faithful customers returning every weekend. 372 S. State, Salt Lake City, 801-359-8054
Johnny's on Second
Johnny's is a low-key, go-to kind of bar that invites great local bands to play on Saturday nights and fills the rest of the week with various entertainment, like poker and football. The bar is divided into two main sections, so if you're in the mood to focus on the game, you can watch without distractions. Drinks are inexpensive, and the crowd is far from pretentious. 165 E. 200 South, Salt Lake City, 801-746-3334, JohnnysOnSecond.com
Juniors Tavern
A hole-in-the-wall type of place that genuinely feels like it belongs in a bigger city, Juniors Tavern has been a mainstay in Salt Lake City since 1974. In 2005, it relocated from its old location near the Salt Lake City Main Library to where it sits now. The newer building may not be as authentically urban, but the interior, complete with a rather impressive collection of old beer cans and jazz nostalgia, still feels like the comfortable watering hole of old. 30 E. 300 South, Salt Lake City, 801-322-0318, JuniorsTavern.com
Keys on Main
There is a raucous, energetic party going on every weekend at Keys on Main. Whether it's Tuesday-night karaoke or the dueling pianos, this is the place to belt and to boogie. The piano players keep the energy level high and the fun going. You can sit back and watch the show, but plan on some hilarious audience participation. On the weekend, make a reservation or you may not make it in to this local favorite. 242 S. Main, Salt Lake City, 801-363-3638, KeysOnMain.com
Kristauf's Martini Bar
This classy martini bar gets creative with its cocktails. There are already plenty of martinis to choose from (with great names, like Kimmie Come Lately, with grapefruit and lemon juice, or the Halle Berry, with creme de cocoa and chocolate). Or, try to stump the bartenders—they know their way around gin and vermouth. As if being a martini bar weren't elegant enough, Kristauf's Martini Bar is full of art and leather couches. 16 W. Market St., Salt Lake City, 801-366-9490, MartiniBarSLC.com