click to enlarge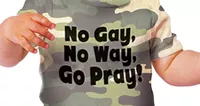 8. Gov. Herbert's weekly hot-oil massages from muscular young men to ease stress ($30,000).
7. Lawyers with strong moral convictions and/or several mortgages ($200,000).
6. "No Gay, No Way, Go Pray" line of T-shirts, mugs and baby onesies from CafePress ($20,000).
5. Slush fund dubbed the "Swallow/Shurtleff Shenanigans Stash" ($100,000)
4. Secret "fact-finding" expenses billed from Blue Boutique and Doctor John's ($50,000).
3. Extensive research into how same-sex marriage weakens "regular" marriage ($90,000).
2. Extensive cover-up of non-findings of said research ($100,000).
1. Diet Pepsi ($10,000)