Even vegans get nostalgic for treats like Twinkies, which are made with eggs and beef fat. But Salt Lake City's Cakewalk Baking Company makes a vegan version, called Dillos, that will now be more widely available thanks to a successful Kickstarter campaign.
Owner and vegan powerlifter Kelly Colobella recently raised $12,000 to pay for professional-looking packaging and nutritional analysis for the treat (named after Colobella's favorite animal, the armadillo), allowing more stores to carry them. The funds will also allow her to start making Granny V's All Natural Gas Station Cookies—vegan versions of Granny B's pink-frosted cookies.  
Colobella, all smiles and long blond dreadlocks, has been an ethical vegan for 21 years. Her vegan story begins on her parents' farm, when her beloved pet pig was served to her as breakfast. From that moment on, Colobella would not eat another animal. In 1994, she went vegan, abstaining from wearing leather and wool and consuming eggs or milk. Back then, veganism wasn't trendy and finding decent food to eat was more of a challenge.
She began baking out of necessity, making treats for friends' birthdays and holidays. "I made a lot of bad birthday cakes." she jokes. Years passed, her baking skills improved, and she started making cupcakes and such for fundraisers. Her friends insisted she open a bakery, and so she did six years ago inside the popular vegan cafe Frisch Compassionate Eatery.
Her bakery offers egg- and dairy-free birthday cakes, cupcakes and cookies—appealing to ethical vegans and people who are allergic to dairy or watching their cholesterol.
click to enlarge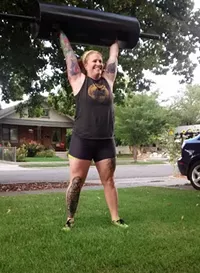 Vegan outreach is a big part of Colobella's life, even beyond showing people how delicious a cruelty-free diet can be. She competes with the group PlantBuilt, a vegan fitness group, and placed first in a Naturally Fit Games powerlifting event. Colobella says with a laugh that she is helping battle the misconception that "vegans are weak and scrawny."
She also plays for the Utah Falconz women's football team. Not knowing much about football before jumping in, Colobella based her decision to play on her love of underdog football movies. "I've always been the kind of person that decides to do something and does it," she says.
And at her bakery, she sells T-shirts that proclaim "I get my protein from cake," an inside joke between vegans who are asked daily where they attain their protein. "Fitness is my passion, even more than food and baking," she says.