Pairing beer with pizza is a no-brainer. They go together like peanut butter & jelly or macaroni & cheese—a classic combination that is universally loved. Utah is home to many award-winning breweries, with plenty of pizza-matching potential.
When pairing the beer with pizza, a bit of knowledge is key. "A good rule of thumb is that the beer supports the crust, and needs to be similar in character" explains Matthew Allred, the communications director for Epic Brewing. "The carbonation cuts through the cheese and fat and refreshes the palate. The classic pepperoni pizza with a lager is hard to beat on a Friday night." Allred is one of the state's only certified cicerones, having passed a tasting and written exam to prove his beer knowledge. Pairing food with beer is a large component of the course.
click to enlarge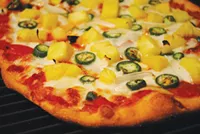 "I always make a Belgian pale in August just for garden-fresh Margherita pizzas," Allred says. "I also love a sausage, fennel and mushroom pizza with a light garlic sauce on the grill. I try to get the crust a little charred in a few places to bring out some complexity with the mushrooms. I love this pizza with Saison," he says. "Saison will never let you down at dinner because it's such a complex beer and has the ability to pull out the most wonderful and unexpected flavors. In this case, the cellar quality of the beer harmonizes with the earthy mushrooms and gives them the backbone they need to stand up to the sausage. If you want a real kick of flavor, try this with the Utah Sage Saison. The sage really meshes with the fennel seeds and gives a stronger Italian spice note to everything."
One of Allred's favorite wood-fired pairings is with a simple alfredo or similar white-sauce pizza with garlic and grilled chicken and bacon or pancetta. "I usually drink Smoked Porter with this pizza and it's one of the most surprising pairings so far," he says. "The key is to get plenty of the wood smoke and some char on the crust, bacon and chicken."
click to enlarge
It is one of the most unique pairings, and one of the few times a dark beer works well with pizza. "The salt from the meat and roast in the beer really work together," Allred says.
Andy Fitzgerrell, an American Cheese Society certified cheese professional, definitely has opinions on the subject. Fitzgerrell has a special skill of pairing beer with cheese, so he seemed like a logical source. "Pale ales have a full flavor but doesn't overpower the pizza," Fitzgerrell says, "and they won't leave you overly full when you eat a whole pizza by yourself."
My next inquiry was just as delicious. I turned to the oldest breweries in the state for some pairing suggestions. "My favorite pairing is Squatters Off Duty IPA, balanced and smooth, with a jalapeño, pineapple and pepperoni pizza," says Dan Burick, the head brewmaster at Utah Brewers Cooperative, which includes both Squatter's Craft Beers and Wasatch Brewery. Another delicious pairing suggested by Burick is Wasatch Brewery's Polygamy Nitro Porter with a barbecue-chicken pizza topped with smoked gouda. "The easy-drinking beer doesn't overpower the rich, decadent pizza," Burick says. Or try a Margherita pizza, topped with fresh mozzarella, with a Provo Girl Pilsner for an easy and delicious meal.
Pilsners seem to go with everything from delivery to DiGiorno pizza. At home, that's my beer of choice. My pizza & beer combinations are less sophisticated than the professionals I consulted, but I know what I like. Give me a pineapple and olive pizza and a pilsner to wash it down, and I'm happy. There are many to chose from, but here are a few of my local favorites: Uinta Brewing Company's 801 is a drinkable, smooth, light-bodied and super-refreshing beer. Bohemian Brewery Czech Pilsener is also a great choice. It's light and crisp, but it has more of a full body. The Frohlich Pils from Red Rock Brewery is another beer I enjoy with a slice or two. It's crisp like the other Pilsners, but has a wonderful dry taste. Any of these beers are great with pizza.
So what are you waiting for? Call up your favorite pizza joint, and stop by the liquor store to pick up some beer and try these suggested pairings or make some of your own.