click to enlarge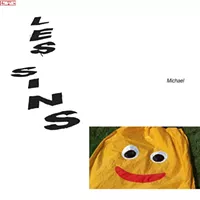 click to enlarge
Les Sins, Michael
Clip-art cover notwithstanding, Chaz Bundick drew great inspiration for Michael, the debut full-length from his Les Sins alias, from eminence grise corporate graphic designer Paul Rand. Specifically, one quote, which served as Bundick's recording mantra: "Don't try to be original, just try to be good."
As Bundick's main gig, Toro Y Moi, has moved from murky bedroom lap-pop to savvy electro soul, his esoteric electronic influences—breakbeat, Italo disco, French electro, '90s hip-hop—have been relegated to his sporadic Les Sins singles. Michael touches on each of them, serving less as an album than a collection of loosely connected ideas. Some of those ideas are great ones: The sprightly "Toy" balances gauzy ambient swells and a mesmeric flute melody atop a skittering beat equal parts Chicago juke twitch and Bomb Squad thump. The bouncy throwback funk of "Why," perhaps the record's most complete thought, evokes early Michael Jackson and Prince. The groaning "Past" is an exercise in mood and malevolence. But Michael sags after the plaintive and pleading "Bellow," marred by homogenous tempos and half-baked ideas.
It's tempting to look at Michael—recorded in Bundick's home studio and released on his newly minted Company Records imprint—as a vanity project, more the result of a two-year goof-off than of careful composition and construction. But its insouciance makes for easy listening, even as the monotonous tempos belabor Michael's back half. Original? Maybe not. But good? Well, mostly. (Patrick Wall) Nov. 4, Company Records
click to enlarge
click to enlarge
Lily & Madeleine, Fumes
On their sophomore album, Fumes, Indianapolis indie-folk duo Lily & Madeleine showcase more of the sisterly vocal harmonies that made their debut album so dreamy. And for the most part, the end result is lovely and heartbreaking, even if the tracks around the middle of the album blend together, thanks to their similar tempos.
It takes a bit for Fumes to find its stride; opening song "Rabbit" is bogged down by saccharine strings, and the melody on the following track, "Ride Away," is timid and safe. But "Can't Admit It" introduces the album's emotional tension and weight—the realization in the lyrics "I'm not so sure I want this anymore" hits you right in the gut—and an atmosphere of piano, delicate synths and strings (utilized more effectively this time) augments the song's bleak mood.
The instrumentation takes a surprising and refreshing turn in album highlight "Cabin Fever," which stands out with its punctuating, jangly percussion and perfectly placed hand-claps, as well as its catchy chorus. Throughout Fumes, Lily & Madeleine's harmonies blend flawlessly, but the way the two singers' voices wend around each other on the haunting "The Wolf Is Free" instead of matching note for note allows some of their individual personalities to come out. Upbeat indie-rocker "Peppermint Candy" redeems the album's forgettable middle with warm electric guitar and an energetic feel, but concluding track "Blue Blades" takes Lily & Madeleine back to their mid-tempo comfort zone. Fumes is spotty, but there are parts that shine, proving the duo have potential if they continue to progress. (Kolbie Stonehocker) Oct. 28, Asthmatic Kitty Records