A half-dozen people are sitting in a line of plastic chairs, all facing a gray wall covered with red, yellow, blue, green and black knobs of distorted plastic. There isn't much chatter. One woman thumbs through a magazine. I know that, in order to do what I've come for, I'll have to step in front of this firing squad—but for the moment, I'm frozen in my tracks.
I've always been intimidated at climbing gyms. Whatever I do, I'm sure that someone is watching, just waiting for me to grab the wrong hold. But I keep showing up, because climbing provides something that can't be duplicated by any other sport.
For one, it's a truly individual sport; there's just you and the wall. While other solo pursuits like trail running allow my mind to wander though a movie reel of thoughts, climbing focuses me down to one feeling, one motion, one thought: reaching for the next hold. I think climbing is the closest thing to enlightenment I'll ever know.
Salt Lake City attracts climbers, and makes climbers out of those who weren't before. The granite in the Wasatch and the red rock in the desert provide endlessly irresistible lines, cracks and jugs. In the winter, climbers turn inward, literally, as Salt Lake City is also home to two state-of-the-art climbing gyms: The Front (1450 S. 400 West, 801-466-7625, FrontSLC.com), which specializes in bouldering, and Momentum (3173 E. 3300 South, 801-906-2132, MomentumClimbing.com).
click to enlarge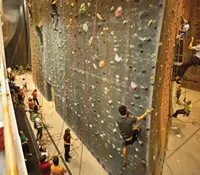 During the winter months, especially after regular work hours, these gyms are as crowded as any downtown bar on a Saturday night. Wall space is tight. The air is hazy from chalk dust. For people who appreciate outdoor recreation because of the solitude it offers, gym climbing in the winter can feel claustrophobic. But with recent abnormally warm winter temperatures, most climbers have been hitting the real rocks, leaving the gyms comfortably open.
In front of me, a woman in a knit beanie warms up on an intermediate route. A little farther down the wall, another woman with tattoos flowering over her shoulders pulls herself up onto the roof of an overhang; each individual muscle on her back stands out like a knot of rope. She moves for the next hold. Her arms never shake. With a growl, a man hanging next to her tumbles to the mat. The loudspeakers thump a mix of dance club hip-hop and dubstep.
After I've completed a few routes, it's easy to see why so many people at the gym are sitting in chairs. While my strength lasts, climbing gives an unbelievable full-body workout. I like to think of it as a more interesting way of completing a series of pull-ups. Of course, it takes tremendous leg and abdominal strength as well, plus an understanding of weight and counterbalance. And, unless you climb a lot, or super efficiently, it's a workout with quick burnout.
I watch my friend start in on a problem. I like to think that I introduced her to climbing, two years ago, when she moved to Salt Lake City and briefly rented the extra room in my house. I've lapsed since our last climbing session; she's improved. These days, I can only pretend to follow her conversations with climbing buddies—their talk full of slang, technical jargon and abbreviations—and I find myself asking her for advice when I can't seem to make it past a certain part of a bouldering problem.
Thirty minutes after we walk into the gym, I collapse into one of the plastic seats. On my last route, I'd managed to cling to the wall for maybe a total of two minutes, probably less, and made it to the top on my second attempt. My heart is pounding. I rub my forearms. The muscles are seizing. I put my hands together as if to pray and turn the fingertips toward my chest. It's a nice stretch. I hope that I look as strong as the woman with the tattoos, but I know that I don't. My New Year's resolution starts to take shape.