click to enlarge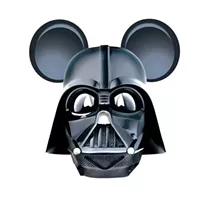 The question I get asked most often about the new Star Wars movies is, "Aren't you worried Disney is going to ruin it?"
No one wants their favorite space-film franchise ruined. No one wants any of their favorite franchises ruined. But I think Disney has earned a pass on this question. They've been buying our favorite entertainment companies and franchises for years, and we've never really been burned. Sure, we have had a couple of minor snafus, but nothing that should cause us to worry when it comes to Star Wars.
Let's begin with Pixar. Pixar was founded by Lucasfilm as part of its computer division, before spinning off into a separate corporation in 1986. Its first feature film (distributed by Disney) came out in 1995, a little movie called Toy Story. Though Disney distributed its films, Pixar wasn't actually purchased by Disney until 2006. Since then, Pixar has made some of its best films, including Ratatouille, Wall-E, Up and Toy Story 3. Can anyone honestly say Disney ruined the Pixar formula?
The 1990s saw Disney's distribution of the great and not-so-great Muppet films of that era, but The Mouse married the Frog (and Pig) in 2004, buying all of the Muppet characters and rights to future films. Since then, we've been given two of the best Muppet movies since The Muppets Take Manhattan. It's obvious there's a lot of love for these characters at the House of Mouse, and the enthusiasm has been a boon to all of us.
But when people sweat about Star Wars, the first question I ask them is, "Did you like The Avengers?" Because, let's be honest: The closest thing we have as a point of comparison for Disney's acquisition of Star Wars is Marvel, especially when you take into account the fast-track release schedule they've put Star Wars on. By all accounts, Disney has left Marvel Studios to its own devices, and it's flourished with the cash and marketing structure Disney offers. Marvel's most recent film, Guardians of the Galaxy, is about as close to Star Wars as Marvel can get, and probably should have been a flop. But the studio hired the right people for the job, and adapted the property with a keen eye for what was right, not for what would make them millions—though that ended up happening, too.
With Star Wars, Disney bought all of Lucasfilm, including a team that cares deeply about Star Wars. You have Kathleen Kennedy, the producer of the original Indiana Jones movies, at the top. Then, for the upcoming Episode VII, we've got Lawrence Kasdan (The Empire Strikes Back, Raiders of the Lost Ark) writing it alongside J.J. Abrams, a director who has so completely adopted the old Lucas/Spielberg style of filmmaking that you almost expect to see their names on Abrams' Super 8. These are the right people to bring new life to Star Wars.
This is not Disney's first rodeo. Hell, Disney's feature-film strategy was made by taking the intellectual property of others and turning it into movies. Sure, the Brothers Grimm didn't exactly need to be bought out, but Disney did go that far with A.A. Milne for Winnie the Pooh, the estate of J.M. Barrie for Peter Pan, and even Lloyd Alexander for the underrated Black Cauldron. Who else in the film industry can boast an adaptation track record as good as Disney's, which dates back to 1937?
So what's to worry about? I'm not worried at all—and neither should you.
In fact, I'd go so far as to hope Disney buys DC Comics from Warner Brothers. Disney could straighten things out over there right quick, and a Wonder Woman movie sounds right up its alley.
Bryan Young is the editor-in-chief of BigShinyRobot.com