click to enlarge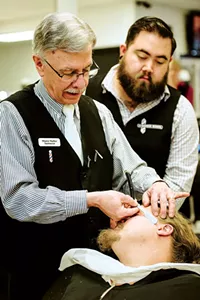 First came The Beatles, then the hippies. Both helped usher in an era of longer, shaggier hair—a one-two punch that was especially jarring to Utah's barbers, who in the late 1960s looked on helplessly as a change in styles left their scissors on the shelf and their barber chairs collecting dust.
What life barbering had left fizzled out to near extinction when, in 1979, the Utah State Legislature fused barbering to cosmetology. For nearly three decades, anyone who wanted to become a barber also had to learn how to do nails and give perms—a reality that pushed many away from becoming barbers.
"From that point on, barbering went downhill," says Milton Larsen, master barber instructor at The Barber School in Midvale.
Without new barbers to take their places, aging barbers, often unable to sell their shops, took their skills and knowledge with them to retirement or the grave.
"Many barbers just boarded up their shops and just closed them down," Larsen says. "And that persisted for 25 years or more."
Classical barbering in Utah might well have died altogether, Larsen says, if not for a reprieve from the legislature in 2007 that restored barbering to its roots, severing it from cosmetology—an act that resuscitated barbering and that, at least in part, has led to a resurgence in classical barber shops.
The number of barbers licensed per year in Utah has shot up from seven in 2007—the first year licenses were available without cosmetology training—to 66 in 2014. There are currently 275 people in Utah working as licensed barbers.
Barbering is intricately tied to whims of fashion and the economy, and so it is difficult to know for certain the cause of Utah's rise in barber shops.Larsen says the school's graduates have opened at least 30 new classical barber shops in the past year. The spike could be the product of a proliferation of well-coiffed bearded and/or mustached men who prefer others to shave them, the shedding of cosmetology arts, or the existence of The Barber School.
One thing is certain: barber poles are being mounted to storefronts all across the Wasatch Front, and men, in ever-growing numbers, are willingly paying as much as $40 for a shave.
Barbering, Larsen says, is "coming back big time."
"They're making the kind of money an MBA's making with a six-month education in barbering," Larsen says of his students. "And that's because there's a demand."
The most popular product of the moment, Larsen says, is the tapered haircut performed by a barber who "freestyles," meaning no guards are used on clippers. This type of barbering, generally referred to as classical, is what Larsen and his boss, Tim Hite, are known for preaching and teaching.
Hite opened The Barber School shortly after the legislature made barbering its own license. The school, Larsen says, is the only of its kind in Utah. Since opening, it has had a full slate of students, with many coming from all over the world to learn classical barbering techniques.
Larsen, who recently turned 69, went to barbering school when he was a senior in high school. He trained under Hite, who is now 87, and says he was one of the few classically trained barbers remaining to help Hite resurrect The Barber School.
"My commitment was that I wanted to see to it that we got enough barbers going that it would not go away," he says. "My personal feelings were had Mr. Hite not started a school—had it gone 10 years longer—that barbering as we knew it in the past would be extinct."
One of Larsen's graduates is Stefahn Looney, a barber at Garrett Michael Barber Shop on 300 South, which is owned by Daniela Marroquin, another Barber School graduate.
Looney says he was looking for a trade—something he could carve into a career—when he dropped out of college and contemplated entering barber school.
And Looney graduated just as barbering was coming out of its long slumber. Short of a couple of classical barbershops that had hung on over the years, Looney says it was a trade that was "dead."
Shops like Garrett Michael, which offers only men's haircuts (the shop's barbers don't cut women's hair), beard trims and shaves, and the one inside Zuriik, a boutique shop in the 9th & 9th neighborhood that sells $65 knit beanies and $400 leather boots, are decidedly hip.
There is little doubt that shops like these, catering to a well-heeled hipster set, are garnering popularity in part because of their premium services, like pamper-heavy shaves, and because they reproduce a product from a bygone era that resonates with those seeking refuge in nostalgia.
There's absolutely nothing wrong with this, says Jed Beal, owner of Jed's Barber Shop. But Beal, whose shop opened three years ago on 700 East and 200 South, fears that once styles shift, as they inevitably will, shops built purely on nostalgia could fail.
"I love 'em," Beal says of the city's newer shops. "I just don't know if they'll be around in five, 10 years."
In order to buffer himself from a shift in fashions, Beal says he created Jed's as a hybrid between the chain cutting shops that have dominated the market for decades, and a beauty salon. The former provides a fast-food-like experience, while the latter provides a fine-dining experience.
Jed's, Beal says, is a lot like Chipotle. "It meets the customers in between," he says.
Beal, who received his barbering and cosmetology license years before the state separated the two, was working for Aveda, traveling around the country helping the hair- and skin-care company set up barber shops, when he began eyeing opening a shop of his own.
In the mid-2000s, he says, it became clear that a resurgence in barbering was taking place in cities like Seattle and Los Angeles.
"I always had an interest in being a barber, but it wasn't until about 2006 that I saw barber shops popping up everywhere and putting their own spin on it," he says.
Beal has a specific goal in mind. He hopes to mimic the success of chain barber shops that have thrived in places like Austin, Texas. He'll soon be opening up a shop in Sugar House, and wants three more, for a total of five. His current shop, he says, is now open seven days a week with eight barbers on hand all the time, giving 2,000 haircuts a month, a number he says is a "massive quantity."
Jed's, Beal says, offers a wider variety of cuts than some of his newer counterparts, but also offers an elaborate $40 straight razor shave.
And he feels strongly that women, both barbers and customers alike, should be welcome in barbershops.
"I intentionally opened up a place that could cater to more people and not get stuck in a little trend of old-fashioned barbering, which is popular right now, but I think will kind of go out of style just like the mustache will," he says. "The [shops] that are surviving are the ones that have something everyone can relate to."