click to enlarge
Gluttony. It's one of the seven deadly sins, and this God-fearin' country's favorite pastime. It helps fill that burrito-shaped void in our souls and gives us a bloated sense of achievement. And hell, it's just fun. Here's a rundown of the eats at the 2014 Utah Beer Festival so you can map out your feasting.
Cupbop Co.
Facebook.com/CupbobKoreanBBQ/info
If you love noodle/rice bowls piled with mouth-watering grilled meat and vegetables as much as the author, you've probably chased down the Cupbop cruiser like a fat kid (read: the author) does (did!) an ice cream truck. Korean barbecue is the specialty here. It's not terribly different from the usual rice bowls—except it is, like the difference between an ice-cream sandwich and a chocolate-chip-cookie ice-cream sandwich. Does anybody else hear "Turkey in the Straw" (and heavy footfalls) in the distance?
The Pie Pizzeria
ThePie.com
Ask anyone what their favorite pizza in Salt Lake City is, and the answer is almost always The Pie. One slice eats like a meal, and the Cheese Pull-A-Parts are ridiculous(ly delicious). There used to be one location; now there are four. As if that's not enough, they've now gone mobile. And you know how pizza and beer and like that (*crosses fingers, flies away*).
City Dogs Vegetarian/Vegan Street Vending Cart
SaltCityDogs.com
Are you disgusted by the actual contents of hot dogs? Actually, it's not as bad as they say—unless you're vegetarian/vegan. Then it's nasty. And if carnivores think a veggie dog is disgusting ... It's not so bad. In fact, as with City Dogs, they're downright dank. And you can even get veggie brats, ribs, Italian sausage and chili dogs here. And it's all good. Real good.
Rubadue's Saucey Skillet
SauceySkillet.com
Rubadue's boasts that it can cater anything from a Texas barbeque to a Roman banquet. For the beer festival, Carl Rubadue is firing up the food truck. Check out the menu: Alaskan red king crab cakes, a BLT on ciabatta with applewood-smoked bacon, pulled-pork sliders, cilantro chicken pesto (sandwich or salad), four-cheese macaroni and a vegetarian sandwich. Hmm ... Wasn't I just planning a Roman banquet?
Off the Grid
OffTheGridSLC.com
Waffle sandwich. Intrigued? What if I told you they describe this yeast-leavened beast as "well-rounded and edgy"? Oh, yeah. Flatbread wrap? Blue-corn taco? Choice of chicken, pork or baked tofu on everything? Four flavors for all of the above: chipotle mole, maple-balsamic barbecue, Buffalo blue and sweet chili. A grilled-cheese sandwich made with Beehive Cheese Co.'s espresso- and lavender-rubbed Barely Buzzed cheese? On waffles. With honey. Now, my only qualm is this whole "off the grid" thing. Someone put a tracker on this truck.
Apollo Burger
ApolloBurgers.com
The Greeks make the best cheeseburgers. I'll fight anyone who says otherwise. (Ball pit, you pick which McDonald's—two men enter, one manchild leaves!) That's all there is to say. Except you should get extra-crispy bacon and extra sauce on that thing. Maybe some pastrami. And some of those big, fat, finger-burnin' fries to dip in that super-good fry sauce. With a gyro on the side. Extra tzatziki.
Banh Mi Time
Vietnamese food isn't just pho. Banh mi is a sandwich incorporating Vietnamese and French influences. It's meat and veggies served on a baguette (guess who contributed that), and Banh Mi Time serves a few variations. You can get it with grilled pork, with a brat or veggie-style. On the side, BMT serves ribbon fries or chili-cheese fries ('Merica), fresh-squeezed strawberry lemonade and bottled Coke products. So far they only serve at fairs, festivals and special events—but they're saving up to buy a food truck.
Jamaica's Kitchen
Facebook.com/Jamaicas.Kitchen
Hope you like spicy, readers. One of the main ingredients in jerk-style cooking is the Scotch bonnet pepper, a hot little number that's up to 44 times hotter than the jalapeño. Don't panic—it doesn't feel nearly as hot. You're gonna love JK's jerk chicken, jerk chicken wings, jerk pork and jerk burgers, which you can only get at festivals or if you hire them to cater your event. The side dishes are likewise appetizing: rice, beans, coleslaw, shoestring fries and (ssssslobber) sweet & spicy corn on the cob. If the spice hits higher notes than you can handle, Jamaica's Kitchen also offers fresh watermelon or raspberry lemonade. (Or, I dunno, you can see if anyone on-site has beer.)
All-American Grill
How's this for all-American? The burgers here are made with three types of red meat—beef, buffalo and elk. (Not all together.) But two of the three blushing fleshes are leaner than beef, so don't go hollerin' " 'Merica!" just yet. Or do, cause the AAG has three—count 'em!—different footlong menu items: hot dog, corndog, chili dog). And three deep-fried sides (onion rings, mozzarella sticks, jalapeño poppers). Plus cotton candy.
MacCool's Public House
MacCoolsRestaurant.com
Oh, man. MacCool's has unbelievable shepherd's pie. But for the beer festival, they're doin' ribs! Signature, slow-roasted lamb ribs—they roast 'em, grill 'em, toss 'em in a housemade barbeque sauce, then grill and glaze 'em again. Then they're served with a buttermilk blue-cheese dressing (buttermilk tames that blue-cheese tang). Plus: house-baked Bavarian-style beer pretzels and English bangers with caramelized onions.
Wing Nutz
BakedWingsAreBetter.com
"Never caged, no hormones, never frozen, larger wings, better taste and better for you ... Never ever breaded or dipped in greasy fat or oils."
Oh, man. Say it again. Slower this time.
Wings are usually good—even the second-rate pizza chain ones. Sometimes. If you have beer to go with 'em. But Wing Nutz wings are seriously great. That's why they say they've "truly discovered Paradise on Wings." Now imagine how good they'll be when there are 26 brewers—including Wing Nutz own Nut Job Beers—on the premises.
You want I should say it again?
click to enlarge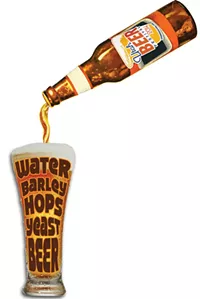 On Saturday, Aug. 16, more than two dozen brewers will gather around the Salt Lake City & County Building with scores of ales, lagers, pilsners, saisons, ciders and other quaffables. To quote a certain goose from Charlotte's Web, it will be "a veritable smorgasbord-orgasbord." You can head right to your favorite local or national brewer for full-size favorites or try a little of everything—because taste matters. Then, soak it all up with some good local grub.
Utah Brewers
(All beers 4% ABV unless noted)
Avenues Proper (Salt Lake City)
AvenuesProper.com
Utah's smallest craft brewery will have a "Proper Choice" rotating tap. In addition, they'll be pouring their flagship Proper Beer (a golden pale ale), Hopspital (an American Session IPA), and a Leipziger Gose called Gose the Gozerian. Remember folks, the Keymaster is an important part of your Beer Fest crew.
Bohemian Brewery (Midvale)
BohemianBrewery.com
The proprietors of Midvale's esteemed brewery are of Czech descent, so it makes sense that they serve a bomb Czech Pilsner. In addition, they'll have a Viennese Amber, Bavarian Weiss and Cherny Bock for your pleasure. Alas, there will be no Chocolager. It's seasonal, you see.
Bonneville Brewery (Tooele)
BonnevilleBrewery.com
Bonneville Brewery sits near the Great Salt Lake. (Insert lame Briny Bock joke here.) Their summer seasonal Sun Twist blends German pilsner malt and Chilean caramel malt with fresh ginger and lemon peel. Sounds refreshing, no? If not, check out their Redline Irish Red and Free Roller Pale Ale.
Desert Edge Brewery (Salt Lake City)
DesertEdgeBrewery.com
Brewmaster Chris Haas likes to brew "aggressive" beers. Naturally, we're not talking about Colt .45, King Cobra or Double-Y Chromosome 'Roidbrew. By aggressive, Haas means "ultra-hoppy," like his Utah Pale Ale, or the dry, malty and bitter Czech pilsner, Pub Pils. These are balanced with the lower-key yet still-striking Summer Kristalweizen and Centennial Steamer.
Epic Brewing & The Annex by Epic Brewing (Salt Lake City)
EpicBrewing.com, TheAnnexByEpicBrewing.com
With a reputation equal to its name, Epic is a local favorite. Bolstering their presence this year is The Annex, a gastropub with its own brews. This year, Epic showcases four high-point beerstwo from their Classic Series and two from the Exponential Series. Respectively, they are Pfeifferhorn Lager (5.3% ABV), Spiral Jetty (6.8%), Brainless Belgian (8.5%) and Brainless Raspberries (9.7%). For their part, The Annex has four standard four-percenters: The Annex Pale Ale, The Annex IPA, The Annex Wit and The Lauter Day Brewers Collaboration Brett Pale Ale.
Hoppers Grill & Brewing Co. (Midvale)
HoppersBrewpub.com
Hoppers brings the classic Bohemian-style This Is the Pilsener, made with German "noble" hops and boasting a "nicely balanced finish." The Hot Headed Redhead is made with caramel malts and Irish ale barley. The spicy, fruity scented seasonal uses malts from the Antwerp and Schelde River areas.
Moab Brewery (Moab)
TheMoabBrewery.com
The only microbrewery in Utah's popular desert recreation destination, Moab Brewery is gaining traction throughout the state. In fact, you'll find Johnny's IPA and Squeaky Bike Nut Brown Ale, Rocket Bike Lager and Porcupine Pilsner in grocery coolers. Moab Brewery's high-point offerings are Tripel, Black IPA and Export Stoutall of which measure at 8.59% ABV.
Red Rock (Salt Lake City)
RedRockBrewery.com
Red Rock's 2014 team includes four-pointers Zwickelbier, Bamberger Rauch, Rye Pale Ale and Saison. The big guns are Golden Halo Blonde Ale (5.8%), Elephino Dipa (8%), 20th Anniversary Imperial Red (9.5%) and the second-most potent brew at this year's festival: Drioma Russian Imperial Stout, which hits 10.10%.
Roosters Brewing Co. (Ogden and Layton)
RoostersBrewingCo.com
Roosters is Davis County's biggest brewer. Its Diamondback Ale salutes the airmen at Hill Air Force Base and is made with toasted malts and a Cascade hop finish. With six malts, Junction City Chocolate Stout is "not for the faint of palate." Rooster's UBF roster also lists Bee's Knees Honey Wheat (6%) and Hellevation IPA (7%).
Squatters Craft Beers & Wasatch Brewery (Salt Lake City)
UtahBeers.com, Squatters.com, WasatchBeers.com
Two O.G.s in Utah's craft-brewing scene unite to offer two selections from each side, plus four of their own. Wasatch's Ghostrider (6%) is a white IPA brewed with coriander, and Black O'Lantern (6.5%) blends imperial stout with pumpkin beer. On the Squatters side are the "insanely smooth" double IPA Hop Rising (9%) and Wee Peat (5.6%), a smoky, peaty Scottish ale.
Separately, Squatters will show off its famous Full-Suspension Pale Ale and Chasing Tail Golden Ale, as well as their Amber Wheat and Original Amber beers. Wasatch will proffer its incredible Apricot Hefeweizen, Evolution Amber, Provo Girl Pilsner and Pumpkin Ale.
Uinta Brewing Co. (Salt Lake City)
UintaBrewing.com
Another Utah original, Uinta has the high score for ABV at the 2014 UBF. At 13.2%, you'll easily get lost in the ultra-dark Labyrinth Black Ale. Curiously, at 6.4%, you'll have to drink a lot of Birthday Suit Sour Brown Ale to unlock the corresponding attire. See also: 801 Pilsner (4%), Hop Nosh IPA (7.3%), Detour Double IPA (9.5%) and Cahoots II Saison (6%).
Wing Nutz: Nut Job Beer (Salt Lake City)
BakedWingsAreBetter.com
Smart business: If you're in the wing biz, get into brewing. Wing Nutz has teamed up with Squatters and Wasatch to form Nut Job. They'll have four brews on tap at the UBF: Over the Moon Belgian White, Jack Mormon Lager, Wing Man Pale Ale and Tree Hugger Organic Amber.
Vernal Brewing Co. (Vernal)
VernalBrewingCompany.com
Even way out in Vernal, you can get good craft beers—and, based on all the food porn (drooool) on their website, something to wash down with it. The names are simple: Peach Wheat, Pale Ale, Red Ale and Little Hole Lagerbut they sound as good as the food looks.
North American & International Brewers
Anheuser-Busch InBev (St. Louis, Mo.)
Ab-InBev.com
Also known as the folks who bring you Budweiser, et al., this superbrewer will pour Stella Artois (5%), Hoegaarden (5%) and Lee Blonde (6.6%).
Boulevard Brewing Company (Kansas City, Mo.)
Boulevard.com
For a quarter-century, the (other) BBC has been "the Midwest's home for fine ales and lagers," such as 80-Acre Hoppy Wheat Beer (5.5%), Tank 7 (8.5%), Double-Wide IPA (8.5%) and Long Strange Tripel (9.2%).

Deschutes Brewery (Bend, Ore.)
DeschutesBrewery.com
Deschutes' brews are "GMO-free, and even vegan." Indulge guilt-free in Deschutes River Ale, Fresh Squeezed IPA (6.4%), Mirror Pond Pale Ale (5%) and Chainbreaker White IPA (5.6%).

Diageo (England)
Diageo.com
Of the many name-brand beers Diageo offers, they're bringing Red Stripe (4.7%), Guinness Extra Stout (5.6%) and Smithwick's Irish Ale (4.5%).
Firestone Walker (Paso Robles, Calif.)
FirestoneBeer.com
Firestone makes nearly four dozen beers, including Union Jack IPA (7.5%), Wookey Jack (8.3%), Double Barrel Ale (5%) and Pivo Hoppy Pils (5.3%).

Lagunitas Brewery (Petaluma, Calif.)
Lagunitas.com
A Californian institution by way of "Chicago, St. Louis, Memphis, Walker Creek and the highlands of Quincy," Lagunitas will have Lagunitas IPA (6.2%), Lagunitas Sucks (8%), Little Sumpin' Sumpin' (7.5%) and Little Sumpin' Extra (8.7%).

Miller-Coors (Chicago, Ill.)
MillerCoors.com
Miller-Coors (doesn't) have your High Life right here. Instead, they'll have Peroni (5%), Pilsner Urquell (5%) and good ol' Hamm's (4.7%).

Payette Brewing Company (Boise, Idaho)
PayetteBrewing.com
Named for a French Canadian trapper and Idaho legend, Payette will pour Rodeo Pale Ale (4%), Mutton Buster Brown Ale (5.5%), Outlaw IPA (6.2%) and Dry-Hopped Golden Ale (4%).
Samuel Adams (Boston, Mass.)
SamuelAdams.com
Bearing the name and likeness of the American statesman and revolutionary thinker, they'll wet whistles with Sam Adams Boston Lager (4.9%), Octoberfest (5.3%) and Rebel IPA (6.5%).
St. Killian (Everett, Mass.)
StKillian.com
Importers of beers from all over the world (including Africa and the Philippines) St. Killian will have Crabbies (4.8%), Carlsberg (5%) and Tetley's English Ale(3.6%).

Radeberger (Germany)
Radeberger.com
You know Schöfferhofer (say: shuffer-HOfer)—it's that delicious but weak (2.5%) grapefruit Hef you found at the grocery store.
Cider
Ace Apple Cider (Sonoma County, Calif.)
AceCider.com
Ace's Ace Perry and Ace Apple Cider are gluten-free and, at 5% ABV, stronger than so-called "Utah beer."

Angry Orchard (Cincinnati, Ohio)
AngryOrchard.com
You don't need no apple beer. Angry Orchard gives you options, with Crisp Apple Cider and Apple Ginger Cider.
Blue Moon (Golden, Colo.)
BlueMoonBrewingCompany.com
In addition to the classic Belgian White, Blue Moon is bringing the aptly named Pine in the Neck (7.5%) and Grape Scott! (9%), as well as Rounder Belgian-Style Pale (5.6%), a spicier, wheatier pale ale.
Rogue (Newport, Ore.)
Rogue.com
This craft-beer stalwart will be pouring its smooth American Amber Ale and Hazelnut Brown Nectar, as well as 7 Hop IPA and Marionberry Braggot, two selections from the brand's Rogue Farms offshoot of higher-point beers.
Smith & Forge Hard Cider (Memphis, Tenn.)
SmithAndForgeHardCider.com
This canned cider stays extra-cool and weighs in at a hearty 6% ABV.