Sometimes you want to dip your toes into an area's arts scene—and sometimes you're ready to take a cannonball leap. Utah's scene presents a wide range of options for arts experiences, whether your tastes are more restrained and traditional or you're ready to sample something daring.
The categories indicated below are fluid, and individual works and productions aren't so easy to identify as appropriate for any given audience. Let this be just the beginning of your exploration into the amazing world of Utah arts.
TRADITIONAL
Utah theater companies offer plentiful options for those looking for productions that are family-friendly, or simply appeal to those with a taste for the classics. One of the state's most venerable theatrical institutions, Pioneer Theatre Company (300 S. 1400 East, 801-581-6961, PioneerTheatre.org) annually serves up an eclectic season of new, award-winning Broadway shows combined with Shakespeare (Much Ado About Nothing), established plays (Deathtrap) and great musicals (Sweet Charity). Hale Centre Theatre (3333 S. Decker Lake Drive, West Valley City, 801-984-9000, HaleCentreTheatre.org) continues a nearly 30-year history of presenting energetic community theater to local audiences, from Broadway musicals like Les Misérables and Mary Poppins to classic plays like Arsenic & Old Lace. When you want a taste of the latest and greatest from Broadway as touring companies roll through town, visit Broadway Across America Utah (BroadwayInUtah.com) for shows like War Horse, Bring It On and Wicked.


If you like your theater a bit broader—even with a little flavor of old-time melodrama—Desert Star Theatre (4861 S. State, Murray, 801-266-2600, DesertStar.biz) gives familiar pop-culture targets a regionally flavored skewering in satirical productions like ProvoCop, while The Off-Broadway Theatre (272 S. Main, 801-355-4628, TheOBT.org) similarly presents original parodies and twists on established farces and light operas.
click to enlarge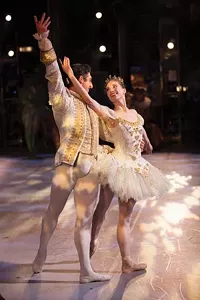 There's also plenty of entertainment for those who find their bliss in classical forms like ballet, symphony and opera. Ballet West (801-355-2787,
BalletWest.org
) continues its 50th-anniversary season in 2014, delighting audiences with its annual holiday performances of The Nutcracker and classic works like The Sleeping Beauty, while also providing space for new works like the spring production Innovations. Utah Symphony (801-533-6683,
UtahSymphony.org
) fills the magnificent Abravanel Hall (123 W. South Temple) with the great works of Tchaikovsky, Dvorak, Mahler and more, as well as wonderful pops performances of beloved standards and soaring movie music. And Utah Opera (801-533-5626,
UtahOpera.org
) stages some of history's most enduring theatrical music, including Mozart's Abduction From the Seraglio and Puccini's Turandot.
Local museums also provide intriguing but family-friendly opportunities. The Leonardo (209 E. 500 South, 801-531-9800, TheLeonardo.org) focuses on science and technology with plenty of hands-on experiences, while also bringing in compelling touring exhibits like The Dead Sea Scrolls. You can also find interactivity and a great look at the state's geological and cultural evolution at the Natural History Museum of Utah (301 Wakara Way, 801-581-4303, NHMU.Utah.edu) and plenty of hands-on exhibits and creative opportunities for all ages at Discovery Gateway (444 W. 100 South, 801-456-5437, ChildMuseum.org).
EXPLORATORY
If you feel like taking a leap into the less-familiar, we've got organizations willing to accommodate you. Salt Lake Acting Company (168 W. 500 North, 801-363-7522, SaltLakeActingCompany.org) offers regional premieres of challenging new plays (4000 Miles), works by local playwrights (A Loss of Appetite) and the annual musical satire of Utah's faults and foibles, Saturday's Voyeur. Pygmalion Theatre Company (801-355-2787, PygmalionProductions.org),


meanwhile, trains its focus on works by and about women, including the spring 2014 productions Women of Lockerbie and Motherhood Out Loud. Wasatch Theatre Company (801-355-2787,
WasatchTheatre.org
) finds room in its repertoire for both crowd-pleasing productions and opportunities to develop new work, including its annual Page-to-Stage Festival for plays by local writers.
click to enlarge
Utah's remarkable tradition of producing great dancers continues in several local companies. Ririe-Woodbury Dance Company (801-297-4241,
RirieWoodbury.com
), also celebrating a 50th-anniversary season, presents dynamic modern dance productions like Accelerate. Repertory Dance Theatre (801-534-1000,
RDTUtah.org
) brings its mission to promote the "creation, performance, perpetuation, and appreciation of modern dance" to shows like the Land-themed program in spring 2014. And Odyssey Dance Theatre (801-495-3262,
OdysseyDance.com
) brings a funky, contemporary flavor to productions like its now-traditional October production Thriller.
If you're seeking other ways to push your boundaries, you can do it with a laugh. Wiseguys Comedy locations in West Valley City (2194 W. 3500 South, 801-463-2909, WiseguysComedy.com) and Trolley Square downtown (505 S. 600 East, 801-532-5233) showcase talented local comedians, as well as nationally known touring headliners including Tracy Morgan, Jake Johannsen and Drew Carey. Or you can find the finest in independent cinema at the Salt Lake Film Center's Broadway Centre Cinemas (111 E. 300 South, 801-321-0310, SaltLakeFilmSociety.org) and Tower Theatre (876 E. 900 South), including regular showcases of experimental short films by local filmmakers.
For visual arts, the Utah Museum of Fine Arts (410 Campus Center Drive, 801-581-7332, UMFA.Utah.edu) often houses touring exhibitions by celebrated artists from around the world, yet also takes time to focus on works by Utah artists or about Utah subjects, including Alfred Lambourne's studies of the Great Salt Lake.
DARING
When you're interested in stretching your art-appreciation muscles even further, don't think the SLC scene won't be able to help. Plan-B Theatre Company (801-355-2787, PlanBTheatre.org) regularly takes on challenging subject matter, and provides a consistent showcase for new works by local writers including Eric Samuelsen, Matthew Ivan Bennett and Jennifer Nii. Newer on the local scene, The Hive Theatre Company (HiveTheatre.Blogspot.com) and Meat & Potato Theatre (MeatAndPotato.org) bring more experimental, smaller-scale works to town, while you can get a look at what the Utah actors of the next generation are willing to try out in the University of Utah theater department's Babcock Theatre and Studio 115 productions (Theatre.Utah.edu).


Dance, too, goes out on a limb locally, most notably in the innovative productions by SB Dance (SBDance.com) that are sometimes willing to show more than a little skin as founder Stephen Brown explores the limits of the body. You can even get an off-the-beaten-track brand of the supposedly staid artistic area of classical music with Salty Cricket Composers Collective (SaltyCricket.org), which provides regular opportunities for local composers to try out brand-new works for audiences.
Visual art in Utah also pushes boundaries at multiple venues, perhaps most significantly at the Utah Museum of Contemporary Art (20 S. West Temple, 801-328-4201, UtahMOCA.org), where multiple galleries allow a glimpse at installations in every possible medium, with some space dedicated specifically to Utah artists. The gallery formerly known as the Central Utah Art Center moved downtown and became CUAC (175 E. 200 South, 385-215-6768, CUACCenter.org), but held on to its mission to expand appreciation for contemporary art.
And you can find out about many more Salt Lake City art galleries, as well as the dates for receptions and openings, at GalleryStroll.org.
---
• Welcome to the Neighborhood(s)!

• The 16 Utahns You Need to Meet

• Dive Into the Art Scene

• Browsing & Buying

• How to Get Here, There & Everywhere

• No Skis, No Problem

• Resort Report

• Local Live Music Spots

• SLC Bars & Clubs

• Meatless Meals

• Nosh Around the Clock