click to enlarge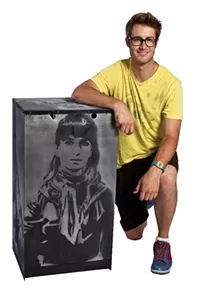 A photographer in Salt Lake City, persistence and creativity guide my career pursuits.

Persistence is a quality instilled in me by my mother, a schoolteacher. She taught me that hard work gets things done. Her example serves as a reminder to always move forward with purpose.

Creativity is a quality instilled in me by my father. He was the first person to place a drawing pencil in my hand and encouraged me to explore he world visually. He was an architect, whose best work mirrored art. After his unexpected death, I gained even more resolve to never give up on my creative pursuits. His death helped me choose photography.

Being raised in relatively affluent communities allowed me to see that suffering and happiness exist across socio-economic backgrounds. I look for multiple sides to any story and multiple ways to show these sides through images.

I photograph with the purpose of communicating and questioning.

My works have exhibited at The Center for Fine Art Photography, Kimball Art Center and Duke University.

Currently, I am working as a staff photographer for Salt Lake City Weekly. Additionally, I am working on a long-term photo documentary with multidisciplined artist Amy Caron. Images from the project are seen painted in my Out of the Box work.
Located Outside Nostalgia: 248 East 100 South - click below for directions