click to enlarge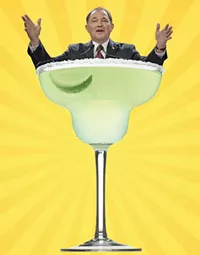 8. The word "privatization" contains more than two syllables.
7. Because Utah is all about small businesses ... the right kind of businesses.
6. It's certainly not about LDS political influence. Only a drunk like you would believe that.
5. Education funding shortfalls would have to be made up with a lottery, and no one wants that.
4. The new computerized inventory system from startup Skynet will fix everything.
3. It would be seen as "promoting" an unhealthy lifestyle—what if private liquor stores had drive-thru windows?
2. It's still probably the least corrupt section of local government.
1. He says the current system is "working good"—and who can argue with that kind of keen articulation?