Page 2 of 3
click to enlarge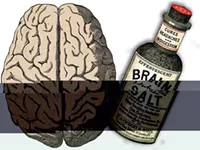 "Crazy People Travel in Packs"
Utahns' love of alternative medicines runs deep in the state's pioneer history. LDS Church prophet and founder Joseph Smith spurned doctors, as did Brigham Young, who famously said of traditional doctors that "a worse set of ignoramuses do not walk the earth."
The combination of alternative-medicine-loving citizens and do-it-yourself entrepreneurs has proved a potent prescription in Utah, making it a hotbed of multi-level-marketing companies hawking nutritional supplements.
Q Sciences, which opened up shop in Lehi in February 2013, however, stands to be a unique MLM, even in Utah, where there is estimated to be a higher concentration of MLMs than anywhere else in the country.
The company holds exclusive rights to market the EMPower Plus Q96 supplement. It's Q Sciences' premier product and has been on the market for almost 17 years and been purchased by more than a hundred thousand people who were not part of an MLM but simply customers.
To have a product that has previously grossed millions through traditional sales now marketed through an MLM is an anomaly in the industry. Such a product presented a golden opportunity for Utah's savvy MLMers, and attracted some heavyweights in the industry to Q Sciences.
CEO and Q Sciences co-founder Daren Hogge has not only worked for decades in the MLM business with the supplement company Nature's Sunshine and others, but is also the president of the Direct Sales Management Association of Utah, the industry's state lobby group.
The Q Sciences team is also anchored by a few founding IBOs—essentially, key distributors who are right at the top of the sales chain. These founders host video meetings every week on the Q Science website, pitching prospective IBOs on the business and its products.
These videos tend to be science-light and sales-heavy.
In one video, founding IBO and a decades-long veteran of the MLM world Scott Malone can barely contain himself in talking about how the number of non-IBO customers who buy the product is "unprecedented" in the industry.
He's equally enthusiastic about some of Q Sciences' other products, such as the line of vitamin sprays (developed by a Dr. Clive Spray), which, he said in one opportunity meeting, "delivers the clinical doses people need in a very pleasing and financially rewarding way."
With a confident perma-grin, Malone also touts the company's line of supplements for pets, Q Pets.
"Any animal that you can get to eat it will notice a difference," Malone said at one meeting. "I know people that have given it to their aged pets and they've really become reborn!"
Another founding IBO of the company, Ken Forrest, stays away from talking about the science by simply emphasizing the sales aspect of the product. Forrest extols an "abundance" sales philosophy to people attending his opportunity meetings, explaining that the key to success is not trying to sell the product, but just sharing samples with as many people as possible. He argues that those who feel a difference will come back for more.
"I give them three [samples] and say, 'You and two people you care about, all three of you need to get on this product.' Crazy people travel in packs," Forrest says in one video, to a chuckle from the crowd of prospects. He continues in a softer tone: "I shouldn't say crazy; a lot of people aren't crazy who benefit from the products, lots of people. In fact, one of my special groups I love to work with is people with ADD or ADHD."
The 46-year-old Forrest, like the other founding fathers of Q Sciences, has had a long history in the MLM business, though his Q Sciences video plays up his boyish mien. In the video, Forrest rides a longboard down a street, wearing a backward baseball cap, as his voiceover touts the benefits of living a lifestyle of freedom and financial prosperity.
In another video, Forrest tells a group of prospective IBOs that in his decades of marketing in two separate MLMs, "I had over 30,000 distributors in my downline. Do you want to know how many customers were not distributors? Zero. Not a one," Forrest says.
Forrest says the EMPower Plus product is different on this point, and counts more than a hundred customers who receive monthly shipments and are simply fans of the product, not distributors. He himself says EMPower Plus helped him curb his addiction to alcohol and pills.
"By taking this, I no longer crave drugs on a daily basis, on an hourly basis, on minute-by-minute basis," Forrest says.
Forrest is open about his past addiction to prescription medications on his Q Sciences website, where he lists "life coach" among his services. Forrest's life-coach resume also states that he "has spent 16 months in federal prison for his part in an online pharmacy business."
According to an FBI press release from August 2010, Forrest was charged with "continuing a criminal enterprise, drug distribution and money laundering" for being part of a group that smuggled pharmaceuticals from Mexico and sold them to consumers through online pharmacies that required little or no medical evaluation before doling out prescription medication.
For Forrest, these disclosures are just part of his story of hitting rock bottom and bouncing back, thanks in part to Q Sciences.
While Forrest often repeats that he is not a doctor, he does in one Q Sciences video explain the logic of taking one natural supplement versus taking multiple medications.
"How are you supposed to take nine different meds into your body and expect for you to operate normally?" he asks. "It's just crazy; it would be like putting nine different kinds of gasoline in your car, and some of them aren't even gas. What would happen? Eventually, that car's not going to run right, if at all."
Forrest has hosted multiple opportunity meetings at Q Sciences' Pleasant Grove headquarters that have been filmed and posted on the Q Sciences website. A City Weekly reporter attended the Nov. 13, 2013, meeting, which was also taped for the website. After the filmed portion of the meeting, Forrest fielded questions from the crowd of roughly 20 people, most of whom peppered him with questions about his selling skills.
In this off-camera conversation, Forrest leveled with the crowd, saying that the EMPower Plus product was an incredible financial opportunity and might as well be a bottle of "gold bars."
While the uninitiated are told they can be an IBO for as cheaply as $99 a month, he explained that in the nine months the company has been up and running in Utah, he has invested $100,000 between buying samples, a website, videos and marketing tools to thrive as an IBO.
Forrest told the crowd that he expects to be making $2 million a month in 10 years time, just from the profit trickling up from his downline distributors.
He repeated multiple times the simple selling mantra, "Take this product, if it makes you feel better, you know where to get more."
A City Weekly reporter in attendance asked him what one would say if people didn't want to watch testimonial videos and asked directly whether the supplement was a treatment or a cure.
Forrest threw out a sample pitch, saying, "If you're telling me you're suffering—you may or may not be on medication—but if you're telling me you're suffering, then I'm telling you that I've got an all-natural product that thousands and thousands of people with your same disease, or ailment or whatever you want to call it, claim has … fixed them, made them feel better. Now, I'm not going to use the word 'cure' because only a drug can cure something in America—that's according to the FDA."
Hogge says he can't address the specifics of Forrest's comments, but emphasizes that "we prohibit impermissable product claims, indirect or otherwise."
According to a memo issued by Q Sciences, distributors are warned that they can't even imply that the supplement is a cure or a treatment for a specific mental illness.
Hogge says that compliance extends beyond that, including the utilization of two outside services to train and monitor IBOs. The company is also preparing to launch a company-wide compliance training system for distributors. Hogge says the training will be "groundbreaking" in the direct sales industry.
He says the company also has an internal department dedicated to making sure the company is compliant with all relevant rules and regulations.
"It is a great expense to the company, but we do understand and agree fully it is critical and important," Hogge says. "We are committed to ensuring Q Sciences is operated properly."