The harvest is months away, but you can bet Utah farmers are deep in the weeds planning their crops—and they need your money to buy seeds, equipment and to keep their farms afloat.
It's CSA sign-up season, the time when farmers collect money now by selling shares or subscriptions in their community supported agriculture (CSA) programs. In exchange, members get local, seasonal fruits and veggies from about May to October.
And Utah CSAs are experimenting with new ways to draw in new members. Many CSAs are offering the convenience of home delivery—practically making a trip to the grocery store unnecessary when they include bread, cheese, coffee and milk with their shares, as many now do.
Others invite members to experience where their produce is grown, hosting harvest dinners or seeking volunteers to work in exchange for food.
Luke Petersen takes it a step further. In line with his farming philosophy, he requires his Petersen Family Farm shareholders to pick up the produce at his Riverton farm. They'll travel down a gravel road walled in by sunflowers reaching 10-feet high and spy rows of peppers, tomatoes, pumpkins and sweet corn at the end of the lane.
"They get to not only consume the food, but consume the beauty of the farm," he says. "Agriculture is a primal, human need. When people don't experience it, they can't find ultimate fulfillment in life. I want that for my customers."
No matter your seasonal produce needs, Utah farms have plenty of options.
click to enlarge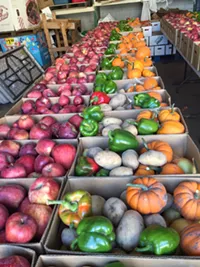 Adam's Heirlooms
Uses urban backyard gardens to grow heirloom, antique and ancient varieties of fruits and vegetables.
What's new: On the Farm cooking workshops planned for members to pick, prepare and eat.
Add-ons: Drake Family Farm goat cheese, Clifford Family Farm eggs, Zursun Idaho Heirloom Beans, local fruit.
Price: $325 for 20-week small veggie/herb share; $525 for standard share. Home delivery available.
Contact: AdamsHeirlooms.com, 801-209-6739
Backyard Urban Garden (BUG) Farmers
Grows vegetables in Glendale's large backyard lots using techniques that allow them to double or triple what a traditional farm grows.
What's new: Events like the annual potluck are planned.
Add-ons: Mamachari Kombucha growlers, Riley Orchards fruit, Zursun Heirloom beans.
Price: $325 for 22- to 24-week half share; $600 for full share. Home delivery available. Volunteers can work in exchange for food.
Contact: BackYardUrbanGardens.com
Bell Organic Gardens
The Draper farm has been providing fresh, local produce for 10 years.
Price: $160 for six-week spring or fall veggie share. $320 for 12-week summer veggie share. $620 for all three seasons. Home delivery available.
Contact: BellOrganic.com, bells@bellorganic.com
Borski Farms
Open since 1992, the Kaysville organic farm grows a variety of vegetables, fruit and herbs.
Price: $240 for 15-week share. Home delivery available in Kaysville.
Contact: BorskiFarms.org
Christiansen's Family Farm
All animals on this small family farm are pasture-raised without the use of hormones or antibiotics and are humanely treated. One-time delivery of 30 pounds of meat comes frozen.
What's new: Farm teamed up with chef Frody Volgger to create Salt & Smoke Artisan Meats including sausages, proscuitto, copa, spec, hams and pastrami. Products available at 155 W. Malvern Ave. Suite B, South Salt Lake.
Price: $135 for ground pork; $160 for pork; $175 for grass-fed ground beef; $190 for combo pork and beef; $220 for standard beef.
Contact: ChristiansenFarm.com, Facebook.com/ChristiansensFamilyFarm, 435-839-3482
Copper Moose Farm Has been providing Park City area with organically and biodynamically grown vegetables and cut flowers since 2007.
What's new: One-year-old farm stand at 1285 Old Ranch Road, Park City, is open to the public three days a week.
Add-ons: Red Bicycle Breadworks bread, Beehive Cheese cheese.
Price: $625 for 19- to 21-week half share; $1,000 for full share.
Contact: CopperMooseFarm.com
Farmer Next Door/Overstock.com
Cooperative among Utah growers delivers seasonal produce via Overstock.com, either weekly or one-time.
Price: $35 for one-time delivery of produce; $42.50 for one-time delivery of produce plus local cheese, bread or eggs; $140 for four-week delivery.
Contact: Overstock.com
Johnson Family Farms
Family has been farming in Cache Valley for the past 100 years and provides fruits and veggie shares to Logan and Salt Lake area.
What's new: Partnered with Rosehill Dairy to home deliver shares to dairy customers in northern Utah.
Prices: $300 for 19-week share in Salt Lake. Separate spring, summer and fall shares also available.
Contact: JohnsonFamilyFarms.com
La Nay Ferme
No electricity on the Provo farm means all produce is harvested the morning of pickup. Farm uses practices that go beyond organic.
What's new: Payment plans available for long-term commitment. Produce now available through Winder Dairy delivery.
Add-ons: Choose produce online and decide which week day to pick up at the farmstand.
Price: $135.96 for 12-week half share; $296.64 for full share. One-week, four-week and 42-week shares also available.
Contact: , LaNayFerme.com, Facebook.com/LaNayFerme, info@lanayferme.com
Liberty Heights Fresh Sustainably Farmed Food
Includes seasonal produce that is locally or regionally sourced and is usually certified organic. Some shares include eggs, cheese, honey or meat.
Add-ons: Cheese, chocolate, fruit.
Price: Ranges from $19.95 per week half vegan share to $55.95 for "full omnivore plus" share.
Contact: LibertyHeightsFresh.com/Sff-Program
Live and Thrive
Members work on three farm locations, in Holladay, West Jordan and South Jordan, eight hours a month to receive food. No sprays used.
Price: $100 a person for nine-month season.
Contact: LiveAndThrive.com, sheryl@liveandthrive.com, 801-278-5313
Lost Creek Farms
Serving mainly northern Utah and southern Idaho, this third-generation, family-run farm uses no GMOs or sprays.
What's new: Farm tour followed by a Dutch-oven dinner, plus a pumpkin patch, is included.
Add-ons: Dutch-oven catering, face-painting parties.
Price: $220 for 26-week half share; $400 for full share.
Contact: lostcreekfarms@rocketmail.com, 435-881-0941
Moore Bread
Utah's first bread CSA offers artisan loaves made by Ryan Moore, formerly of From Scratch.
Price: $22 for one loaf a week for a month; $40 for two loaves a week.
Contact: Facebook.com/MooreBreadSLC, moorebreadslc@gmail.com
Petersen Family Farm
This 70-acre Riverton farm has been in the family since 1871. CSA members must pick up produce at the farm stand.
Price: $300 for 15-week share.
Contact: PetersenFarm.com, 801-999-8548
click to enlarge
Planet Goat
Crops are organic, and meats, eggs, milk and cheeses are produced and crafted from free-range animals on 25 acres in Rush Valley, Tooele.
Price: $340 for 20-week omnivore (includes meat and dairy) half share; $650 for omnivore full share. Farm volunteers get discount.
Contact: Planet-Goat.com, 801-915-5723
Real Food Rising Utahns Against Hunger program, which grows organically on a farm near the Jordan River Parkway in Salt Lake City, is piloting a weekly produce basket this spring, allowing shoppers to pick out produce online and pick up their basket at the farm.
Price: Unavailable
Contact: Uah.org/RealFoodRising/Land-Youth-Veggies, elmore@uah.org
Tagge's Famous Fruit and Veggie Farms
Well-known for its fruit stands scattered around the Salt Lake Valley, this CSA provides fruits and vegetables and has dozens of pick-up locations.
Add-ons: Egg, berry, honey.
Price: $345 for 15-week half share. Home delivery available.
Contact: TaggesFruit.com
3Squares Produce
With headquarters at the last orchard on Orchard Drive in Bountiful, the family also grows produce in Salt Lake and Utah counties.
What's new: Half-season option available.
Add-ons: Clifford Family Farm eggs.
Price: $200 for 20-week half share; $400 for full share.
Contact: 3SquaresProduce.com, jack@3squaresproduce.com
Urban Farm & Feed
Run by the same folks who manage the Wasatch Front Farmers Market at Wheeler Farm and Gardner Village.
Add-ons: Local cheese, eggs, coffee, meat and preserved produce.
Price: $500 for 10-week share of produce/fruit and artisan goods; $800 for 20-week share. $300 for 10-week share of produce/fruit only; $500 for 20-week full share.
Contact: UrbanFarmAndFeed.com
USU Student Organic Farm CSA
Managed and run by students with technical support from USU. Members can participate in on-farm activities and volunteer days.
Price: $390 for 20-week half share; $600 for full share.
Contact: Usu.Edu/OrganicFarm, Facebook.com/UsuStudentOrganicFarm, organicfarm@aggiemail.usu.edu
Utah Farms CSA
Year-round CSA from local farmers, ranchers, cheese makers and food artisans delivered to your door. Monthly membership available. No long-term commitment required.
What's new: Home delivery now available in Davis County, Park City and Utah County, in addition to Salt Lake County.
Add-ons: Gluten-free, vegetarian, vegan.
Price: $140 a month for a weekly home delivery.
Contact: UtahFarmsCsa.com, jill@utahfarmscsa.com
Youth Garden Project
Nonprofit school garden in Moab offers organic fruit and vegetables. Proceeds support educational programs.
What's new: "Surprises" will include chicken eggs, homemade bread and sour cherry preserves.
Price: $300 for 20-week single share; $575 for double share.
Contact: YouthGardenProject.org/csa, erin@youthgardenproject.org, 435-259-BEAN
Zoe's Garden
Small in scale but offers one of the state's most diverse crops. Uses no chemicals and offers four full seasons of vegetable and fruit shares from Layton to Draper and in Park City.
What's new: Small honey bee colonies for sale to start a backyard hive.
Add-ons: Meat.
Price: $35 a week for small share; $55 a week for medium share. Eight- to 16-week commitment, depending on season.
Contact: ZoeGarden.com, produce@zoegarden.com, 801-721-8238
Want eggs, cheese and kombucha with that? Utah farmers are enticing shoppers with more than just fruits and veggies.