click to enlarge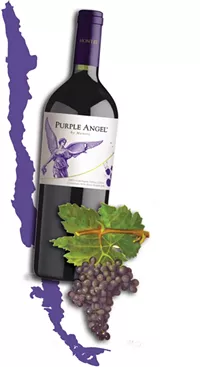 I've been known to travel far and wide for a good glass of wine. Still, the Southern Hemisphere is a bit of a trek.
Luckily, I recently had the opportunity to taste my way through an array of interesting wines from Chile, a country producing not only very good wines, but also affordable ones. Generally speaking, Chilean wines are some of the best values in wine stores. Not all of the wines I tasted are found on Utah liquor-store shelves; some are only available in restaurants. But of course, all are obtainable as special orders through your local state liquor store.
Despite being the world's second-largest winery, Concha y Toro is committed to producing Earth-friendly wines via forest conservation and biodiversity, carbon- and water-footprint management, and by using lighter-weight wine bottles that are better for the environment. You're probably already familiar with Concha y Toro's popular Casillero del Diablo Cabernet Sauvignon ($9.99). It's ubiquitous in wine stores—a very dependable, robust and concentrated entry-level Chilean Cab. For a white wine treat from Concha y Toro, get your mitts on its Gran Reserva Serie Riberas Chardonnay ($16.99). Serie Riberas means "Riverbank Series"—a family of wines made in close proximity to one of Chile's major rivers. The water, which originates in the snow-covered Andes Mountains, ultimately lends minerality to the grapes grown nearby; this great value Chardonnay mixes minerality with solid acidity, tropical aromas and hints of hazelnut.
Santa Rita—another large Chilean wine producer—is probably best known for its 120 series of value-priced wines that include Cabernet, Merlot, Carménère, Syrah, Chardonnay, Sauvignon Blanc and Rosé ($9-$13). However, for a few more bucks, you can step up to Santa Rita's Medalla Real series of wines, representing an array of microclimates and each expressing its own unique terroir. And, while these wines are ready to drink now, the reds have enough tannin and structure to mature for eight or nine years.
The intense citrus, nut and oak aromas that accompany the opening of Santa Rita Medalla Real Gran Reserva Chardonnay 2012 ($16.99) suggest that this won't be a lightweight Chard, and it isn't. It's a fairly fat, creamy Chardonnay that has undergone oak barrel fermentation and regular lees stirring. Santa Rita Medalla Real Gran Reserva Cabernet Sauvignon 2009 ($17.99) comes from one of the world's best wine-growing regions: Chile's Maipo Valley. Handpicked from the Alto Jahuel vineyard, containing the estate's best and oldest vines, this blend of 95 percent Cabernet Sauvignon and 5 percent Cabernet Franc delivers powerful fruit flavors balanced by soft tannins with lots of blackberry and plum. It's a well-made, complex Cabernet that you'd expect to pay a lot more money for.
I've written before about Montes Alpha wines, and I'm a big fan of the Alpha Carménère, Cabernet and, especially, Alpha Chardonnay. During my Chilean wine tasting, I got to sample two Montes wines at opposite ends of the price spectrum. Montes Twins ($12.99) is aptly named for its 50/50 twin blend of Malbec and Cabernet Sauvignon. The Cabernet gives the wine structure and lush fruit, while Malbec delivers a silky texture. Together, they're a winning combination.
For a special splurge, I recommend the super Carménère from Montes called Purple Angel ($77). Carménère is blended with Petit Verdot (8 percent) and aged in new French oak barrels to create a raucous red that's unlike anything you've probably tasted before. There are coffee and smoky chipotle pepper notes, ripe cherry and blueberry flavors, touches of vanilla and silky smooth tannins—a truly remarkable and memorable wine.