click to enlarge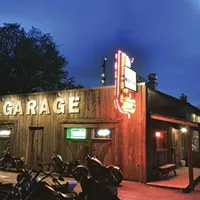 Bodacious Burgers
At the Nicholas & Company annual Food Show on May 19, I was honored (as in past years) to be included in the chef's cook-off judging panel. This year's event featured a "Burger & Bar" competition which was as fierce as always. Chef teams from The Garage on Beck, Talisker Club/Tuhaye, Warren's Craftburger, Chedda Truck, Provisions and Nu Skin/The Spoon faced off in a three-round burger challenge, which, this year, also included paired cocktails for each burger. In all, we tasted 18 different burgers and libations, and when the grease and booze settled, Chef Justin Shifflett and The Garage on Beck came out on top. Literally all of the burgers we tasted were excellent, but I think it was The Garage's ramen burger—which I'd had serious initial doubts about—that put Shifflett and his team over the top. I'll never question the validity of a ramen burger—using crunchy ramen noodles in place of a traditional bun—again!
Burgers & Beer
While we've got burgers on the brain, Franck's restaurant (6263 S. Holladay Blvd., 801-274-6264, FrancksFood.com) has announced its new "Burger & a Beer" Thursdays promotion: customers can enjoy an a la carte craft burger for $18, or the burger paired with a specialty brew for $25. Last week's burger and beer special was Wagyu beef cheek, teriyaki glaze, hot Chinese-mustard aioli, Bibb lettuce, zucchini pickles, soy sprouts, house-pretzel bun and zucchini chips paired with an Epic Mid-Mountain Pale Ale. The Burger & a Beer specials are limited, so be sure to mention it when you make a reservation.
Bee There, Honey
On Saturday, June 6, Slow Food Utah (SlowFoodUtah.org) will present the fifth annual Honeybee Festival, bringing together local beekeepers, artisans and enthusiasts alike to celebrate the honeybee. The event will be held at the Sorenson Unity Center (1383 S. 900 West) and will feature kids' games, beehive demonstrations and beekeeping workshops, local artisan food and honey tastings, gardening tips and more.
Quote of the week: When people pile seven things onto one burger, it drives me nuts! —Bobby Flay