click to enlarge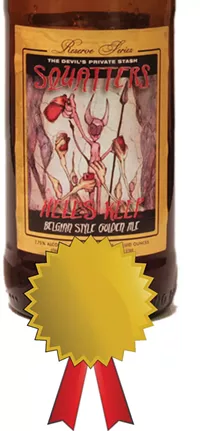 Bravos for Brews
It had been quite a few years since I was last in Denver during the Great American Beer Festival, but a recent visit reminded me just how much buzz there is around the fest, and how important it is to U.S. brewers. Utah craft brewers from Park City to Moab came away with five medals from the 2014 fest: Here are the winners, the beers, the medals and the categories:
• Utah Brewers Cooperative's Squatters Hell's Keep: Gold, Belgian-Style Strong Specialty Ale
• Red Rock Brewing Co's Red Rock Paardelbloem: Silver, Experimental Beer
• Uinta Brewing Co's Cutthroat Pale Ale: Silver, Ordinary or Special Bitter
• Moab Brewery's Rocket Bike Lager: Bronze, American-Style Amber Lager
• Wasatch Brewery's Wasatch Apricot Hefeweizen: Bronze, Fruit Wheat Beer
Meditrina Wine Dinner & More
If you haven't visited Meditrina Small Plates & Wine Bar (1394 W. West Temple, Salt Lake City, MeditrinaSLC.com) lately, there are a few new reasons to do so. The restaurant is now offering Endless Tapas Tuesdays—$25 per person for all-you-can-eat tapas—and Wine Wednesdays, with special Wednesday wine menus plus 15 different bottles for $22 each and an $8 build-your-own-flights deal. There's also a new fall menu that was just rolled out, plus a winemaker dinner on Thursday, Oct. 30, with Rick Longoria of Longoria Winery. Four courses and four wines for $40/food and $30 wine pairings. Call 801-485-2055 for reservations and information.
New to Nosh
A couple of interesting new noshing spots have recently opened for business. Harbor Seafood & Steak Company is located at the old Sugar House Rino's location (2302 Parley's Way, 801-466-9527, HarborSLC.com), and offers locally sourced and "dock-to-table" fare including fresh wild seafood and grass-fed beef. Meanwhile, in the space that was previously home to Lugano, an American craft kitchen called Provisions (3364 S. 2300 East, 801-410-4046, SLCProvisions.com) has opened, serving "organic, in-season, and locally sourced" foods in a neighborhood setting. Menu items at Provisions include pasta made in-house; wood-fired pizza; local meats, fowl and game; seared and raw seafood; and vegetarian offerings.
Quote of the week: There is communion of more than our bodies when bread is broken and wine drunk. —M.F.K. Fisher