click to enlarge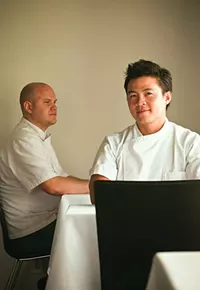 Brown Nominated for Beard
Bowman Brown—chef and co-founder of Forage, Salt Lake City's most cutting-edge restaurant—has been named a semi-finalist in the "Best Chef—Southwest" category for the 25th-annual James Beard Foundation Awards. With business partner and former co-chef Viet Pham, Brown pushed the boundaries of American cuisine at Forage and continues to do so, often using ingredients that are literally locally foraged. "It's exciting to see the incredible chefs of Salt Lake, including Bowman Brown of Forage, receiving due recognition for their culinary excellence," said Scott Beck, president/CEO of Visit Salt Lake. The semi-finalists for the Best Chef awards were chosen from more than 34,000 candidates representing 10 different regions across the United States. For more information, visit to JamesBeard.org/awards online.
Winegars' Effortless Shopping
Frankly, I didn't expect Utah's Winegars grocery stores would be pace-setters, but they are. Using an online platform called Curbside Powered by Rosie, Winegars stores in Bountiful and Roy have begun offering customers the option of shopping online and having their groceries delivered to their doorsteps. "Sometimes getting to the store can be a challenge, especially for moms and busy professionals. Curbside Powered by Rosie makes getting the things you need a lot easier," says owner Weston Winegar. "We are excited to bring online grocery shopping to our guests and know it will make a big difference." Winegars shoppers can create free online accounts at Winegars.com, and then shop online, with the option of home delivery or curbside pickup. Customers can even specify how thick or thin they'd like their deli meats and cheeses sliced—pretty cool.
PC Brewery Start-up
According to founder Tim Nemeckay, Park City craft beer and cider start-up Mine Shaft Brewing—to be located in Kimball Junction—raised more than $650,000 in its initial crowd-funding campaign. Now, they're on to Step 2: financing of $9.4 million from investors. You can keep up with the brewery's news at MineShaftBrewingPC.com.
Quote of the week: Vulgarity is the garlic in the salad of life. —Cyril Connolly