Every year, we look around our favorite stores and websites, struggling for gift ideas for the fellow nerds in our lives. But since it's Batman's 75th anniversary, there is a whole bunch of great Batman merchandise out there to celebrate—and it's stuff you and your loved ones are going to want. And what better way to give a nerdy gift than to pair it with adult beverages?
Perhaps the biggest-ticket item on any list involving Batman this year is the complete adventures from the 1960s Batman TV series, starring Adam West and Burt Ward. I didn't think this collection would ever come out due to ongoing rights and licensing issues, but the set has finally been released. You and your giftees will have no greater fun than watching all 120 episodes of Biff! Bang! Pow! fights in tights between Batman and guys like Caesar Romero's Joker, Frank Gorshin's Riddler and Vincent Price's Egghead. And the fights have never looked better than in these newly remastered episodes. I advise pairing it with a six-pack of your favorite locally brewed beer.
click to enlarge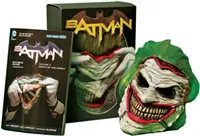 Next on the list is the Batman 75th Anniversary Commemorative Collection. It's a beautifully packaged set of brand-new editions of three of Batman's greatest stories: Frank Miller's The Dark Knight Returns (which is said to be a chief inspiration of Scott Snyder for the upcoming Batman vs. Superman: Dawn of Justice); Hush, written by Jeph Loeb and drawn by Jim Lee; and The Court of Owls, by Scott Snyder and Greg Capullo. The books would be the perfect Batman sampler for someone who is new to the character, and pair well with a bottle of red wine. I'd recommend a nice Chianti, preferably DaVinci's.
The perfect complement to a bottle of High West's Campfire whiskey would be the set containing Batman: Death of the Family book and a Joker mask. In recent times, the Joker cut the skin of his own face off and attached it to his head with a leather strap. This book documents his return in that guise, and the set comes with a Joker face skin and wig to wear. It's exactly what a person would want to wear while sipping a holiday whiskey in front of a roaring fire and reading about the epic struggles between Batman and his greatest foe. I'd also recommend the equally excellent Death in the Family, which documents Joker's brutal murder of the second Robin, Jason Todd.
The books you need to get for the Bat-fan in your house who's enjoying the show Gotham are the collected editions of Ed Brubaker and Greg Rucka's Gotham Central, which tells the story of the police as they contend with a world where Batman exists. They're gritty and real in the way we want our world of Batman to be, and that's why it would pair so well with a bottle of Jack Daniel's.
My final recommendation for the burgeoning Bat-nerd is Jeph Loeb and Tim Sale's pair of masterworks, The Long Halloween and Dark Victory. Both tell a continuing story of Batman's early days, and read like the comic-book equivalent of The Godfather. The moody and brilliant stories take place in the world of gangsters, making them a perfect complement to the dark rums of the Prohibition era.
Whatever booze and Batman combination you pick as a gift, be grateful you'll be there to share it with them—unlike Batman, whose parents were murdered in an alley, assuring that he'll spend the rest of his holidays alone.
Bryan Young is the editor-in-chief of BigShinyRobot.com