click to enlarge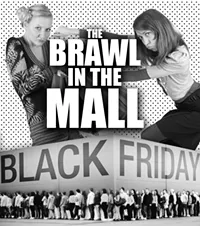 8. Don't make friends in line overnight; you may have to step over their lifeless bodies for an Xbox One.
7. When being interviewed by local news media outside of a store, at least wave to starving family back home.
6. Read all product reviews carefully, then opt for the item packaged in the brightest colors.
5. Don't waste time trying on clothes—just assume XXL is your size.
4. Exhausted minimum-wage retail workers are happy to negotiate $1.67 price adjustments, so ask.
3. Two shots in the air are usually sufficent to disperse a crowd grabbing for your stuff (concealed-carry permit holders only).
2. The best items are always "in the back" waiting just for you—demand them.
1. Ignore all logical urges to shop another day when prices will be exactly the same.