click to enlarge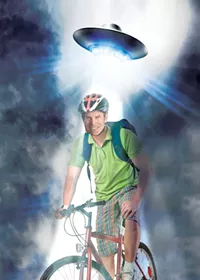 8. It's an elaborate setup for a sketch on the next season of Portlandia.
7. They form the message "Pick me up, my work is done here," visible only to his alien brethren.
6. He wants businesses to move out so he can open new Becker Sweaters® franchises.
5. The Parking Garage Illuminati controls the media.
4. There is no such thing as a "Parking Garage Illuminati."
3. They'll be perfect for piling snow on in the winter; beer cans in the summer.
2. Probably ordered by the socialist White House—thanks again, Obama!
1. Jimmy John's delivery cyclists decided it was easier to pay Becker off than actually learn how to ride.