click to enlarge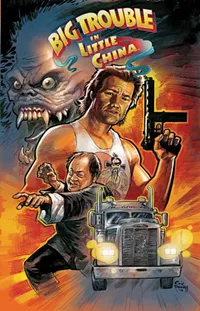 In 1986, movie audiences were treated to one of the most thrilling and absurd action-fantasy films ever devised for the silver screen. John Carpenter's Big Trouble in Little China—which starred Kurt Russell, James Hong and Kim Cattrall—is a solid film, filled with heart, comedy and magic. Sadly, audiences failed to take to the film immediately, and it was a box-office flop, making back just over half its budget.
Even critics of the day had mixed feelings about the film, clearly not understanding the lightning in a bottle Carpenter had captured. For those not familiar with the film, first: How dare you? Second: It tells the story of all-American truck driver Jack Burton, played by Russell as a brilliant caricature of every American hero since John Wayne. He's a clueless but lovable buffoon who finds himself in the middle of a supernatural gang war in San Francisco's Chinatown. Steeped in all manner of crazy Chinese mythology, Burton's adventure pits him (and a band of actual heroes) against the evil mystic David Lo Pan, played by legendary character actor Hong.
The film is unapologetic in its fantasy elements, and plays with the arrogant bombast of American heroes while lampooning them. The dialogue is as quotable as The Big Lebowski; its lines have made their way into the parlance of finer geeks everywhere. Thanks to the wonders of home video, DVD and Blu-ray, Big Trouble in Little China has found a life as a cult classic.
One of the great disappointments of the 1980s is that not enough people understood the campy intelligence of Big Trouble in Little China enough to warrant that film getting a sequel. Even if Carpenter, who seems to be in a state of semi-retirement, were to come back to the Big Trouble and were able to convince Russell to come back as well, the film probably wouldn't be as great as we would hope for. And every passing day, it seems less and less like a possibility.
But there is now something to sate the thirst of those who care deeply about this schlocky classic. Eric Powell, the crazed mind behind Dark Horse Comics' The Goon, was brought on to collaborate with Carpenter on a sequel story—not for the big screen, but for the four-color panels of comic books. Boom! I'm delighted to report that this is a match made in heaven.
The first issue of Big Trouble in Little China came out in June and picks up right at the cliffhanger where the film left off, dragging Jack Burton, aboard the ol' Porkchop Express, right back to Chinatown where he belongs. The book is drawn by Brian Churilla, with covers by Powell, and it brings a cartoony style to the characters that makes me wonder why animation wasn't considered as an acceptable medium for the second coming of Jack Burton.
The dialogue is sharp, and the story delivers the same absurd Chinese mysticism of Burton's original outing. The creator's teaming with someone like Powell—who harbors an obvious love for the source material—gives us what we all love most about the original movie. I've found myself laughing out loud hysterically while reading the comics, almost as though I were watching this all play out.
And you know what Jack Burton would say to a comic book like this? He'd look that comic book square in the eye and he'd say, "Everybody relax! I'm here."
The first two issues are out now and a third will hit next month. Go to your favorite comic book store and demand your fill of Jack Burton.
Bryan Young is the editor-in-chief of BigShinyRobot.com