click to enlarge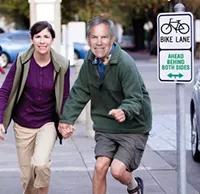 8. "Are You Better Off Now Than You Were 30 Incomprehensible Bike Lanes Ago?"
7. "Rocky III Sucked As a Movie, Too"
6. "Go With the Pleasant, Inoffensive White Guy You Know"
5. "Sure, Vote a Republican in Here—I Dare You"
4. "Putting Portland, Uh, Salt Lake City, First"
3. "Come On, Be Cool ... Are We Cool?"
2. "You'll Never Drive In This Town Again"
1. "Free Beer!"