click to enlarge
click to enlarge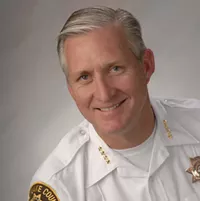 On Oct. 16, 2013, members of Unified Police Department's SWAT unit received a message through their pager system, typically used to alert them to the need for assistance in an emergency call-out, executing a search warrant or a hostage situation. This message sought "4-5 more operators to help at Big Shot Thur. 10-17-13."
The operators were to take a $350,000 armored vehicle to Tooele's Big Shot Ranch—a high-end shooting range with clay-pigeon shooting and a wide array of high-caliber weaponry—owned by businessman Michael Drury, who'd donated the BearCat to the Unified Police Department (UPD). The message made no reference to what the operators would be needed for—to be part of a fundraiser for Sheriff Jim Winder's re-election campaign—but one SWAT officer, who requested anonymity out of concern of retaliation, told City Weekly that such summons were usually to corporate or charity events paid as overtime by UPD.
The SWAT officer says that shortly after he agreed to go, he was told "not to be in uniform because it was a fundraiser for the sheriff." He felt uncomfortable, he says, but decided not to back out. But when he witnessed Drury auctioning off the BearCat and the time of several SWAT operators to members of the public to do with what they wanted for several hours, he says, his discomfort level rose considerably.
He wasn't alone. SWAT commander Lt. Jake Petersen, now running against Jim Winder for sheriff, says that several SWAT officers who attended the event approached him the next day and told him, he recalls, "Jake, I'm afraid I broke the law."
Petersen says he shared his officers' concern. He questions the appropriateness of using the BearCat, a "public asset" with police markings on it, to raise funds for the eight-year incumbent.
"At the very least, it's a tacit endorsement by UPD and the Sheriff's Office of that candidate who is fundraising there that night," he says. "I believe his judgment is called into question as to what is appropriate and what is not—what is overzealous campaigning as opposed to breaking the law."
The 2013 fundraiser and questions of whether it was a misuse of funds has heightened tensions in UPD and the Sheriff's Office over the Petersen-Winder race. And the controversy was only deepened by the fact that Winder's campaign disclosures did not list donors from the event.
Petersen announced his run for sheriff in December 2013, two months after the fundraiser at Big Shot Ranch, but says his candidacy had been in the works for months prior to the fundraiser, and was in response to concerns he'd heard from officers that Winder "had turned into what he ran against [former Sheriff Aaron Kennard]—a politician."
Winder disputes such a perspective, citing his eight years both as sheriff and as an officer who routinely goes out on calls as a member of the UPD, which Winder created, and works with corrections officers in the jail, which he oversees as county sheriff.
Winder's UPD SWAT unit, he says, "is not supportive of my re-election. It's not a surprise the captain of that division and the lieutenant [Petersen] are both actively working to get themselves elected." He says he's been aware of allegations about the fundraiser and potential campaign violations circulating in UPD since January, but dismisses the issue as no more than "a short-term political shot in the dark."
When City Weekly asked Winder about the absence of any donors from the Oct. 17, 2013, Big Shot Ranch fundraiser on his campaign-finance disclosure, Winder said he had no idea why those who had been present at the fundraiser were not listed. "I do not have answers for this," he said, and recalled that campaign staff had documented every person who came.
The day after City Weekly's interview with Winder, an amended filing was uploaded to the county clerk's website.
Jackie Biskupski, part of Winder's appointed administration team, works on the sheriff's campaign. She says two lists of donors and in-kind donations from the ranch event were overlooked and not put into the campaign disclosure system. "It wasn't like some intentional thing," she says. City Weekly's enquiry also brought to light, she says, a bowling event that had not been listed. With the two events added, contributions received by the campaign jumped from $21,448.95 to $35,229.85. Biskupski is pleased the mistake was rectified. "We want to show that income, that kind of support."
Drury, Big Shot Ranch's owner, says he's disappointed that he's been "dragged into the mire" by Petersen over what he considers a good deed.
The self-described Republican is, above all else, he says, a "person supporter." He backs Salt Lake District Attorney Sim Gill and is friends with Salt Lake County Sheriff Jim Winder, both Democrats.
Winder and Drury became friends, Drury says, after several burglaries and an embezzlement at his office led him to deal with three different police agencies within 24 hours and made him see the need for a centralized police department, which Winder ultimately founded with UPD.
Drury offered help to Winder by making his ranch available to police departments to train at for free.
Winder recalls telling Drury that his SWAT division was desperate for a BearCat, an armored vehicle manufactured for law enforcement and military usage, with armor that's U.S State Department-approved.
Drury pays monthly installments on the vehicle, and in return, UPD lets him use it for 12 hours a month, with two SWAT operators, as stipulated in the lease. Drury says that the operators drive it to the ranch on UPD's dime for fundraiser and charity events. According to Petersen, $10,000 of the annual UPD salary budget is set aside for operating the BearCat at Big Shot.
The October 2013 event at Big Shot Ranch was the second Winder fundraiser held there. A 2012 event had drawn the attention of Salt Lake Tribune columnist Paul Rolly, who highlighted Democrats "shooting up stuff" to raise campaign funds.
At the 2013 event, the anonymous SWAT officer says, raffle tickets were sold to Winder supporters for a chance to ride in the BearCat with SWAT officers, then proceed under cover from the vehicle to use an assault rifle to shoot a target in a car that the ranch had towed out.
Winder says he assumed that the two BearCat operators at the October 2013 event would be paid, per the lease agreement, but "when we looked into the time cards, nobody was paid. Everybody assumed it was voluntary."
During the fundraiser, Drury announced he was auctioning a few hours of use of the BearCat, along with multiple SWAT operators.
Drury says on average, he only uses it 10 percent of the time he's allotted, so, he says, "I thought, why not auction it off?"
Winder says his jaw dropped when Drury began the auction, and he quietly asked his father-in-law, who was present, to make sure he won the bid, which Winder says he did.
But, the sheriff says, he has "looked at it every way, looked at it six ways from Sunday. We are absolutely in compliance from my perspective."
He expresses frustration that Petersen and his supporters have made a gift from a police benefactor into something controversial. "We're receiving the kindness of strangers here, it's for their own benefit, and they're out there stomping on [Big Shot's] toes," Winder says.
Petersen says it's a political issue because the BearCat cannot be used for political fundraising. "There are public funds making it move around, public funds paying for that equipment upkeep, public funds paying for the insurance of that equipment," he says.
Drury says that in the wake of the mushrooming scandal, if UPD isn't interested in the BearCat, he'll happily take it back. "If you guys don't want it, I'll pick it up tomorrow and make the whole thing go away."