Page 5 of 6
click to enlarge
Bonneville Brewery
1641 N. Main, Tooele, 435-248-0646, BonnevilleBrewery.com
Booze Brag: A wide array of Bonneville's craft beer is on tap. There is something for everyone.
In Their Own Words: "Bonneville Brewery is a beautiful place to enjoy good beer, good food and is the last stop for craft beer before Sparks."

City Limits
440 W. Center St., Provo 801-374-2337
Booze Brag: Gourmet Jell-O shots.
In Their Own Words: "The friendliest down-home neighborhood bar in Provo."

Cowboy Club
31 E. Main, Wellington, 435-637-4223, CowboyClubUt.com
Booze Brag: A full-service bar with a patio.
In Their Own Words: "We are located between Salt Lake City, Moab and Lake Powell."

The Cowboy Bar at Red Cliffs Lodge
Mile Marker 14, Highway 128, Moab, 435-259-2002, RedCliffsLodge.com
Booze Brag: Castle Creek wines are made here. Signature drinks include the Cowboy Lemonade.
In Their Own Words: "The bar is done in the style of the great American National Parks and features a huge 25-foot river rock fireplace and a barn-wood interior covered by famous Western paintings."

The Hitching Post
30 N. Geneva Road, Orem, 801-226-3277
Booze Brag: Bud Lite
In Their Own Words: "Just a local crowd."

Woody's Tavern
221 S. Main, Moab, 435-259-3550

PARK CITY

Cisero's Good Times Bar
306 Main, Park City, 435-649-6800, Bar.Ciseros.com
Booze Brag: Large, diverse selection of alcohol; $3 wells every night.
In Their Own Words: "A favorite of Park City locals, where you can play pool and darts or dance the night away."

Downstairs
625 S. Main, Park City, 435-615-7200, DownstairsPC.com
Booze Brag: The Cucumber Cooler (gin, simple syrup, muddled cucumber).
In Their Own Words: "An intimate dance club where you get to see national DJs up close and personal; our level of bottle service and energy is unmatched."

Flanagan's on Main
438 Main, Park City, 435-649-8600 FlanagansOnMain.com
Booze Brag: The most Irish whiskey in town, pouring the best Guinness in the state, and featuring a new menu including Summer Cooler drinks on the patio.
In Their Own Words: "We are the premier Irish pub in Park City, with a music venue."

click to enlarge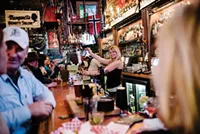 No Name Saloon & Grill
447 S. Main, Park City, 435-649-6667, NoNameSaloon.net
Booze Brag: Tons of local beers.
In Their Own Words:"There's a bunch of old antique stuff everywhere, giving No Name—a whiskey and burger bar—an old mining-town feel."

O'Shucks Bar & Grill
427 S. Main, Park City, 435-645-3999, OShucks-AhhSushi.com
Booze Brag: 32-ounce schooners of draft beer are $3 on Tuesdays.
In Their Own Words: "We're the local dive bar that's a great spot for vacationers as well. Plus we're a peanut bar—they're free and you can throw the shells on the ground."

Rock & Reilly's Irish Pub
427 Main, Park City, 435-655-2926, RNRPub.com
Booze Brag: The Irish Mule: Irish whiskey, blackberry simple syrup, ginger beer, lime and soda.
In Their Own Words: "We're a classic rock & roll Irish pub with a modern vibe, featuring a variety of original signature cocktails with gastropub-style fare."

The Spur Bar & Grill
352 Main, Park City, 435-615-1618, TheSpurBarAndGrill.com
Booze Brag: The Spur Margarita with housemade margarita mix.
In Their Own Words: "An upscale Western bar with live music all the time."

DAVIS, WEBER & POINTS NORTH

Alleged
201 25th St., Ogden, 801-990-0692, Alleged25th.com
Booze Brag: The menu of 20 cocktails all have 2.5 ounces of liquor. Each drink is as strong as a Long Island or an AMF, but tastier. The standard metered pour is 1.5 ounces, but Alleged has a huge assortment of "flavorings" to fully maximize that provision in state law. You can get a "real drink" in Utah.
In Their Own Words: "Alleged is an eclectic bar in a historic building that was last used as a whorehouse, with three different floors with three different speeds: The Rooftop Bar (mellow, great views), The Brothel (open design, unisex bathrooms, great place to have a conversation/meet someone), Moxie (dance floor, faster pace)."

Brewskis
244 E. 25th St., Ogden, 801-394-1713, BrewskisOnline.net
Booze Brag: Twenty tap handles.
In Their Own Words: "Unique appetizers, humongous sandwiches and killer salads make Brewskis a local favorite among the 21-to-50-somethings."

The Century Club
315 24th St., Ogden, 801-781-5005, CenturyClub1CC.com
Booze Brag: Twenty-two craft brews on tap, and a huge selection of margaritas—the habanero-lime margarita is a favorite.
In Their Own Words: "The mecca of northern Utah, with food, entertainment and the best DJ lineup in the state."

City Club
264 E. 25th St., Ogden, 801-392-4447, TheCityClubOnline.net
Booze Brag: 21-plus full bar.
In Their Own Words: "Turn off your mind, relax and bask in a truly one-of-a-kind surrounding. A splendid time is guaranteed for all."

Dar's
240 Washington Blvd., Ogden, 801-621-6494
Booze Brag: Small selection of beers at a small bar.
In Their Own Words: "We are a family; one of the cheapest bars in town."

Down Under Club
544 W. 400 North, Bountiful, 801-397-0758
Booze Brag: The Oh F—k Yeah (Fireball 151, apple pucker, cranberry & pineapple).
In Their Own Words: "Best place in Bountiful, with smiles and greetings, a heated/misted patio, and three pool tables."

Goodtimes Saloon
641 Olsen Plaza, Layton, 801-544-8717, Facebook.com/GoodtimesUtah
Booze Brag: The bartenders all have the freedom to make up their own drinks.
In Their Own Words: "A neighborhood place, nothing too fancy. We pride ourselves on being normal—a classic watering hole."

Historic Place
162 25th St., Ogden, 801-394-6233
Booze Brag: Eye Opener (vodka and amaretto cocktail) and Fireball (cinnamon whiskey) are big draws.
In Their Own Words: "A neighborhood bar; cheapest one in town."

Kegler Lounge
30 S. 130 East, North Salt Lake, 801-936-8775, OrchardLanes.com
Booze Brag: The coldest beer in Utah.
In Their Own Words: "All of the amenities of a big bar for locals, with a great snack bar and bowling."

Kokomo Club
216 25th St., Ogden, 801-621-9991
Booze Brag: $2 tequila shots along with the special Eye Opener: vodka, amaretto, pineapple juice, grenadine and orange juice.
In Their Own Words: "We have a very historic appearance and feel, as if you walked into a bar and it took you back to the '50s."


Christina Anderson, Twilite
Feeling overwhelmed by life's problems? Take a seat at the bar at Twilite (347 E. 200 South, Salt Lake City, 801-532-9400, TwiliteLounge.com), order a Tina Turner (a Bud Light and a shot of Jager on the side) and spill your troubles to bartender Christina "Tina" Anderson.
Anderson dreamed of going to school for psychiatry. Instead, she became a bartender, which allows her to be a therapist on occasion—one who's not afraid to be a bit blunt, doesn't charge by the hour, and won't rush you out the door before her next client. Instead, she'll pour you a drink and listen, even if she's heard it all before. Anderson says she loves the social interaction of working in a bar—meeting new people, remembering their drinks, and introducing customers to one another and seeing those connections grow.
She started bartending part time in 1989 when she was 27—her first shift was a Super Bowl Sunday at the grand opening of the former Atomic Post. She's bartended on and off since then—at the Dead Goat, Lucky 13, Batters Up and Chuckles Lounge, among others—and has been full time for the past 15 years. Anderson has been at Twilite Lounge for more than 11 years.
With 25 years of bartending under her belt, Anderson has seen her share of changes to Utah's liquor laws—from the 1-ounce shot to the sidecar, and private clubs to the Zion Curtain. But, she says, the Salt Lake City bar scene is better than it used to be. Ending the private-club law and increasing the number of licenses has allowed more bars to open. And that, Anderson says, has opened up a whole new world and created a new, vibrant downtown.
—Jessica Dunn