"Our Oscar-themed cocktails are a big hit in The Vault" said Bambara's expert bartender, Austin Craig. "This year's inspiration came from locations, and also pays homage to personalities and ages of the characters."
click to enlarge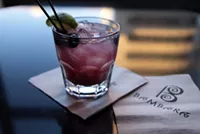 Oscar-inspired cocktails include the American Sniper, made with Tito's Vodka (from CPO Kyle's home state of Texas), blueberries, and ginger beer; the Selma: a Southern Comfort mint julep, the signature drink of the South; and the Whiplash, which is a Perfect Manhattan made in honor of Buddy Rich, one of drummer Andrew Neiman's heroes.
click to enlarge
Additional Academy Awards specialty drinks from The Vault include The Grand Budapest Hotel, The Theory of Everything, Boyhood, Birdman, and Imitation Game.
click to enlarge
Bambara's Oscar-themed drinks are available now through Oscar night on February 22nd. Patrons are invited to vote for their favorite Academy Award-worthy cocktails and the winner will be announced on Oscar night.
As they have done in recent years, the folks at Bambara restaurant's The Vault lounge are concocting a tasty batch of specialty cocktails, each designed for an Oscar "Best Picture" nominee.