click to enlarge
Cat Fever, Mountain
The first release from Cat Fever—the personal songwriting project of Blake Thomas, who recruited other musicians to contribute to this album—goes down like an exquisite bite of chocolate: decadent and more than a little transcendent, but over way too soon. The ambient/post-rock EP includes only four tracks, but each is so intricately arranged, emotionally affective and strikingly beautiful that by the end, I felt like I'd embarked on and come back from a long journey, even though the experience was actually about 17 minutes long.
Mountain
begins with "Uncle Dana," about Thomas' musically minded uncle who passed away. The dreamy guitar, atmospheric synths and hushed vocals give the song a peaceful, but mournful mood, with lyrics that probably best sum up what it's like to lose someone: "You weren't alone/ your body was broken/ I can't sleep at night." "Shiprock" begins similarly, but slowly builds to a sublime climax. The title of "Cliffside"—with gorgeous Sigur Ros-esque synths—serves as a visual symbolization of uncertainty for the lyrics "This is where I go/ love me or leave me alone." The concluding track, "Mountain," blends twinkling electronic effects with a danceable beat. If
Mountain
was an appetizer, we're already hungry for more.
Released Jan. 8, self-released, CatFever.bandcamp.com
click to enlarge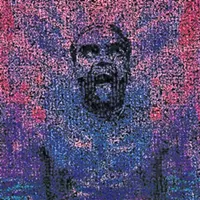 Creature Double Feature, Home Library Bible Tapes Vol. 1
If someone were abducted by aliens and then wrote a sprawling musical memoir about it, the latest full-length album by prolific neo-psychedelia band Creature Double Feature would tell the strange cosmic story. An ambitious 19-track sonic journey, the album is divided into five chapters that each begin with a short (the longest is 29 seconds) introduction, sometimes of a distorted voice speaking or simply a tone growing and then diminishing. The numerous lyrical references to the esoteric—religious figures, an "ancient creature of the dark" and tree spirits—combined with the glowing, multifaceted soundscapes by Davis and Mason Johnson create a viscerally spiritual experience. "Visitation," which starts with transmission-like beeps and blips before melting into sparkling, harp-like strings, describes a terrifying and beautiful encounter with a visitor from space: "As I lay in my bed, his voice was in my head/ whispered strange things to me/ I forgot how to breathe." But the listener's feet are brought back to earth by the saxophone and prominent percussion on "Break Through!" and the heavy rock attack of the climactic, ironically titled "Hallelujah" fits with the song's biting lyrics.
Released Nov. 10, self-released, CreatureDoubleFeature.bandcamp.com
The latest release by experimental-rock band Anava is fascinating, but its musical jewels have to be extracted from rougher material. The 10-track album is often chaotic, usually dissonant and sometimes lovely, filled with warbling falsetto vocals, rough percussion (the drums often aren't quite on beat) and melodic keyboard. The beginning of "Sun" begins with slightly off-key vocal harmonies that sound like inverted, inside-out Gregorian chants, and then grows in intensity with the addition of layered synths, sounds of a bird squawking and a moment of cymbals at the end. The drill-like electronic effects in "By Your Side" contrast with the seemingly comforting title, and the ghost-like vocals floating over an acidic landscape of synths and what sounds like a stand-up bass give the song an almost creepy vibe. The vertigo stabilizes momentarily on "Fortress," a breezy, piano-driven slice of indie-pop with a dark undercurrent heard in the lyrics "This fortress is changing/ and I can't seem to let it go." "Rise" and "Speak Soft" are effective in their simplicity, with quiet vocals often just far enough out of reach that the words blend together hazily.
Released Dec. 15, self-released, Anava.bandcamp.com