You are cordially invited to attend the wedding of Derek Kitchen and Moudi Sbeity, scheduled to be held Sunday, May 24, 2015, in downtown Salt Lake City.
If the names Derek Kitchen and Moudi Sbeity sound familiar, it's because they've turned up in both Utah and national news: Kitchen is the named plaintiff in Kitchen v. Herbert, the lawsuit filed in 2013 by three couples challenging Utah's ban on gay marriage, which, nearly 10 years after its passing, was declared unconstitutional by Judge Robert J. Shelby of the U.S. District Court on Dec. 20, 2013.
Because the ruling was immediately appealed, Kitchen and Sbeity chose to wait until the lawsuit had made its way through the judicial system before marrying. Not until Oct. 6, 2014, when the Supreme Court declined to hear further appeals and left intact rulings in favor of the plaintiffs, were Kitchen and Sbeity free to begin making arrangements for their wedding.
Kitchen said via e-mail that he "didn't realize how much work went into" planning a wedding—though arrangements for this wedding might involve extra effort, given that it will be public, a celebration not only of Kitchen and Sbeity's vows but also of the victory of marriage equality in Utah.
"So many people have been engaged in our journey of bringing marriage equality to Utah and the six states in the 10th Circuit, and we want them to feel that they are welcome to celebrate with us," Kitchen said.
The wedding's theme will be a farmers market, "since that's where we spend most of our time in the summer and where so many of our friends find us," Kitchen said, and they'll rely on local vendors for all elements of the wedding. "Moudi and I are passionate about Salt Lake City, and we're proud to incorporate as much of this city as possible for our big day," Kitchen said.
Not all gay marriages since its legalization have been so elaborate. The first same-sex couple to wed legally in Utah was Seth Anderson and Michael Ferguson, who headed to the Salt Lake County Government Center on Dec. 20, 2013, as soon as they heard about the ruling—before county clerks had been informed.
"Twitter announced our wedding," Anderson says. He tweeted the experience, from the moment the district attorney walked in for a rushed meeting with the clerk, to the notification that they could be issued a license, to enlisting people to perform and witness the ceremony. At 3:12 p.m., he tweeted a cell-phone photo of himself with Ferguson and the caption, "Me and my new husband!! My polygamous Mormon great grandparents would be so proud!"
There was no wedding photographer tailing the couple, taking photos of the moment or staging poses. Instead, there were crowds of people—members of the media, other couples—snapping photos with cell phones or news cameras.
"While I do think marriage is a community event and should be shared with family and friends, the situation in Utah made the ability to plan, prepare, invite impossible, which underscores just how second-class LGBT people have been," Anderson says.
But when they got notice that same-sex marriage was suddenly legal in Utah, "what mattered was that the state (begrudgingly) recognized our marriage and all the rights that came with it. At that precise moment, that was all that mattered to us."
click to enlarge
Duane and Brian Jennings were legally married at the Salt Lake County Government Center on Dec. 23, 2013. They knew they wanted some sort of reception but held off because of uncertainties about whether the state would recognize the marriages, especially after Gov. Gary Herbert announced in January 2014 that it would not.
Now that the state has been forced to recognize their marriage, "we know we want to wait for the right moment" to have a reception, Brian says, "and then we want as much of our family as we can get."
"How many of them will actually come, we don't know," Duane adds.
The couple plans to have a full reception because recognition of their marriage "needs to be public."
"It's for the sake of family, honestly," Brian says. "Whether people thought we were married, we treated it as a marriage." A reception, not just the ceremony at the courthouse, provides recognition of that.
And between the extremes of a pared-down, spur-of-the-moment ceremony and a meticulously planned public event lies an enormous variety of same-sex weddings and commitment ceremonies.
LOVE & MONEY
While the opportunity to make money might not be the primary reason to establish marriage equality, doing the right thing for same-sex couples is nonetheless lucrative. Marriage in the United States is not just an institution but an industry, worth over $50 billion a year, according to the market-research firm IBISWorld.
Even the smallest wedding ceremony involves planning and spending, and larger weddings involve a significant outlay: catering, venue rental, photography, rehearsal dinners, flowers, elegant new suits, manicures and haircuts for wedding participants and guests, as well as things like tips to hotel and restaurant staff from out-of-town guests.
The Williams Institute, a think tank at the University of California at Los Angeles focused on LGBT issues, looked at spending on gay marriages in states where it was legal and assessed its potential economic impact on states without it. Its April 2014 report for Utah, deliberately cautious in its estimates given that there was a stay on same-sex marriages in place, still projected that "total spending on wedding arrangements and tourism by resident same-sex couples and their guests would add an estimated $15.5 million to the state and local economy of Utah over the course of three years, with a $9.9 million boost in the first year alone." Furthermore, all that spending "would likely add $1 million in sales-tax revenue to state and local coffers."
Many Utah merchants seem aware of the plumping of their bottom line that gay marriage can cause. Every representative of every business who agreed to speak to City Weekly and is quoted in this story was eager to make two things very clear: that they see no significant difference between working with gay couples and working with straight couples, and that they will be absolutely delighted to assist gay couples in achieving the wedding of their dreams. "It's really the same. Love is love, a wedding is a wedding," was stated over and over.
Pressed to note small differences, vendors did note that the planning process itself can often vary with same-sex unions—but usually in a good way.
click to enlarge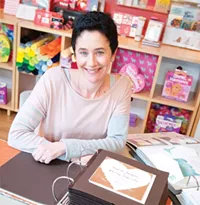 "When a couple's in love and they come in here, I don't pull any different books. I don't behave any differently; it's exactly the same," said Miriam Footer of The Write Image, a Salt Lake City stationer. But she does note that, as parents are sometimes less involved in same-sex-wedding planning, picking out announcements and invitations can be a smoother process.
When an entire family comes in to help a couple select wedding announcements, differences of opinion can cause bickering, making the process difficult and stressful for everyone, but "with same-sex couples, it tends to be between the couples, and they tend to agree," Footer says. "It can be a little more of a joyful experience when we are selling to a same-sex couple."
Linda Lukanowski of RSVP by Linda in Park City points out that many couples, whether gay or straight, arrive at the altar with complicated family structures. "Divorces, remarriage, stepparents, even deaths come in to play when trying to draft the perfect wording to announce and invite everyone to the big day," Lukanowski says. "By taking the time to explore people's relationships, feelings and thoughts, you can find your way to making it just right."
A SENSE OF COMMUNITY
Among the 11 weddings featured in the 2014 issue of the annual magazine Utah Bride & Groom is Bryan Nash and Nathan Judd's commitment ceremony at the Natural History Museum of Utah in September 2013.
The logo of the magazine is the words "Utah Bride" in a large font, with "& Groom" tucked below, almost an afterthought, but no arrow or editor's note tells readers that this wedding is any different from the others featured, beyond its title, "Making History," a clever play on the venue for the ceremony—and, presciently, for what happened three months later. The magazine happened to hit newsstands Dec. 23, 2013, as Nash and Judd stood in line at the courthouse for a marriage license the Monday after the Shelby ruling.
Nash and Judd didn't have a marriage license on the day of their ceremony, but beyond that and the personal details that make any wedding unique, it wasn't set apart from the other events in the magazine, neither by the editors nor by anything in the ceremony's makeup.
That was a point of pride for Mara Marian of Fuse Weddings & Events, who planned the ceremony. "I attend a lot of industry conferences, and as gay marriage became legal in different states, there was a lot of talk about marketing to same-sex couples, and it's such a turn-off to me," she says. "I read somewhere that just because you're gay you don't need a gay doctor. We don't do any special marketing for the gay community. I've opted not to do that because I don't want to even label gay weddings as gay weddings. They're just weddings. They're just clients."
The real point is to tailor the wedding to the couple, whether they're gay or straight, Marian says. "Everything we do is custom. I want to get to know my couple regardless. I want to know what's important to them, what's not important, what traditions they want to keep and what they want to get rid of. We like to tailor the process to our couples and what makes sense for them."
And in the case of same-sex weddings, there's often "a lot more focus on the couple," Marian says. "It's much more important to them to focus on this 10-year relationship that they're finally making official."
That was the case for Judd and Nash, Utah natives who currently live in Las Vegas but decided to have their commitment ceremony in Salt Lake City, since so many of their family and friends still live here.
"The theme of our commitment ceremony was, '10 years together, committing to forever,'" Nash says. "Even though to us it always was real, we really wanted to make it real in front of others."
Because there was no legal aspect to the ceremony, Nash designed a big parchment paper with a photo of the couple and a line for each guest. "Instead of, 'Before the eyes of God,' it was, 'Before you as our witnesses,' the 100 guests who were there, and we had each guest sign it—it was their endorsement for our wedding," Nash says.
Footer has noticed that many same-sex unions seem to be more inclusive from the get-go. The couples often eschew tradition in the wording of the announcement, she says, and "tend to give thanks and inclusion not only to their family, but friends. Often in the wording of the invitation, it will say, 'Because you've shared in our lives, we'd like you to share in our joy.' It's not just a familial thing. It tends to invite more community."