click to enlarge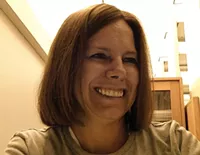 In 2014, a couple of American Indian students in a middle school did something dumb, as middle-school-age students of every race are wont to do. These two youths walked into an empty teacher's lounge and lifted two cans of Dr. Pepper from a staff fridge. This caffeine heist cost them not just a call to their parents or a chewing out by a principal—they were turned in to the cops.
Their example is an anecdote compiled in conjunction with a recently released report by the University of Utah S.J. Quinney College of Law Public Policy Clinic. This report focuses on the school-to-prison pipeline, a term reflecting policies and rules for public-school discipline that funnels students into the criminal-justice system.
Researcher Vanessa Walsh crunched numbers from the U.S. Department of Education from 2011 (the most recent year data was available) and found that American Indian students in Utah, being one of the state's smallest student demographics, have the largest percentage of students referred to law enforcement and arrested at school.
The report indicates that Utah's American Indian students are almost four times more likely to receive school discipline than white students, 7 1/2 times more likely to be expelled compared to white students, three times more likely to be referred to law enforcement for discipline than all other students of color and almost eight times more likely than white students.
"When you look at the data, this population—for whatever the reason—is getting the harshest form of school punishment," Walsh says.
Walsh was helping the clinic with its project looking at the numbers for discipline of all ethnicities of Utah students when she decided to focus more on the problem for American Indian students.
"The numbers were just so disturbing, I couldn't walk away from it," Walsh says.
In 2011, for example, 55 American Indian students in kindergarten through sixth grade were referred to law enforcement—while not a single white student faced a similar referral in those grades.
American Indian students are also almost four times more likely to be arrested at school than all other students of color, and more than six times more likely than white students. The gulf between levels of severity in discipline is more disturbing given the fact that, in 2011, there were only 7,853 American Indian students enrolled in public schools, compared to 460,340 white students.
Historically, the American Indian community in Utah and the nation struggles with poverty, illness, lack of job opportunities and affordable housing, along with substance-use disorders. Census data from 2007 to 2011, for example, showed a 30-percent poverty rate for American Indian populations in nine states, including Utah. Utah's greatest discipline disparities are in school districts near large American Indian populations, such as those near the Navajo reservation in the Four Corners area and the Ouray Reservation in the Uintah Basin. In some of these rural settings, students already have to contend with their only full meal being school lunch and living in homes that lack running water.
Emily Chiang, director of the Public Policy Clinic that conducted the study, says this very vulnerable population then seemed to come into conflict with the very harsh policies that have been in place since mass shootings at schools became more prevalent. In the post-Columbine and Sandy Hook world, schools have become stringent with zero-tolerance policies that push kids into the juvenile justice system or expel them from school, leading to interruptions that hinder graduation. A scenario confirmed by another statistic from the 2014 Utah State Office of Education shows that more than one in three American Indian students in Utah do not graduate high school.
Chiang says the study has shown that having police officers in schools—school resource officers—actually increases the likelihood of students entering the juvenile justice system for incidents that merely would result in detention for other students.
"Part of what we're trying to do at the clinic is not to say we should get rid of all school-resource officers, or you should never arrest a kid who is in school," Chiang says. "It's more to get people thinking about what the unintended consequences of these things are. What happens when you expel a kid from school? Where do you think he goes? Who do you think is going to welcome that kid after they feel alienated by school and authority?"