Seduced by the excellent crystal stemware that companies like Riedel craft, I've got a collection of dozens of wine vessels. There are ginormous Riedel Sommelier series Burgundy glasses, and smaller ones for Chardonnay. I have glasses dedicated to Zinfandel, Champagne, Port, Sauvignon Blanc, Sangiovese and more. Needless to say, it's an expensive wine glass collection and one that takes up a lot of room.
So, I was intrigued when I learned that an Austrian glassware manufacturer called MARKTHOMAS had produced a one-size-fits-all "universal" wine glass. Maybe this would finally resolve my wine-sipping needs. So, I jumped at the opportunity to preview this unique piece of stemware.
The MARKTHOMAS glass is called the Double Bend (DB) Allround glass, which is hand-blown in Austria. The Double Bend refers to the shape of the glass, which has, well, two "bends" in it. The bends help to instantly aerate the wine being poured into the glass. The base of the bowl is cone-shaped, which would allow small pours and wine tastings or flights to be enjoyed. In addition to aeration, the double bend in the glass also focuses the wine's aromas.
click to enlarge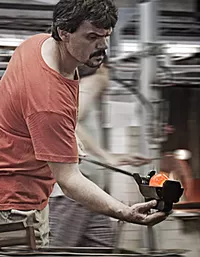 Well, the proof is in the pudding, as they say. And I must say, I'm impressed by this glass. It's 500 ml capacity leaves lots of room for swishing. The Double Bend glass is really beautiful to look at - form follows function. And, it's ultra-thin and very light, delicate and well-balanced. I'd be careful clinking glasses for toasts with this one. However, the MARKTHOMAS glasses are said to be dishwasher safe and frequent washing won't cloud the glass thanks to "the exclusion of lead oxide in each manufacturing step," according to the manufacturers.
I wouldn't be prone to use the all-around MARKTHOMAS Double Bend glass for Port or dessert wines. But for most of the still wine we drink - both red and white - and, even for Champagne, this wine glass is a wonder. It's a truly versatile glass that mostly lives up to its bold claims of being "universal."
(Note: At present the MARKTHOMAS Double Bend glass seems to only be available for retail in the U.K. and privately from distributor Kevin Hielscher at RAAVEN HILL LLC, priced at around $70.)
Have you ever longed for a wine glass that would serve ALL of your wine drinking needs? Or, at least most of them? I know I have. And, I know a lot of bar managers, sommeliers, and restaurateurs who'd sure like to have one glass for many purposes.