Page 3 of 4
GENREFIED
DJ Matty Mo is a jack of all sounds.
By Kolbie Stonehocker

After DJ Matty Mo threw down a trapped-out set—complete with fog machine—at the open-format CWMA DJ Spin-Off at Zest Kitchen & Bar, local rapper Concise Kilgore summed up what nearly everyone was thinking: "Matty Mo killed it."
With charismatic energy and the attention-grabbing ability to rock the mic between songs as masterfully as he spun the decks, Matt Moriarty, aka Matty Mo, stood out among the many deserving DJs in the 2014 CWMAs. Matty Mo's rap-heavy spins had everyone chanting his name not only after his own set, but also after the other DJs' sets.
Over the past year, Moriarty has been building a name for himself locally, but he treated his performance at Zest like a platform to officially introduce himself to everyone else in Salt Lake City—and he made his case in a huge way.
Originally from Poughkeepsie, N.Y., Moriarty first became interested in music through his dad, who's a piano technician, guitar player and audiophile. He "has an unbelievable record collection," Moriarty says, "and growing up there was always thousands of records up there at the house in the record player ... there was always music around."
Moriarty was bitten by the DJing bug at around age 15, and it was with his dad's turntables that he first began experimenting. He says his first DJ setup "was hilarious. It was a couple of different belt-drive turntables and the shittiest mixer that money could buy that I found on Craigslist."
Influenced by the music he grew up with, Moriarty emulates what it means to be an open-format DJ. At the center of his current style is rap, "what I like to play the most," he says: "hip-hop—old-school, new stuff, gangsta rap, backpack rap." But he also dabbles in music by bands his dad listened to—Jimi Hendrix, the Rolling Stones, Bob Dylan and the Beatles—as well as "all sorts of indie shit. I can literally rock any genre," he says. "Some DJs claim open format, but they might only have one or two genres up their sleeve. I feel like I really have it all, except for polka and country—I don't really fuck with those genres."
A passionate snowboarder, Moriarty eventually headed west to chase the snow, spending time DJing and hitting the slopes in ski towns Mammoth Lakes, Calif., and Mount Hood, Ore. In 2010, he landed in Salt Lake City, where he found an overflow of DJ talent unlike the small-town scenes he was used to in California and Oregon.
"It was extremely inspirational for me to come out here and see all these different DJs just killing their game," Moriarty says. "There's a lot of them out here that I'm really, really impressed by, a lot of talent out here. That's what trips me out about even getting nominated into the spin-off, let alone winning this thing."
Salt Lakers have become familiar with Moriarty through his residencies at Willie's Lounge on Wednesdays and at The Urban Lounge as a closer on Saturday nights. At his residency at Willie's Lounge, which he started shortly after he moved to Utah, Moriarty turns what he calls a "no-frills, dive-y spot" into a dance party. He says the gig is "what put me on the map, so to speak, in the Salt Lake scene."
Popular with local skiers and snowboarders, Moriarty's set at Willie's usually features a mixture of hip-hop, Top 40 and dance music. The club vibe that ensues may seem like a weird match for Willie's, but it somehow works. Before around 11:30 p.m., "you never know what kind of older, more weathered folk are going to be there," Moriarty says. "And then watching the transition go from people that just want to have a quiet beer to kids that wanna just fuckin' rage—it gets insane there, it's really funny."

Moriarty's residency at The Urban Lounge—which started at the beginning of this year—showcases his ability to adapt to diverse crowds. It's "a really rad gig because you never know what the band's gonna be," he says. "The folks at Urban are so awesome and I'm really hyped to be a part of that."

Moriarty has several schemes in mind for his future as City Weekly's DJ of the Year. Though in past years he's headed back to Mount Hood to snowboard the non-winter months away, he plans to stick around in Salt Lake City for 2014. That means his night at Willie's may continue throughout the summer; in the past, it's typically gone on from fall to spring.
Also this summer, you will probably see Moriarty in an entirely different venue: his own food truck. In Mount Hood, Moriarty worked for a food truck called Cobra Dogs, which sells hot dogs, brats and other handheld foods to hungry snowboarders and skiers. The popular business expanded to Park City Mountain Resort in 2010 but closed in 2012.

Now, Moriarty hopes to have his own Cobra Dogs truck—with a built-in DJ booth—open sometime within the next few months. "I am putting a lot of my effort into developing that whole plan and getting the ball rolling on that," he says. "So excited to make this happen."
Looking back on the CWMA experience, Moriarty says, "I'm happy with the way it went. There were a couple fuck-ups in there, but for the most part, I think it went pretty flawlessly, and I'm just so hyped and so honored to be where I'm at right now."
---
click to enlarge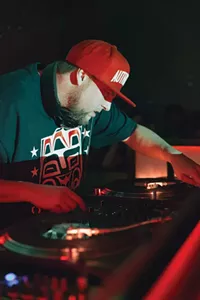 Best Vinyl Clinic
Justin Godina
When I talked to Justin Godina before the Feb. 26 open-format DJ Spin-Off at Zest Kitchen & Bar, he said that he almost didn't compete this year. "I get sick to my stomach every time," he said as he was setting up. Well, we're glad he fought through it, and so was everyone else in attendance. Godina's performance was essentially a full-on clinic on how to spin nothing but 45s. Covering the full spectrum of deep funk cuts, original hip-hop samples and even some classic rock, Godina blew some wigs back and was definitely one of the main highlights of the CWMAs. (Colin Wolf)