For this year's City Weekly Music Awards, we decided it was time to go big or go home—and no one should want to go home when there's this much awesome music happening. So, in addition to crowning a Band of the Year, we also named a DJ of the Year and a Rap Group of the Year.
The winners were decided by a complex tallying of in-person votes at each showcase and scores given by our 15 talented judges. Besides three-word names, Westward the Tide, Better Taste Bureau and DJ Matty Mo shared a few things that lifted them to the next level for the crowds and judges: the ability to command a stage, creativity, professionalism and—oh yeah—raw musical talent.
But it's safe to say that no one walked out of any of the showcases feeling certain about who'd won. And that's a good thing—the CWMAs aren't so much about declaring a winner as they are about supporting and celebrating our local musicians. Even if your band or your friend's band didn't score a nomination, or if you've never heard of any of the acts (no judgment), we want you to come out to the CWMAs. They're a genre-spanning introduction to our amazing music scene, a heady mix of blistering guitar riffs, jangly tambourines, thought-provoking rhymes and earth-shaking beats.
That ever-growing diversity is why we've expanded the CWMAs beyond bands in recent years, and why we're especially thrilled with this year's addition to the winning artists' prizes: an opening gig at the Twilight Concert Series, where thousands of music lovers will get a taste of the talent that calls Utah home.
Read about the winners (and City Weekly-picked honorable mentions) in the following pages, then head to CityWeekly.net/CWMA for a complete rundown of the two-week musical extravaganza. And mark your calendars for February 2015—our music awards are still growing and getting better, and you need to be there for it.

WESTWARD THE TIDE


DJ MATTY MO


BETTER TASTE BUREAU


HIGH TIDE
Westward the Tide's energy makes them an unstoppable force.
By Kolbie Stonehocker

Instead of bothering with any preamble when they took the stage at the first of two City Weekly Music Awards band showcases at The Complex, opening band Westward the Tide began their performance with a bang—literally.
Cam Brannelly strode onstage and started hitting his drums so hard that everyone's eyes and ears were hooked as effectively as if a cannon had been fired. Then, violist Jordan Towner joined in by banging on a large floor tom as the rest of the band came out, picked up their instruments and launched into a set that was full of sincere enthusiasm, kinetic energy and sparklingly beautiful moments of flawless vocal harmonies.
The Provo band's spectacular stage presence, undeniable chemistry and the infectious joy with which they play their music made a stunningly strong impression in the showcase, and the judges and the large crowd that came out for the show agreed that they were more than worthy of the Band of the Year title.
"We work really hard on our performance and our show and drilling in our sound, and it was just cool that people noticed it and liked it and they chose us over all of the other amazing bands," says Megan Larsen (who contributes backing vocals, keyboards and one wild tambourine). "We've really been working hard to get where we're at, so it's really awesome to see that that was recognized by people and we stood out from the crowd. It meant a lot to us."
Winning the band portion of the CWMAs is an especially huge milestone for Westward the Tide, considering the fact that the six musicians have been creating music together for barely more than a year. But just as Westward the Tide suddenly announced their arrival on the stage that night, they appeared in the local music scene and immediately struck out in one direction: up.
Westward the Tide was founded by Larsen and Kaitie Forbes—who played music together in high school—as well as Larsen's husband, Jackson (co-lead vocalist/guitarist and main songwriter). The rest of the lineup—Towner, Brannelly and bassist Cole Herrmann—came together almost effortlessly.
"It was meant to happen," Forbes says. "I think we were all in places in our lives where we just needed something more." In November 2012, Westward the Tide—their namesake is a novel by influential Western author Louis L'Amour—officially became a band.
They quickly began attracting a dedicated fanbase as early as their first show—a showcase for new bands at Velour in Provo—which, to Westward the Tide's disbelief, ending up selling out. "Velour was like, 'What the heck?' and we were like, 'What the heck?' " Jackson says. "We didn't even play that good of a set, but we just rallied a bunch of people to get there."
Building off that initial momentum, Westward the Tide released a five-track EP, titled Everything Is—recorded at June Audio in Provo—in April 2013. Just a few months after that, the band began working on their first full-length record, Sorry Soul, which will be released locally at a show at Velour on March 15.
For help creating what they consider to be their true debut, Westward the Tide worked for the first time with a producer, well-known local singer-songwriter and producer Joshua James. Sorry Soul was recorded over two weeks at James' homestead in American Fork, nicknamed Willamette Mountain.
Forbes, Megan and Jackson all speak fondly about working with James, praising his ability to inventively add to their music instead of trying to change it. "We love the music that we made with Joshua, it's been a blast," Jackson says. "And we learned so much from him. We're just excited to release this new stuff."
Compared to their recording of Everything Is—which was put together relatively quickly, in response to fans clamoring for recorded music—Westward the Tide was able to take their time on Sorry Soul. "It was really cool to just be with Joshua and just tinker and really play with the sounds," Jackson says.
The finished album displays the band's maturing sense of songwriting and exploration of deeper subject matter. Everything Is "was very lighthearted and very happy and very surface," Megan says. "And we like it, but this album definitely goes to show the musical abilities and it really delves into that more."
Forbes adds, "It's a lot more personal."
That progression can be heard on the two singles from the album, "Stardust" and "Young Bodies," that Westward the Tide have released. The band isn't afraid to get into thorny territory about addiction in the minimally wrought "Stardust," and "Young Bodies" has an absolute jewel of a chorus that swells the heart: "You and I, we've got young bodies, old souls."
Now, Westward the Tide are ready to strike out into their unknown future as a band with the same amount of energy that ignited the stage of the CWMA showcase. Sorry Soul is more than Westward the Tide's debut album: It's a declaration.
The new album is "more in your face and just going to show, 'Yeah this is us, and we're going to do this,'" Megan says. "And we're serious about it."

WESTWARD THE TIDE ALBUM RELEASE
w/Luna Lune, Young & Old
Velour
135 N. University Ave., Provo
Saturday, March 15, 8:30 p.m.
$8
VelourLive.com

---
click to enlarge
Best Head-Banging Moment
The North Valley
It's surprising there was any stage left to speak of after rock & rollers The North Valley performed at the Feb. 22 band showcase at The Complex. Possibly the most energetic band of the CWMAs, The North Valley channeled the raw power of hell's most bloodthirsty rock gods as they blasted their way through a set that included plenty of gritty howls, muscular guitar riffs and epically longhaired head-banging. All five band members were in constant motion throughout, but trying to take a blurry-free photo of co-lead vocalists Spenny Relyea (guitar) and Dane Sandberg (bass)—who couldn't be contained by his shirt—was damned impossible, like attempting to photograph dual tornadoes. (Kolbie Stonehocker)

GENREFIED
DJ Matty Mo is a jack of all sounds.
By Kolbie Stonehocker


After DJ Matty Mo threw down a trapped-out set—complete with fog machine—at the open-format CWMA DJ Spin-Off at Zest Kitchen & Bar, local rapper Concise Kilgore summed up what nearly everyone was thinking: "Matty Mo killed it."

With charismatic energy and the attention-grabbing ability to rock the mic between songs as masterfully as he spun the decks, Matt Moriarty, aka Matty Mo, stood out among the many deserving DJs in the 2014 CWMAs. Matty Mo's rap-heavy spins had everyone chanting his name not only after his own set, but also after the other DJs' sets.

Over the past year, Moriarty has been building a name for himself locally, but he treated his performance at Zest like a platform to officially introduce himself to everyone else in Salt Lake City—and he made his case in a huge way.

Originally from Poughkeepsie, N.Y., Moriarty first became interested in music through his dad, who's a piano technician, guitar player and audiophile. He "has an unbelievable record collection," Moriarty says, "and growing up there was always thousands of records up there at the house in the record player ... there was always music around."

Moriarty was bitten by the DJing bug at around age 15, and it was with his dad's turntables that he first began experimenting. He says his first DJ setup "was hilarious. It was a couple of different belt-drive turntables and the shittiest mixer that money could buy that I found on Craigslist."

Influenced by the music he grew up with, Moriarty emulates what it means to be an open-format DJ. At the center of his current style is rap, "what I like to play the most," he says: "hip-hop—old-school, new stuff, gangsta rap, backpack rap." But he also dabbles in music by bands his dad listened to—Jimi Hendrix, the Rolling Stones, Bob Dylan and the Beatles—as well as "all sorts of indie shit. I can literally rock any genre," he says. "Some DJs claim open format, but they might only have one or two genres up their sleeve. I feel like I really have it all, except for polka and country—I don't really fuck with those genres."

A passionate snowboarder, Moriarty eventually headed west to chase the snow, spending time DJing and hitting the slopes in ski towns Mammoth Lakes, Calif., and Mount Hood, Ore. In 2010, he landed in Salt Lake City, where he found an overflow of DJ talent unlike the small-town scenes he was used to in California and Oregon.

"It was extremely inspirational for me to come out here and see all these different DJs just killing their game," Moriarty says. "There's a lot of them out here that I'm really, really impressed by, a lot of talent out here. That's what trips me out about even getting nominated into the spin-off, let alone winning this thing."

Salt Lakers have become familiar with Moriarty through his residencies at Willie's Lounge on Wednesdays and at The Urban Lounge as a closer on Saturday nights. At his residency at Willie's Lounge, which he started shortly after he moved to Utah, Moriarty turns what he calls a "no-frills, dive-y spot" into a dance party. He says the gig is "what put me on the map, so to speak, in the Salt Lake scene."

Popular with local skiers and snowboarders, Moriarty's set at Willie's usually features a mixture of hip-hop, Top 40 and dance music. The club vibe that ensues may seem like a weird match for Willie's, but it somehow works. Before around 11:30 p.m., "you never know what kind of older, more weathered folk are going to be there," Moriarty says. "And then watching the transition go from people that just want to have a quiet beer to kids that wanna just fuckin' rage—it gets insane there, it's really funny."


Moriarty's residency at The Urban Lounge—which started at the beginning of this year—showcases his ability to adapt to diverse crowds. It's "a really rad gig because you never know what the band's gonna be," he says. "The folks at Urban are so awesome and I'm really hyped to be a part of that."


Moriarty has several schemes in mind for his future as City Weekly's DJ of the Year. Though in past years he's headed back to Mount Hood to snowboard the non-winter months away, he plans to stick around in Salt Lake City for 2014. That means his night at Willie's may continue throughout the summer; in the past, it's typically gone on from fall to spring.

Also this summer, you will probably see Moriarty in an entirely different venue: his own food truck. In Mount Hood, Moriarty worked for a food truck called Cobra Dogs, which sells hot dogs, brats and other handheld foods to hungry snowboarders and skiers. The popular business expanded to Park City Mountain Resort in 2010 but closed in 2012.


Now, Moriarty hopes to have his own Cobra Dogs truck—with a built-in DJ booth—open sometime within the next few months. "I am putting a lot of my effort into developing that whole plan and getting the ball rolling on that," he says. "So excited to make this happen."

Looking back on the CWMA experience, Moriarty says, "I'm happy with the way it went. There were a couple fuck-ups in there, but for the most part, I think it went pretty flawlessly, and I'm just so hyped and so honored to be where I'm at right now."
---
click to enlarge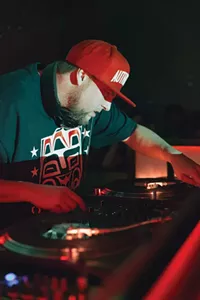 Best Vinyl Clinic
Justin Godina
When I talked to Justin Godina before the Feb. 26 open-format DJ Spin-Off at Zest Kitchen & Bar, he said that he almost didn't compete this year. "I get sick to my stomach every time," he said as he was setting up. Well, we're glad he fought through it, and so was everyone else in attendance. Godina's performance was essentially a full-on clinic on how to spin nothing but 45s. Covering the full spectrum of deep funk cuts, original hip-hop samples and even some classic rock, Godina blew some wigs back and was definitely one of the main highlights of the CWMAs. (Colin Wolf)

TASTER'S CHOICE
Better Taste Bureau work like underdogs to get to the top.
By Colin Wolf


When Better Taste Bureau first stepped onstage at The Complex on March 1, the entire vibe of the room changed. And toward the end of their set, when they dropped their massive single "Out West"—from their December 2013 release, The Better Taste EP—the audience got instantly rowdy and slammed harder than an early-'90s ONYX show. It was then that showcase judge and Mic Masters CEO Nate Syncronice turned to me with a look of shock perhaps best described as "Macaulay Culkin face."

There are a lot of factors that play into a quality live hip-hop performance, but, without a doubt, the ability to get the crowd hyped is one of the most important variables of any show. And Better Taste Bureau's Shaun Bussard, Ben Harris and Mason Brewer have found a way to perfect it.

Like a football coach prepping for a game, BTB film the majority of their gigs, combing over the footage and picking out what works and what doesn't.

"We look at the film and make some critiques," Bussard says. "We try to keep it genuine and natural so when we go onstage, everything seems like clockwork."

Their sets are diesel-injected—no fillers, no love ballads, just bangers and mash. "High-energy sets are what we do best," Harris says. "For [the CWMAs], we knew we had to be the group with the most energy."

And the approach paid off. BTB was one of the few groups that really went out of their way to engage the crowd with a healthy dose of call & response tracks: "When I say 'too many,' you say 'hipsters,'" for example.

On a related note, "Too Many" is a track I hope they play when they perform at this summer's Twilight Concert Series.

"Honestly, hipsters love making fun of other hipsters, so I think it'll go over pretty well," Brewer says with a laugh.

It's this sort of honesty and humor that makes BTB so ridiculously accessible and fun to listen to. Their sound is squeaky clean, well-produced and extremely calculated—every lyric is deliberate and precise, and just about every beat seems to have been washed and rinsed by Brewer's mad-scientist fingers.

"I think people get into our tracks because they're catchy and our call & response stuff is pretty simple," Brewer says. "People just naturally get excited when they see other people putting their hands up and getting live, so crowd interaction is really important."

However, just existing as a quality high-energy act only goes so far; you still have to get people out to your shows. In their relatively short existence, BTB have nonchalantly thrown some of the best and biggest local hip-hop shows. In April 2013, the release party for their album As Good As It Was packed more than 200 people into The Shred Shed and sold out a week in advance.

"We don't have a street team or anything like that," Harris says. "We actually do a lot of promotion ourselves, and we have a very loyal group of friends and fans that love helping us out."

But even though they have a substantial and dedicated fanbase, BTB are motivated by the self-diagnosed status as Salt Lake City hip-hop underdogs.

"We've been underestimated for so long that it's actually helped us and motivated us to be better," Harris says.

Being driven to surpass their contemporaries is something BTB has thrived on, but remarkably, they've done it with little to no trash talk—a rarity in hip-hop.

"We're our best critics," Brewer says. "Every day, we're constantly reminding each other that a certain bar is sort of whack, or that a beat isn't necessarily that great. We're definitely tough on each other, and I think that pushes us to improve."

In other words, they put in work­—a lot of it. And over the past 12 months, they've had a meteoric ascent. They were crowned as U92's Home Grown Champions in summer 2013 and performed in front of roughly 5,000 people at Summer Jam. In November, they dropped an insanely creative Groundhog Day-inspired rap video for the song "Looking Back," featuring Luna Lune. And now, Better Taste Bureau is City Weekly's Rapper (er, rap group?) of the Year.

As a thank-you, the new kings of Salt Lake City leaked "Outliers," a single off their new album of the same name, due out in April. The track can be heard at BetterTasteBureau.com, and they'll be making a triumphant return to The Complex on May 3 for the Outliers release party.
---
click to enlarge
Best Weird Al Moment
Atheist
One of the biggest surprises of the rap showcase at The Complex was Atheist. Backed by the House of Lewis crew, Atheist's set was a perfect blend of insane theatrics and quality hip-hop. Though every rapper held it down that evening, Atheist was the only emcee with the balls to not only rock red & black plaid pajamas with a white lab coat, but also sport a giant cut-out mask of his own face. Toward the end of his set, Atheist and Donnie Bonelli ripped off their shirts and chanted, "When I say 'Utah,' you say 'Legalize gay marriage,' " to which the crowd reacted with cheers and one of the most genuine slow claps I've ever witnessed. (Colin Wolf)