Halfway into the month and a slew of releases come out this week. So many it's going to take TWO posts to cover. --- So let's start with the normal releases, first headed over to The Urban Lounge who is hosting this month's Localized show from SLUG Magazine. Aside being a featured showcase for three local acts, it's also the official release show for Lindsay Heath's newest album, Orchestra. Experimenting with her sound and forming a brand new group in the process, Heath dropped the Kid Madusa moniker and set off into a new musical direction. And this album gives you a sample of that, pulling material from her first two EPs and mixing it in with new works from the current ensemble, giving you a glimpse of the upcoming full-length later this year. Catch her playing along with Tiny Lights and My Dead Ego tonight at 10PM, just $5.

Meanwhile over at The Woodshed,
Riverhead
will be playing their first show since the release of their self-titled album and the Bar Deluxe show for it. One that passed under the radar of most everyone because until very recently, Bar Deluxe didn't promote anything they did, anywhere! Something they've thankfully corrected. As for the album, it's a pretty good electrorock album, reminds me a bit of Sneaker Pimps and Massive Attack, which is a refreshing sound since the last few bands and musicians to try this locally fell flat or broke up. (Where are you ManicProject?) You can pick up a copy of the self-titled album as they perform tonight with
Menlo
and
Dulce Sky
. $5 at 9PM.
Then tomorrow night sees the debut release from Mudbison. Disliking the idea of being a band behind a single name, Spencer Russell switched to the new group title and pressed forward with making the impressive sixteen track album,
A
. And I say that because it's been too damn long since I've seen an album with more than ten. The near acoustical eclectic experience seems more pre-tracked and mixed than what you'd expect, but surprisingly works live as a six-piece machine. If the two tracks I've had a chance to hear are any indication, this could be the "secret joy" album of the year. Catch the release show Saturday night at Velour, playing along with
Isaac Russell
and Emily Brown. Just $7 at 8PM.
Then skip forward to this Tuesday where over at 5 Monkeys where hip-hop group
God's Forgotten Children
release their new album, Straps & Blunt Wraps. If you hadn't guessed by the title or release date, yes indeed, it's stoner rap. …Which explains why I can't locate any tracks for the album or even artwork. Jokes aside, the West Valley group has actually released three decent albums and an EP since 2004 and have gained a cult following throughout the hip-hop and rap community. You can catch the group performing with a strong list of fellow rappers and selling their new album next week. $13 in advance, $15 at the door starting at 6:30PM.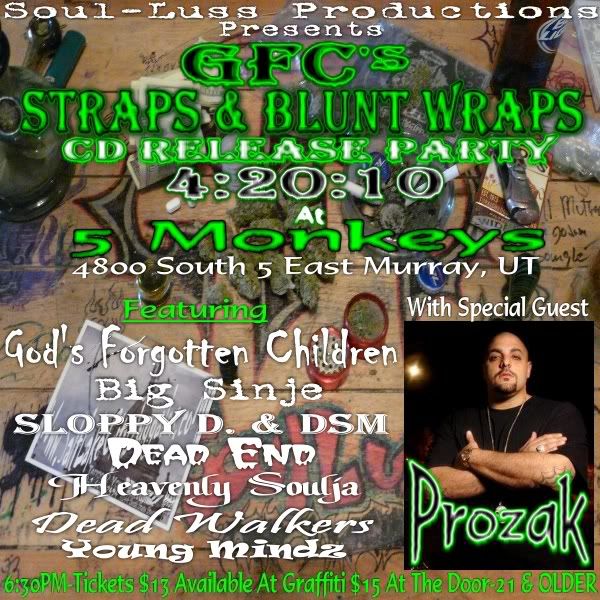 So what's the second half of these releases? …Everything coming out on Record Store Day! For that near complete and insane list of events,
click over here
. In the meantime, here's a video of Mudbison for you to check out. Head out, love music, buy local!