The idea of a musician or band starting up their own label isn't uncommon. The bewildering yet awesome idea of cutting out the middle man and releasing material on your own has been happening for years, and most localized labels follow the very trend of having its founder be a musician.


--- Case in point, 8ctopus Records, the brainchild label of the extremely busy Eli Morrison who plays in multiple acts including Pink Lightnin', Vile Blue Shades and The Wolfs. His label has been helping release material not just from his own projects but also Blackhole, Agape, Ether, The Purr Bats and Tenants of Balthazar's Castle. I got a chance to briefly chat with the man about 8ctopus and what its done for local music, as well as his thoughts on our music scene.

Eli Morrison


http://www.8ctopusrecords.com/

Gavin: Hey Eli, been over a year since the last interview. What have you been up to since then?

Eli: Not much with the label. The Eyes & Ears 7" was the last thing I issued, about a year ago. I have been working more with the bands, Vile Blue Shades and Ether. I just moved, and I plan to issue more stuff once I get situated.

Gavin: Getting right to it, how did the idea for 8ctopus Records come about?

Eli: I had all this music on my desk: demos, live, flawed, etc. And I couldn't see putting it out on a "real" label. Most of those guys want to at least make their money back, y'know? So I decided to start my own imprint and issue stuff that's commercially suicidal.


Gavin: Where exactly did the name come from?

Eli: I stay pretty busy. Sometimes I wish I had eight arms.

Gavin: What was it like for you setting things up and getting word out?

Eli: Pretty easy, I have a lot of close friends in the music scene in Salt Lake. Everybody has been really supportive.


Gavin: After the first album of your own work, what was the first of someone else's material you released?

Eli: The Vile Blue Shades live discs predate my involvement with the group. Good stuff. The Blackhole CD was a big release for me as well.

Gavin: For those who don't know, who are some of the artists on your label?

Eli: We have issued titles by Red Bennies, The Wolfs, Bleed Yellow, Polestar, Jealous, VBS, KNVZ, Cory Bury, Pink Lightnin', Ketamine Kurtainz, Mystified, and a couple of compilations. We also distribute lots of Salt Lake underground music at the website.


Gavin: How did you decide who to add to the label?

Eli: If somebody gives me a recording that I can't stop listening to, and there's no "real" label to put it out, I'll do it.

Gavin: You're one of the few local labels that does have vinyl releases. Why choose to press some that way?

Eli: Vinyl is great, I always have used records; I never stopped. Vinyl has a sense of permanence that I quite like.


Gavin: How did the partnership come about with Slowtrain as a "sister store"?

Eli: Chris and Anna have been totally supportive of my efforts from the get-go. If you wanna buy one of our titles, Slowtrain is the place to get it.

Gavin: Do you have a longterm goal for 8ctopus as a label or mainly stay independent and keep it local?

Eli: "Getting away with it" is the name of the game. As long as I can continue to play and issue records, I'm winning. I don't care if I lose a bunch of money doing it. That's why I keep a day job.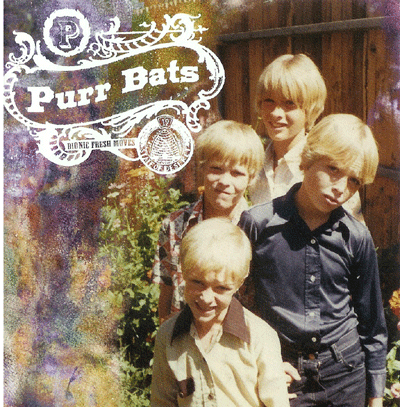 Gavin: You've been going almost four years now. What's your overall view of the label and how its developed and grown?

Eli: Wow, really, four years? Time flies! The label continues to develop and change- mostly it's there to help the bands reach their goals. The function of the label changes to suit the needs of each individual release. Pretty cool, huh?

Gavin: A little state-wide, what are your current thoughts on the music scene, both good and bad?

Eli: Love the Salt Lake scene, tons of friends here. I do sometimes wish we could get more women on the stage, especially singers.

Gavin: What do you think of other local labels and the work they do for the scene?

Eli: I have good rapport with Red Light, Pseudo, Exigent, and others. We all get along quite well, I think we have a common goal to expose new creative music.


Gavin: What can we expect from you and the label the rest of the year and going into next?

Eli: Hopefully we'll have a new 7" from VBS fairly soon, maybe some ether stuff, there's a lot of other stuff on que, but it's too early to say. 2010 looks great.

Gavin: Is there anything you'd like the plug or promote?

Eli: Finally someone asks me this! YES! Marijuana is the one true path to spiritual enlightenment!