So if your ears haven't been blistered with the news yet, the Foo Fighters are releasing a Greatest Hits album this fall. Yes, that's right, now you can have them all on one album! With such hits as "Big Me," "Everlong," "Times Like These," "For All The Cows"… which was UK release, and "Generator"… which did nothing for them, and "Winnebago"… which was a B-Side... wait, what the fuck?! Why is it that mainstream bands who arguably still have some kind of longevity in them have to release these? --- Yes, money is a factor, but it's not like Grohl and company are broke. Nostalgia would be a fine reason if their last album wasn't only two years old and platinum overseas. The only good excuse left would be to define the band's legacy, but at only fourteen years old and still kicking, you'd find it hard to believe the group is insecure about cementing their place in rock history. The bottom line… there's little goddamn point!


While the "best of" idea is usually frowned upon by music critics who believe you should get the full experience by buying the originals and not snippets of a career, these albums usually do well via people who can't afford an entire collection and simply want what they want. And now it seems that this has become the trend-to-do for 90s acts. Most likely spurned from big labels afraid that music has become so saturated with flash-in-the-pan artists, who have about as much longevity in them as a box of firecrackers next to a pyromaniac. Milk the last generation on their way out the door of being "hip and cool" for a final scrub of cash while you can, because they know damn well My Chemical Romance's greatest hits couldn't fill an EP. Throw everything that worked onto one album, record a last-minute sleeper-song onto the end as a release and call it "a hit", flood it into radio and wait for the money. But while it's easy for us to blame greedy record execs, the trend itself, if anything, has become a public statement by the artists themselves. No matter what the group or genre, the overall stance is clear. It's as if they're saying "we don't know what to do now" without going so far as to simply say "hold on" or "we're done."


Let's look at a few examples. Red Hot Chili Peppers. After Californication and By The Way, they put out a Greatest Hits album in 2003 with a bonus track of "Fortune Faded" which didn't really do anything. Three years later they put out Stadium Arcadium, reaching #1 everywhere and getting Grammy wins. Pearl Jam. After Binural and Riot Act bombed hard the band put out Rearviewmirror in 2004 and faded from public sight, only to make a major comeback in 2006 with the self-titled album and who knows what may become of Backspacer. Smashing Pumpkins. Even with all the quitting/firing/switching of members and inner turmoil, their last two albums were major sellers. After the publicly-published deathnail in 2000 and the Rotten Apples best of album in 2001, we assumed that was the end. But then Corgan raised the band-name back from the grave with Zeitgeist in 2007 to a bigger success than Adore a decade earlier. A look back shows The Offspring, Green Day, Blink 182, and most recently Stone Temple Pilots (who's next album will be out in December) pulling the same plan as if it were scribed in stone.


But like anything in the music business, it doesn't work for everyone. Groups like Garbage, Korn and No Doubt went down this route to only minimal (if any) success. In the case of the last two they decided to record an 80s cover as opposed to one last attempt at having an original song out on the market, and actually may have driven fans away over the idea that the cover was "their best." But like the bands above its not the end. Korn reformed to put out two albums that got little attention, No Doubt just barely reunited to lackluster hype, and Garbage are somewhat on their way to getting back in the studio according to Butch Vig. Its clear that defining the great moments is not a deceleration of retirement, but it sure as hell makes you wonder what the real intent was all along afterward. If you actually review the ideal behind compilations, it should be left for bands who had a prime at one point and you'll never see that lineup again. If sticking to the 90s for a moment- Nirvana, Alice In Chains and Soundgarden all come to mind as the best examples. Bringing to a head the depressing point that you either have to hate each other royally or have someone die to make it significant.


And what will come of this next venture for the Fighters? I can tell you that right now! Taylor Hawkins already told NME that while this album is floating around and after Nate Mendel is done with the Sunny Day Real Estate reunion, they'll be working on new Foo Fighters material. Already planning a new body of work for 2010. With that public knowledge fans ought to be asking themselves why the hell they should bother purchasing the Best Of disc. We know full well that one review of this idea isn't going to change any minds behind it, but you'd think for a rock enthusiast, Dave Grohl himself would know better and take a page from a band he loves and respects. Led Zeppelin. One of the greatest groups of all time didn't even bother to create one until 1990, a good decade after Bonham's death, letting time pass until they felt it was right. Other bands Grohl has looked up to like Queen and Pink Floyd did do compilations, but only did so to catch the rest of the world up to music from early in their career or material they mainly played in Europe. But when you're a band that's known the world over there really isn't a need for it.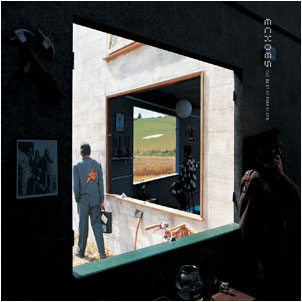 So for groups who still have time on their hands and good music still to come, why bother doing it in the first place? Because no matter what you put on the LP, there's bound to be somebody out there who wants it, even if they already own it. But don't take my word for it… go count the 30 compilations the Rolling Stones have released to date.